WORDS BY NICK GORDON BROWN
The smiley face is indelibly linked with rave culture. Since long before emojis entered the cultural lexicon, this universal symbol of happiness has perfectly encapsulated the euphoria of music and dancing. The simplicity of the design, along with it being a harbinger of good times, makes it ripe for imaginative reinterpretation. That is just what has inspired the striking artwork for Defected's debut Ibiza festival which kicks off our 2020 summer of love style. Here we take a whistle stop tour of smiley's life in the cultural fast lane.
1. 1700 BC
A smiley face being scrawled on a wall by cavemen? You better believe it. This image dates from approx. 1700 BC, and was discovered by archaeologists in Turkey.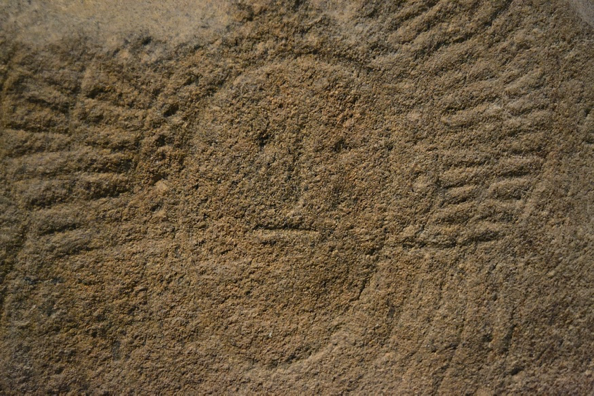 2. 1953
Hollywood predicts the emoji in 1953. Appropriately, the movie in question sees the lead character find solace in magic, dreams and carnival, the spirit of house music right there.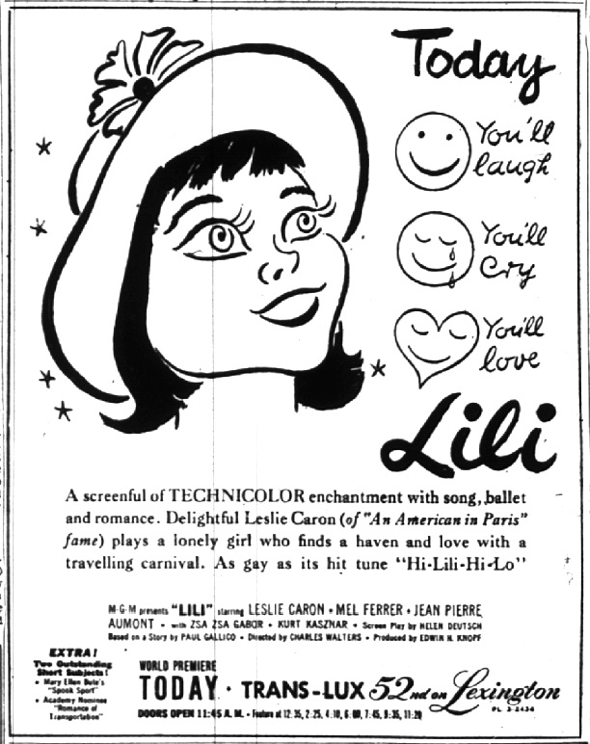 3. 1962
In 1962, New York radio station WMCA became the first organisation to make use of smiley as a promotional tool, giving away thousands of sweatshirts to phone callers using their "good guys" slogan.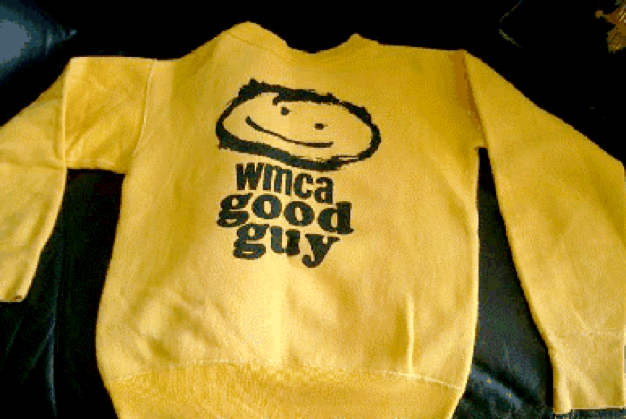 4. 1963
Designer Harvey Ball devised his smiley as a staff pick-me-up for a Massachusetts insurance company – he was paid $45. With the iconic oval-shaped eyes and lines on the edge of the mouth it's one of the earliest examples of smileys in this style.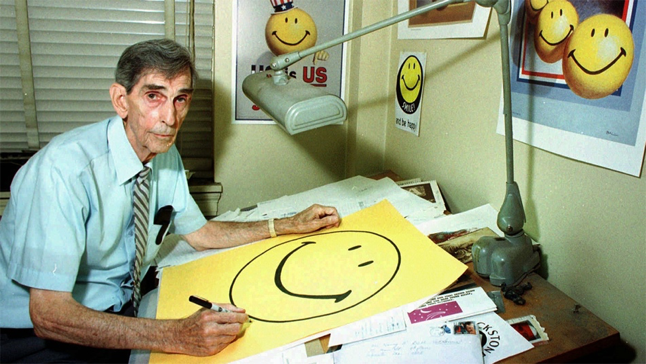 5. 1970
Smiley first formed the bedrock of a merchandise range in 1970, the brainchild of Philadelphia's Spain brothers, who supplemented our yellow friend with the now equally well-used slogan 'have a nice day' (briefly 'have a good day').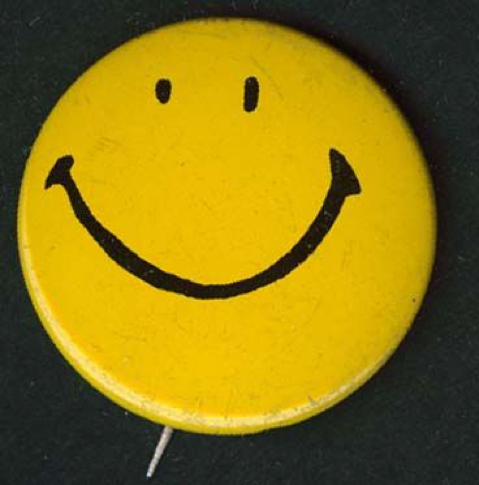 6. 1972
It was in 1972 that French journalist Franklin Loufrani became the first person to trademark a definitive Smiley, he used it in a newspaper campaign to highlight happy and positive news stories in Europe's leading daily newspapers. From a newspaper promotion simply reminding people to "take time to smile". A brand was born that harnessed the power of positivity, quickly becoming the symbolic figurehead for happiness, peace and activism. The Smiley Company have spent nearly 50 years since collaborating with artists, brands, musicians, and producers to ensure our hero has survived and thrived through the course of time - (check out recent Smiley collaborations at smiley.com)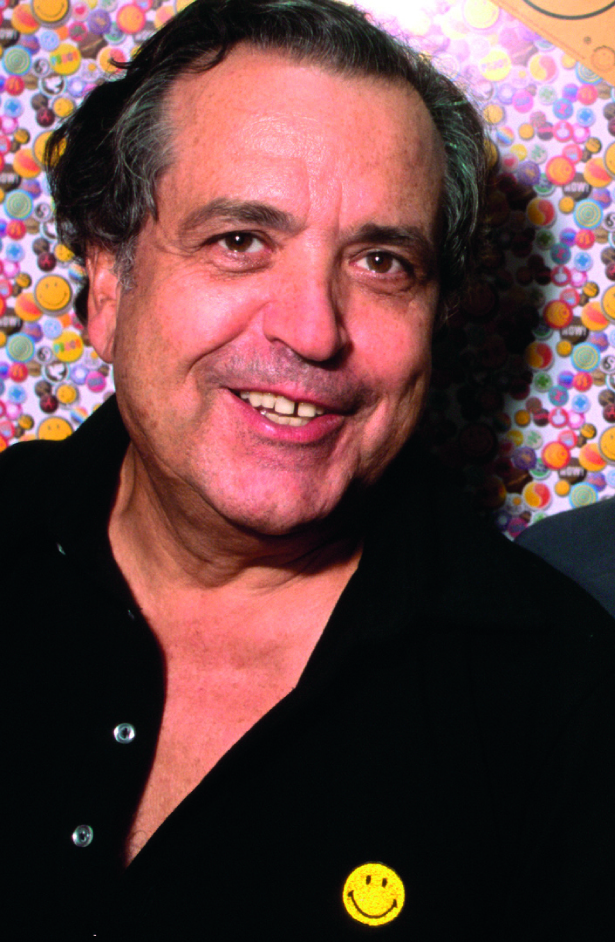 7. 1972-1974
Arguably the first recorded use of smiley in a music campaign occurred when some inventive hippies made it a focal point of the Windsor Free Festivals, which ran from 1972-1974.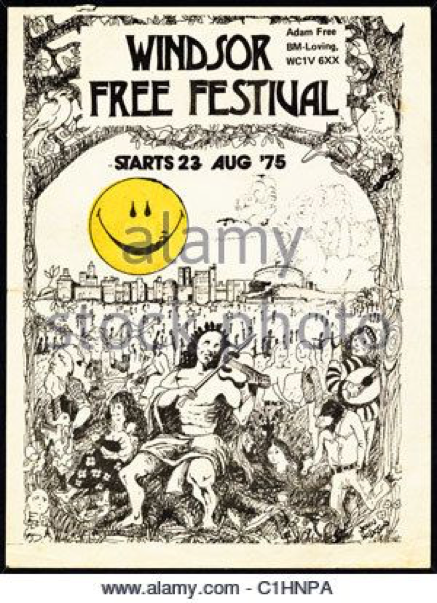 8. 1977
1977 saw cult new wave band Talking Heads feature smiley on the artwork for their classic single 'Psycho Killer'. David Byrne and co were NYC dance scene favourites, from being played at the Paradise Garage to becoming a much-used sample source for hip hop producers, but it was to be another ten years before smiley's house music revolution.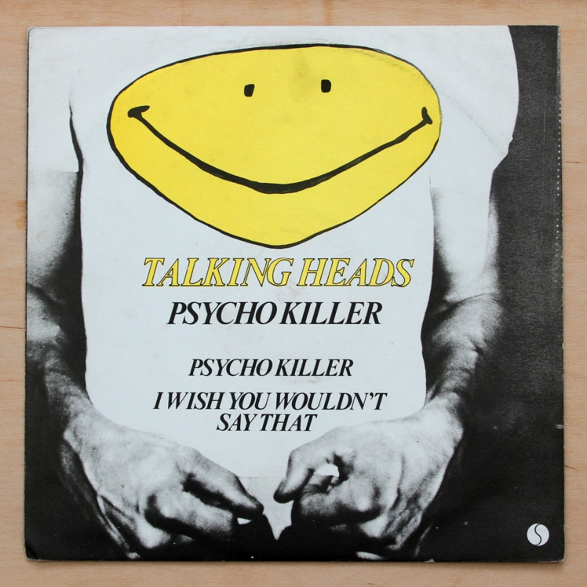 9. 1986
It was in1986, when DC Comics' Watchmen introduce a blood-splattered version for their Comedian character, that smiley returned to the pop culture foreground.
10. 1987
This would inspire London Wag Club resident DJ Tim Simenon, who alongside the likes of S-Express and M/A/R/R/S spearheaded a Brit assault on global dancefloors. He reworked the DC spin for the artwork on his seminal Bomb The Bass 'Beat Dis' single in 1987.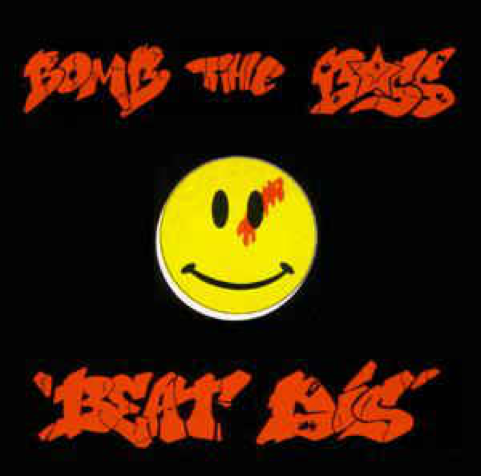 11. 1988-1989
It was around the same time that Danny Rampling adopted smiley as the visual representation of his pioneering acid house night Shoom! This quickly led to smiley becoming omnipresent on rave flyers and house compilations throughout 1988-89.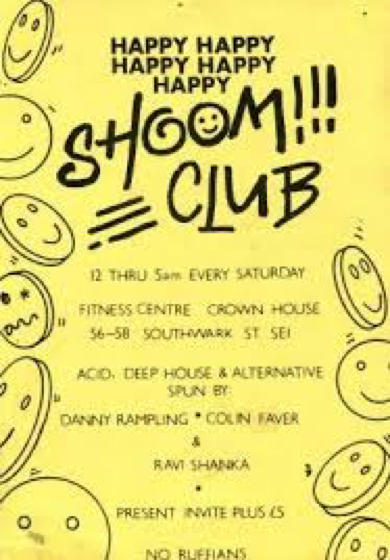 12. 1991
As the early 1990s saw the club scene (albeit temporarily) edge away from smiley after what had arguably been a period of overkill, he found support from an unlikely source, when Kurt Cobain drew a variant for his band Nirvana in 1991, just as they approached megastardom. The band trademarked their version, and later had a legal dispute with high fashion designer Marc Jacobs, who they accused of plagiarism on his 'Heaven' t-shirt design. Jacobs counter-sued, questioning the validity of the trademark – and revealing he had used smiley in his work as early as 1984.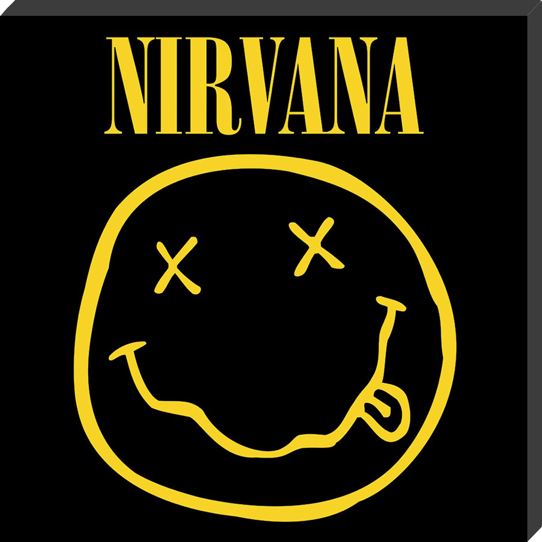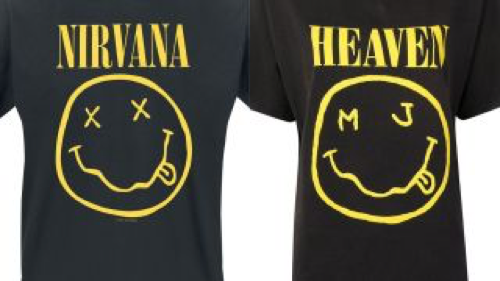 13.1994
This moment was later recreated in Hollywood blockbuster Forrest Gump, where Tom Hanks' muddy visage brings unexpected inspiration to a struggling t-shirt business. "He made a lotta money off of it", comments Forrest with characteristic lack of irony.
14. 2003 & 2005
Inventive use of smiley has been a recurring theme for mysterious cult graffiti artist Banksy in a number of well-known designs.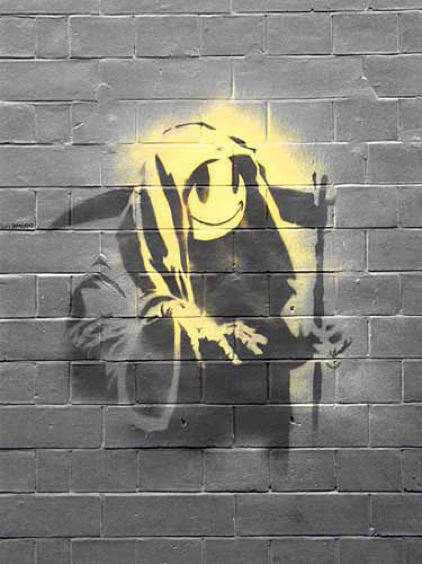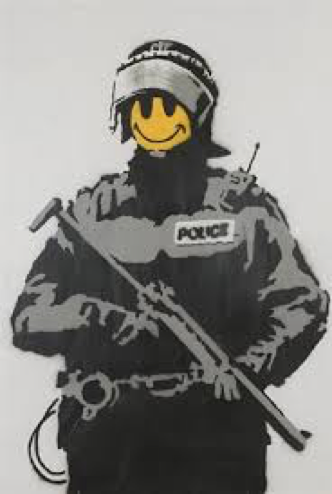 15. 2012
2012 saw giant smiley zorb balls feature prominently in the Danny Boyle directed Olympics opening ceremony in London.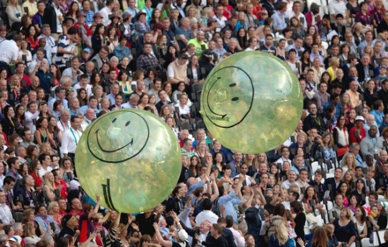 16. 2014
In 2014, designer Jeremy Scott created a capsule smiley collection for Moschino that gained major visibility when worn by the likes of Katy Perry, Skrillex, Miley Cyrus and Nikki Minaj. The Moschino brand had first used smiley in the early 1990s.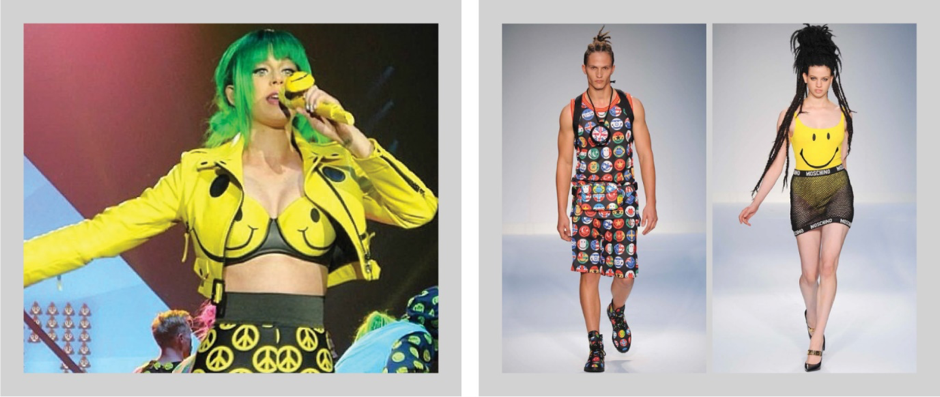 17. 2016
Meanwhile, 2016 saw London nightclub institution Fabric adapt the Smiley to feature their own logo as they successfully battled against the threat of closure.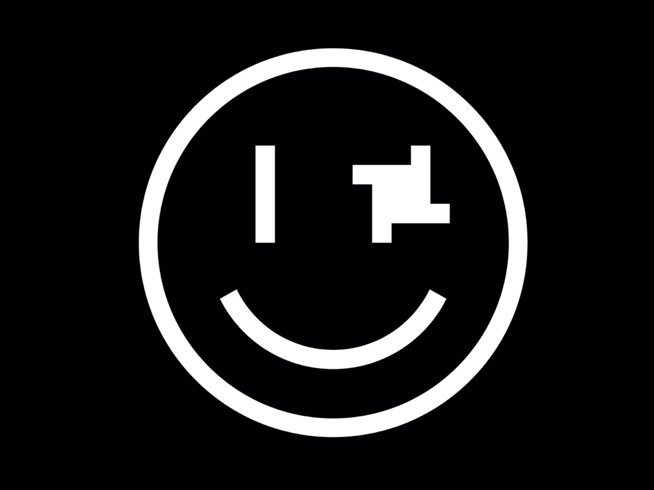 18. 2019
It seems fitting to end with Norman Cook (aka Fatboy Slim), who has long championed smiley. He has one of the world's largest smiley collections and frequently features it in his artwork… and in 2019 helped curate the Smile High Club exhibition at Lisbon's Underdogs Gallery, one that we hope will visit other locations in time. Smiley rave on.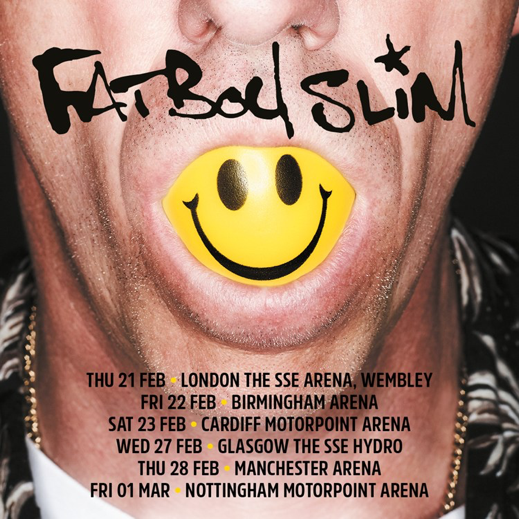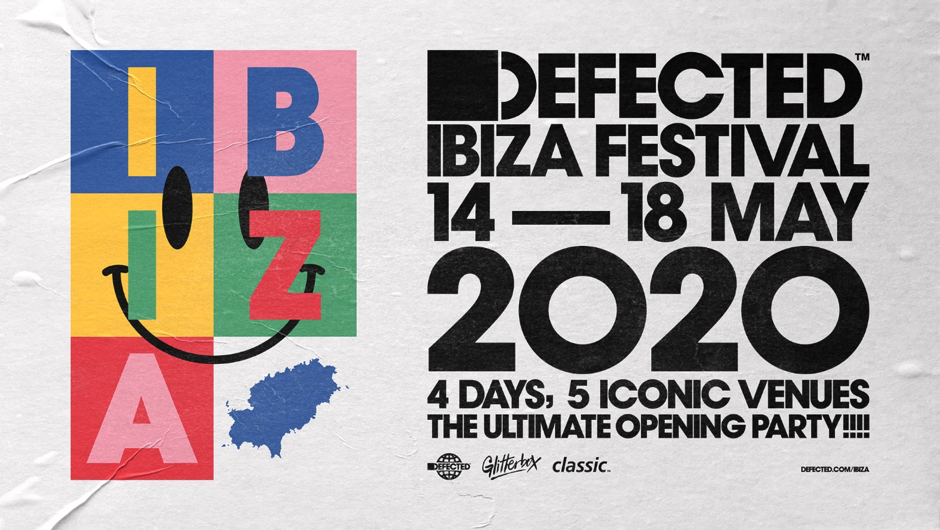 Join the Defected family at our four day Ibiza festival, the start of our very own summer of love. Combined festival pass and accommodation packages are available now from defected.com/ibiza, with prices starting at an incredible £229.
With thanks to smiley.com for nearly 50 years of reminding us how powerful can be!