There are nightclubs and then there's Berghain. Berlin's mighty techno-palace has built a fearsome reputation over the years leading up to, this month, its 10th birthday. With peerless reputation has come immeasurable impact around the world, both musically and culturally-speaking. Berghain is a dancefloor that has fundamentally changed the rules.
The story of Berghain actually begins in the previous century with the renowned Ostgut club. Ostgut was based in one of Berlin's former railway warehouses, emerging from male-only fetish night Snax which occupied various sites before settling in at Ostgut. The club opened in 1998 and became an integral part of Berlin's booming techno scene but was only to last until early 2003 when the old warehouse accommodating it was demolished (to make way for an ice hockey rink and concert hall).
Ostgut's reclusive owners – Michael Teufele and Norbert Thormann – were not expected to find a new home that could match the unique ambience of Ostgut. But in Berghain, they proved everybody wrong. Remarkably the pair's new venture, opening a year later, was situated just 100 metres from its predecessor's location in an abandoned power plant. The name was taken from city quarters Kreuzberg and Friedrichshain, both of which the new venue straddled. Berghain was a remarkable revitalisation of Ostgut's core architecture – high ceilings, dark corners, snug Panoramabar overlooking all that stark metal and concrete grandeur…. But it was also a savvy continuation of the musical policy that had served Berlin's techno scene so well.

Beghain, like Ostgut, put its reliance in carefully selected resident DJs who would define the cult, consistent sound of the club. Today, those residents include Ben Klock, Marcel Dettmann (whom Teufele and Thormann grabbed for Ostgut having heard a demo cassette whilst they were reportedly cleaning the venue) and Cassy, mixing the finest, most visceral of techno and house sounds. Guest DJs have always been welcomed but only where deemed necessary and relevant – names like Carl Craig and Jeff Mills complimenting the club's line-up rather than heading and dominating it.
Access to Ostgut was usually easy – you could be by the edge of the dancefloor in less than five minutes. And in the early days of Berghain it was much the same. The main club's opening in 2004, its gloomy main floor focused rigidly on hard as nails techno, was followed in October of the same year by upper-level dancefloor Panoramabar, with its penchant for all shades of house (from minimal to bass-disco) and, a month after that, by male-only gay sex club Lab.Oratory, on the first level. In due course, a smaller club Berghain Kantine, would also attach itself to the site – with a separate entrance.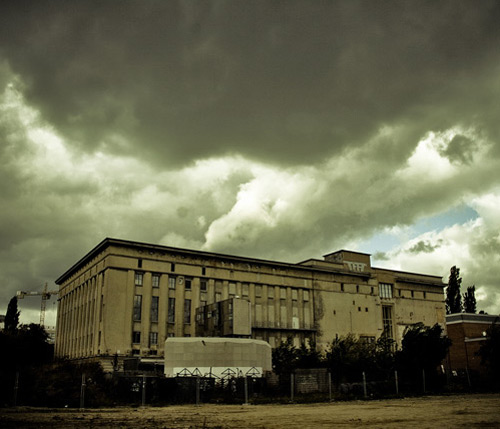 Berghain initially attracted a crazy local crowd made up of techno purists, leather fetishists and bearded 'creatives' high on drugs. Indeed Berghain was renowned for its narcotics and accompanying sex parties – like many extreme Berlin clubs of the time, it was something of a reaction to post-War austerity and years of (literally) being walled in. As its reputation spread, however, and Berlin's tourism boom hit top gear the club faced interesting challenges. Berghain, like it or not, was becoming part of Berlin's wider cultural gentrification and, as one of the capital's major new tourist attractions (a 2014 survey by tourism body visitBerlin indicates that a third of visitors are now drawn by the capital's nightlife), was unintentionally building massive global hype – there was huge mainstream interest in this underground phenomenon.
Berghain, of course, continues to enforce a no-media policy, and to prohibit photography within. In doing so it largely maintains its secretive autonomy – repelling much of the touristic interest whilst, conversely, fuelling it at the same time. The club's legendarily selective door policy, a policy that has evolved over the past decade, is an excellent case in point. In heavily filtering clubbers (at the whim of which ever door staff are on duty) and even superstar DJs (Richie Hawtin, notably, in 2009) to ensure the right party mix Berghain has created an at times inexplicable social ritual as famous as anything, or anyone, in clubland.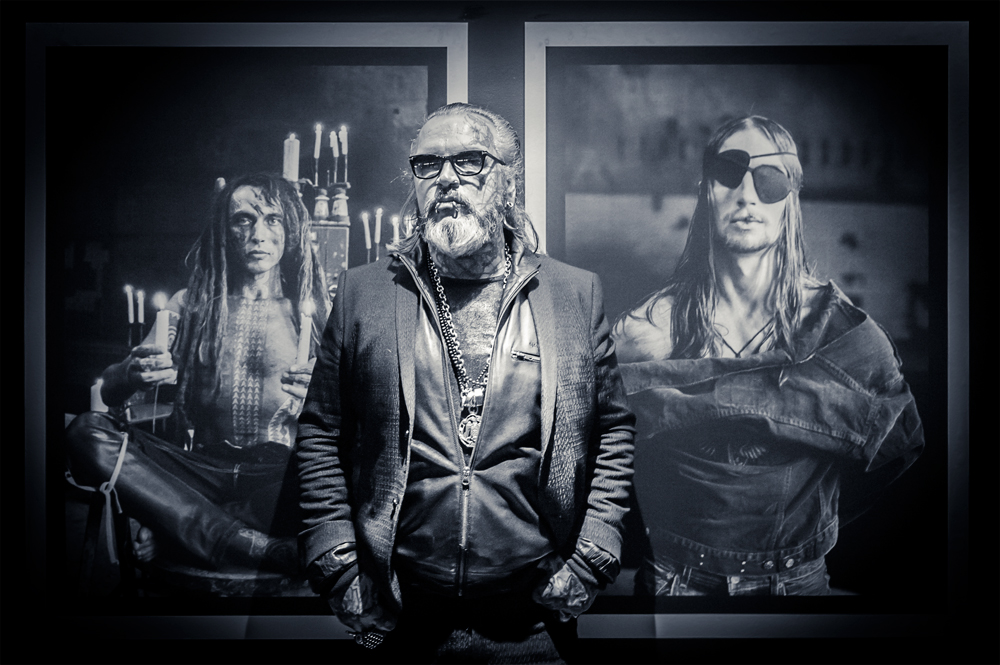 Berghain's main bouncer, face-tattooed East German photographer Sven Marquardt is a cult figure in his homeland these days, referred to by domestic newspapers as 'lord of the night'. Earlier this summer he published his memoirs to critical acclaim and said of Berghain's door policy "I don't mind letting in the odd lawyer in a double-breasted suit with his Gucci-Prada wife. If they make a good impression, let them in. We also take guys in masks and kilts, or Pamela Anderson blondes in run-of-the-mill high-street outfits who tag along with bearded blokes, licking the sweat off each other's armpits. That, for me, is Berghain." Blogs, Facebook sites and even dedicated smartphone apps continue to debate and advise on the best ways to enter Berghain – and so the mystery and suspense surrounding the club continues to spiral….
Musically-speaking, Berghain's influence on wider clubland has been, and still is, emphatic. Jesse Rose held a residency at the club for his Made To Play label in 2011 and fed back in DJ Mag's 'Top 100 Clubs' poll of the same year that Berghain was "still the best club in the world for me because it doesn't care about being the best club in the world. The guys do what they want, the way they want and it continually works. No VIP, no mirrors in the bathroom, no expensive cocktails, just a good sound system and a great crowd."
Len Faki, one of Berghain's very first residents, talks passionately about the club's influence on his studio discography. It's the same for countless other heavyweight artists. "To me it feels like symbiosis, it [Berghain] connects my own style and character" Faki comments. "Because of the residency and therefore being a constant part of Berghain it has definitely imprinted on me. Two tracks in particular were directly inspired by the club. When producing 'Bx3' I always pictured in my mind the dancefloor, the club and the crowd. The track truly can be considered as a homage to Berghain. Same goes for 'Kraft und Licht' for Ostgut Ton's funf compilation. It represents the feeling in the late afternoon hours of Sunday when everybody is feeling that special indescribable joy."

In an interview in January, Dettmann commented: "It [Berghain] was not my starting point as a DJ because I DJ'd before in my hometown or in other cities in the east part of Germany: Dresden, Leipzig. However, that was the starting point for Marcel Dettmann." Clearly, Berghain's influence within clubland extends well beyond the party circuit – it permeates the studio, it permeates the very psyche of those who drive the electronic scene forwards.
Berghain has made a 'historic' sonic impression these past 10 years, as much for its marathon weekends (starting Friday, ending early Monday morning) mixing stalwart residents and plugged-in visitors (label nights with Innervisions and Perlon stick, no…thump firmly in the mind) as its own record label, Ostgut Ton – introduced by journalist-turned-DJ Nick Hoppner in 2005. Ostgut Ton started, in Hoppner's own words, 'socially', being allowed to grow naturally through freewheeling, genre-pushing house and techno releases by its close-knit family of residents before expanding to productions from the likes of Ame, Tony Lionni, Luke Slater and Levon Vincent. Last year, the label (and Berghain) evolved further to collaboration with the Berlin State Ballet (Masse) – another symbol of the venue's prominent status in today's wider cultural cosmos.
This summer, Berghain kicked off its 10th anniversary celebrations with an exhibition 10 at the Halle am Berghain. The show, featuring bespoke works by a series of visual artists closely connected to the club (including Herr Marquardt), investigated club culture, the cult of non-elitism, body art and Berghain's own raw architecture through mediums integral to the club – space, sound, movement, photo-imagery. Ironically for such a secretive space, Berghain has much to say about the frontier landscape it inhabits.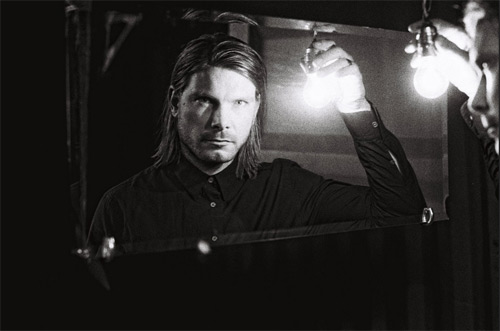 Next weekend – all weekend – Berghain throws its actual 10th birthday celebrations with a host of house and techno Mack Daddies including Ben UFO, Gerd Janson, Joy Orbison, Marcel Fengler, San Soda, Shed and Steffi, alongside Klock and Dettmann. It is a major landmark in the history of dance music, the club following epochal German techno institutions like E-Werk and Tresor and building upon them. Two years ago, there were nervous press reports suggesting the club would close following controversial rate hikes instituted by German collections agency GEMA but such talk (Berghain, interestingly, said nothing at the time) is long forgotten now.
Benedikt Koch, installer of Berghain's titantic Funktion One sound system (one of the most powerful ever in club history), indicated in February that said set-up only usually operates at between 10 and 20 percent of its total capacity. This 'clean' sound supposedly helps keep clubbers perky during the venue's lengthy dancefloor sessions; if the volume dial ever cranked round to full it would be, Koch claims, "like getting a massage of every nerve of your body."
One senses there is far more yet to come from Berghain – this fascinating night-time story is a long way from done; the dial is still turning....
Words: Ben Lovett
For more info on Berghain's 10th anniversary celebrations, visit http://berghain.de/