The Amsterdam Dance Event (ADE) is now fairly indisputably the biggest event of its kind, attracting industry folk and electronic music fans from all over the globe for a week of non-stop meetings or relentless partying – or a combination of both. But where to start? With so much on offer, ADE week can represent an almost overwhelming orgy of musical delights. Fear not: here to set you on the straight and narrow(ish) is our guide to ADE 2014.
The bullish words of General Manager Richard Zijlma are an appropriate place to start our preview of this year's Amsterdam Dance Event (ADE). If there were concerns in certain quarters last year that ADE might lose focus and identity through rapid expansion then they haven't compromised its relentless march into 2014. "You can compare it to major fashion weeks all over the world" Zijlma says of electronic music conferences in general. "This scene will also develop a bit like this way. The great thing about electronic music is that you can connect with all other genres.... It won't disappear."
And ADE won't disappear - at least not any time soon. This year's carnival rolls into the town at a time when Zijlma is hell-bent on global expansion. In an interview given earlier this month, Zijlma confirmed his intention to further develop a presence in the Caribbean where, last year, ADE successfully introduced the Electric Festival to Aruba and then, at the start of this month, returned with glittering bells and whistles. Partygoers were up to 16,000 this year and the festival's conference delegates (specifically attending ticketed lectures, workshops and networking ops over three days) hit 300. By comparison, the main ADE event attracts 5,000 industry delegates annually but in its' earliest mid-Nineties moments it too boasted just a few hundred attendees.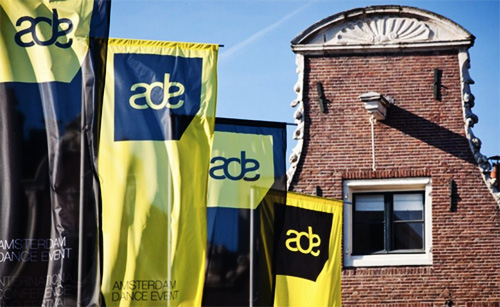 Meanwhile Zijlma is currently talking to various cities around the world about the prospect of hosting standalone ADE-branded events. Nothing is set in stone yet but the ambitions, just a year before ADE's 20th anniversary, are clear to see. ADE 19, of course, is just a few weeks away now – 15-19 October - and its enhanced size and scope are, predictably, staggering. Over 1500 artists have been announced so far, and a whopping 85 venues across Amsterdam are taking part. Those numbers are still increasing as you read this. "It is the strongest business conference for the dance world" Zijlma proudly attests.
Best that we start our conference preview with ADE's non-party 'Playground' schedule first. Countless events will be running across the city covering film screenings, lectures, pop-up shops, tech previews and exhibitions. 15 October welcomes the screening of a Resident Advisor 'short' on Matthew Dear, and the opening of a temporary Kompakt store featuring sets from mainstays Weval and Patrice Baumel.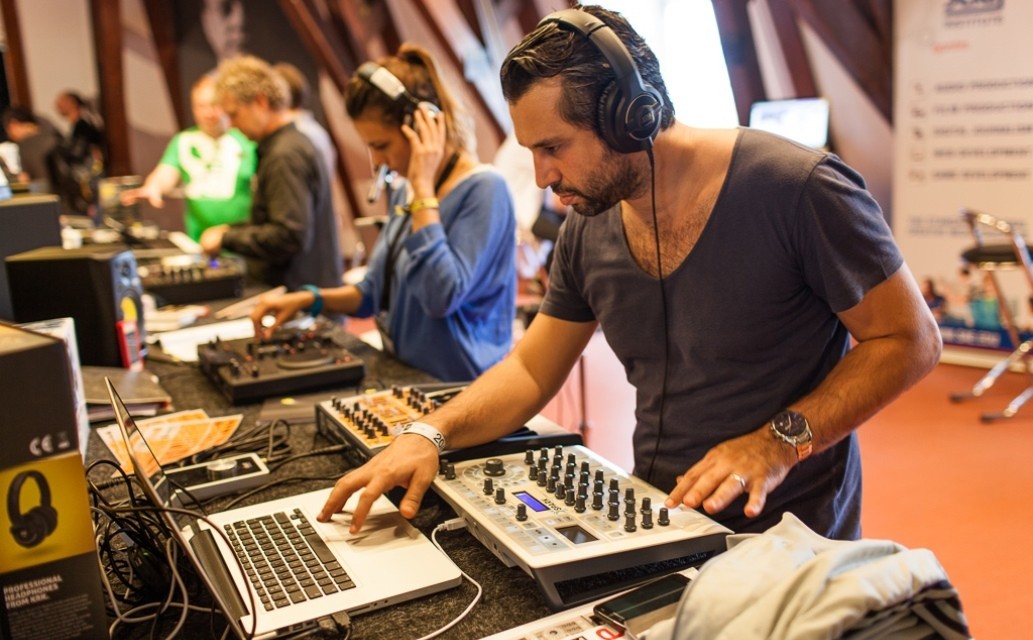 Beyond, Ableton and Native Instruments host showcases 16 October – the latter, at De Brakke Grond, including an exclusive interview with Boy George. Still at De Brakke Grond, on 18 October revered Hollywood film composer Hans Zimmer lectures from 4pm. Zimmer has soundtracked everything from Rain Main to Christopher Nolan's acclaimed Batman trilogy; he also, supposedly, consulted for Daft Punk's work on Tron: Legacy. The ADE Playground's final day, 19 October, features a welcome 'refuel' Brunch And Boogie foodmarket.
Elsewhere, ADE's daytime 'Conference' speakers include Arthur Baker, Seth Troxler, Steve Rachmad and Hardwell. And the event's fledgling ADE Tech, Green and Next strands return – focusing on the ongoing, ever important topics of clubland sustainability, technological innovation and future talent (and how to nurture it).
But what of the parties? Clearly ADE's key draw these days. A grand union between Josh Wink's Ovum label (celebrating 20 years as Ovum20) and Riva Starr's Snatch! imprint officially opens the whole shebang, taking place at Panama, 15 October. Alongside Wink and Starr, performers include Steve Bug, Technasia, Pirupa, Leon, Luca Bacchetti, Ambivalent, MANIK, ONNO, DJ Ralf, Pezzner, Carola Pisaturo and Santos. Weighty stuff.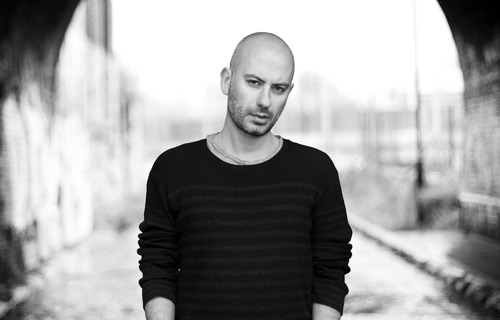 On the same evening, and at the other (more soulful) end of the dancefloor scale, South African house hero Black Coffee teams up with Joaquin 'Joe' Claussell for six thoroughly roots-y hours at Sugarfactory. Then there's kindred spirit Ron Trent playing Rush Hour's 'Event Special' at Trouw, joined by Hunee & Antal, Traxx and San Proper; whilst R&S Records commandeers Studio 80, M.A.N.D.Y headlines a D-Edge gathering at Baut (with Kate Simko, Ian Pooley, Cesare vs Disorder and Boris Werner) and Stereo boys Chus & Ceballos hit Odeon with their trademark assault of chunky, tribal, 4-4 goodness. That still leaves everything from the stadium soar of Paul Oakenfold and Paul Van Dyk at the Luminosity presents Vandit & Perfecto Fluoro party (at Westerunie – Westergasterras – Westerliefde) to the experimental jazz-electronica of Henrik Schwarz, Bugge Wesseltoft and Dan Berglund (at Muziekgebouw aan t' IJ). What a start….
The following evening flaunts Welcome To The Future's Hyte Warehouse bash at Warehouse Elementenstraat, featuring Laurent Garnier, Maetrik (AKA Maceo Plex), and both Recondite and Scan X live. Welcome To The Future is, of course, one of the Netherlands' most prestigious electronic festivals – its' most recent incarnation, this July, sold out to 23,000 highly enthused revellers in next to no time. Welcome's Creative Director Gert Van Veen, formerly of Studio 80 fame, can't wait for next month's festivities to commence. "ADE has gone from strength to strength in the last, let's say six or seven years" he suggests. "It's a very inspiring week for Amsterdam and for the international scene in general. The city itself, which only has some one million inhabitants, is way too small to host so many events. But there are people coming from all over the world to party in our city. And they bring a great vibe. ADE is really the highlight of the year in Amsterdam."
What does Van Veen have to say about the Hyte Warehouse on 16 October? "We're expecting 2500 visitors at the Elementenstraat. It's a legendary rave location from the early days of house music in the Netherlands – the early Nineties" he explains. "Last year it was bought by Duncan Stutterheim and Wouter Tavecchio (Q-dance) and is now one of the best new party locations in the city. I'm really excited about our party!"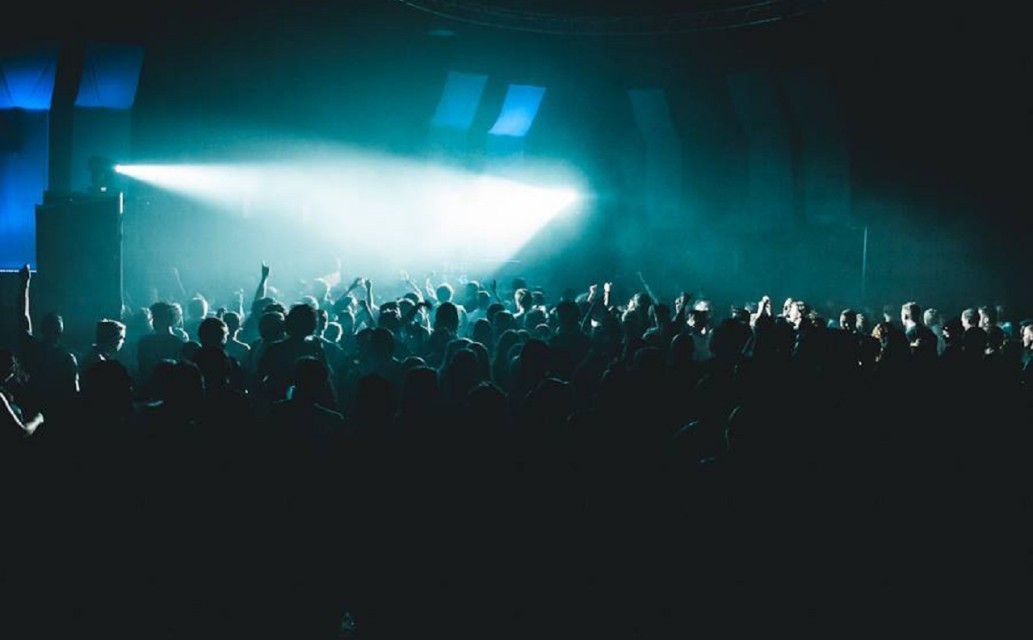 For company, Van Veen has Solomun's Diynamic shindig over at Mediahaven – Minervahaven. Regular Diynamic cohorts H.O.S.H, David August, Stimming and Kollektiv Turmstrasse will ensure this one goes fabulously. Elsewhere, Shadow Child, Deetron, Guti and Edwin Oosterwal play for Verknipt's Suara, Rejected, Knee Deep In Sound and Food Music mash-up at Westerunie; and under the Life And Death banner, Tale Of Us and DJ Tennis helm the first of three DGTL events at NDSM Scheepsbouwloods (the second, 17 October, welcomes Jamie Jones, The Martinez Brothers and Route 94 in support of Paradise; the third, for Kompakt on 18 October, introduces Michael Mayer).
Still with 16 October, look out for tINI 'And The Gang' at Cruquiusgilde Warehouse; AUS Music (Will Saul, Huxley and Breach) at Studio 80; Modeselektor at Melkweg; This and That vs Cadenza at Beatclub, with Davide Squillace; Pete Tong and Heidi at AIR; DJ Sneak and Detroit Swindle's 'gangster' lean over at Baut; MK and Secondcity's Chicago Social Club jam; DJ Pierre's Afro Acid wig-out at Club NL; and, finally, the global premiere of Dubfire's Live-Hybrid show, housed in city beach exhibition space Amsterdam Roest.
We progress to 17 October and, naturally, Defected Records' hotly anticipated AIR showcase. Building on the glittering chicanery and style of its previous AIR-based ADE workouts, Defected corals contemporary house talents Hercules & Love Affair (playing live), Oliver $ (co-author of Ibiza 2014 anthem 'Pushing On'), Franky Rizardo, Sam Divine and Dane sensation Noir for the main room, whilst presenting the irresistibly swinging, DFTD-backed wares of Flashmob, Sonny Fodera, Christoph and cult London duo krankbrother in AIR's second space.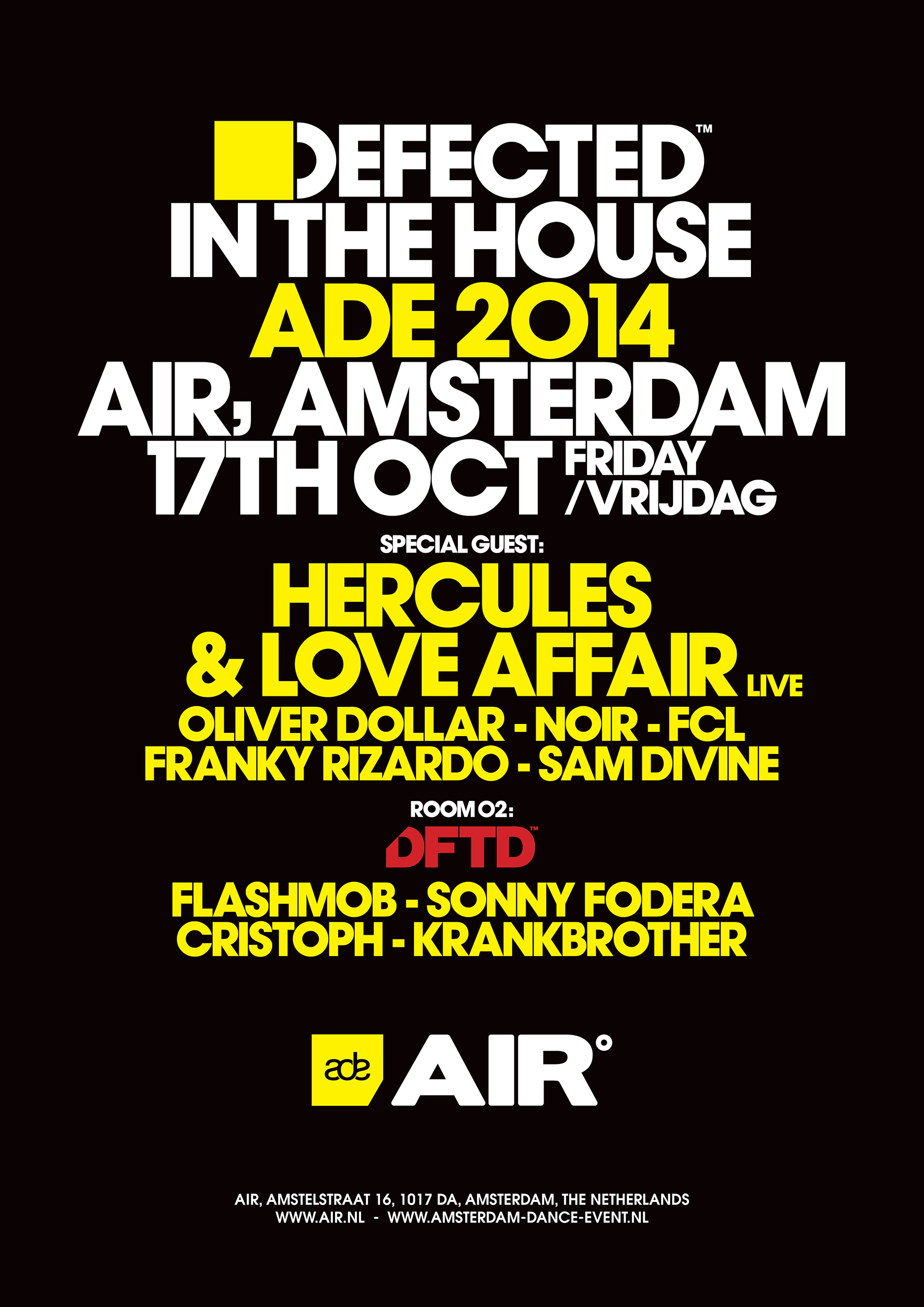 17 October also means Ricardo Villalobos at Warehouse Elementenstraat; Dave Clarke, Green Velvet and Stacey Pullen at Melkweg; Legowelt and Ron Morelli's deliciously rough 'n' ready L.I.E.S crew at Studio 80; Carl Craig presenting Detroit Love at MC Theater; and local favourite Tom Trago at Undercurrent. There's more – Sugarfactory embraces Jazzy Jeff, DJ W!ld, Soul Clap and disco-loving Bostonian compadre Kon for MN2S; Chicago Social Club hosts Catz 'N Dogz' Pets showcase; Rose's Cantina welcomes an Atjazz-Karizma mash-up under the banner of R2 Records and United Music; and Kult Records presents a Warmoesstraat gig headed by Seamus Haji, Lenny Fontana and Eric Kupper. That still leaves the uncompromising techno thrust of Ben Klock at OT301 and, conversely, the soulful nuance of Francois K, Joey Negro and Luis Radio for Baut's Soul Heaven soiree.
On to 18 October, which brings forth Four Tet and Floating Points at Trouw, whilst Deep Dish, Guy Gerber and Visionquest push electronic boundaries at Mediahaven and techno meister Chris Liebing plays Warehouse Elementenstraat. Amsterdam Roest hosts Seth Troxler's amusingly titled Big Tittie Surprise Episode II: Dolphin Fight party, featuring special guests Kerri Chandler and Jackmaster; Melkweg's Breakfast Club introduces Mathew Jonson, Minilogue and Prosumer; BPitch's Ellen Allien represents Watergate at Studio 80; and Julio Bashmore rumbles De Overkant.
That's not to leave out Osunlade's 'secret' shindig at Canvas, a Yoruba Records affair promising special guests. Derrick May, too, throws a Transmat party alongside Tom Trago at Paradiso; Steve Bug heads Poker Flat vs HEY! at Baut; and Hotflush Recordings heads to Chicago Social Club to present bass-y charms via Scuba, Dense & Pika and George FitzGerald.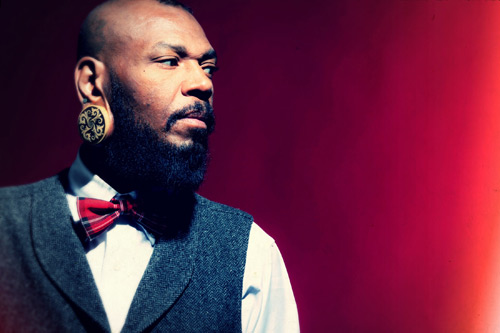 ADE's final day then - fewer parties but still several highlights. Look out for Loco Dice's Warehouse Elementenstraat takeover with Used + Abused's The Last Dance; Dice is joined by Henrik Schwarz and Ten Walls (both live), not to mention Robert Dietz. Also look out for techno titans Marcel Dettmann, Marcel Fengler and Function at MC Theater's Ostgut Ton showcase; and, in the same breath, Detroit luminaries Robert Hood and Kevin Saunderson at Sub:Merged, Westerunie. Over at Sugarfactory, Ryan Crosson, Tobi Neumann and David Alvarado play for Resolute NYC; and Secretsundaze team up with My Love IS Underground and Tomorrow IS now, KID at Studio 80 – expect deep house gymnastics. That leaves out-and-out electro legend Egyptian Lover, swinging by Disco Dolly, and, on a supremely soulful house tip, Quentin Harris and Honey Dijon at Sound Of Blackness' Club Church afterparty – the perfect wind-down to five days of relentless industry hustle 'n' bustle.
"I think there are even more events this year than in 2013 and it seems some clubs and events report a slower pre-sale than in previous years" Van Veen reflects, mildly echoing last year's concerns around ADE's rampant growth and its potentially negative implications. "It's obvious that there must be a limit to the amount of events you can have in one ADE week before some events won't attract enough visitors, but till now that didn't stop anyone from setting up more and more. There are literally hundreds of labels that want to be presented in ADE week."
Van Veen continues: "Sometimes local artists complain that they're pushed away by the many international artists present at ADE, but on the whole I think ADE is boosting the scene in such a way that it's really good for the city and the scene, so….I'm really looking forward to it again!"

http://www.amsterdam-dance-event.nl/
Words: Ben Lovett
Defected Records' ADE showcase takes place at AIR Friday 17 October – click to buy tickets
Defected In The House Amsterdam 2014 is out 12 October (3CD and digital) on Defected Records - order from iTunes and Amazon