Luke Solomon and Derrick Carter founded Classic Records in 1995 and, in doing so, re-wrote the house rulebook in freaky, far-fetched and totally mesmerising future-disco ink. Classic's was a mantra like none other, actively pushing the boundaries of trad-4-4 dance with every release and further entrenching itself within the hallowed annals of clubland history. Beyond all that history however, 2014 may just have been the strongest year for the label yet.
Classic in 2014:
• Dan Beaumont 'Trippy Pumper' in DJ Mag Best of British awards
• Dan Beaumont 'Trippy Pumper' one of Time Out's tracks of the year
• Seven Davis 'Friends EP' voted in Gilles Peterson Awards
• Seven Davis 'Friends EP' 34 in XLR8R Tracks of 2014
• Seven Davis 'Friends EP' in DJ Mag Tracks of the Year
• Two Classic releases in Beatport Best of House 2014 chart
Solomon and Carter's imprint didn't do anything by halves, ensuring striking and critically acclaimed standout against a mid-Nineties backdrop of house labels regularly reverting to formulaic vocal, drum and breakdown types. Classic's debut release, the 'Seasons' sampler, was a powerful case in point, splicing experimental electronic dance with sleek downtempo via switched on artists including Red Nail, Purple Haze and Tone Theory. It set the tone beautifully for what was to come, sharp follow-up releases by DJ Sneak, Matthew Herbert, Tiefschwarz and Metro Area.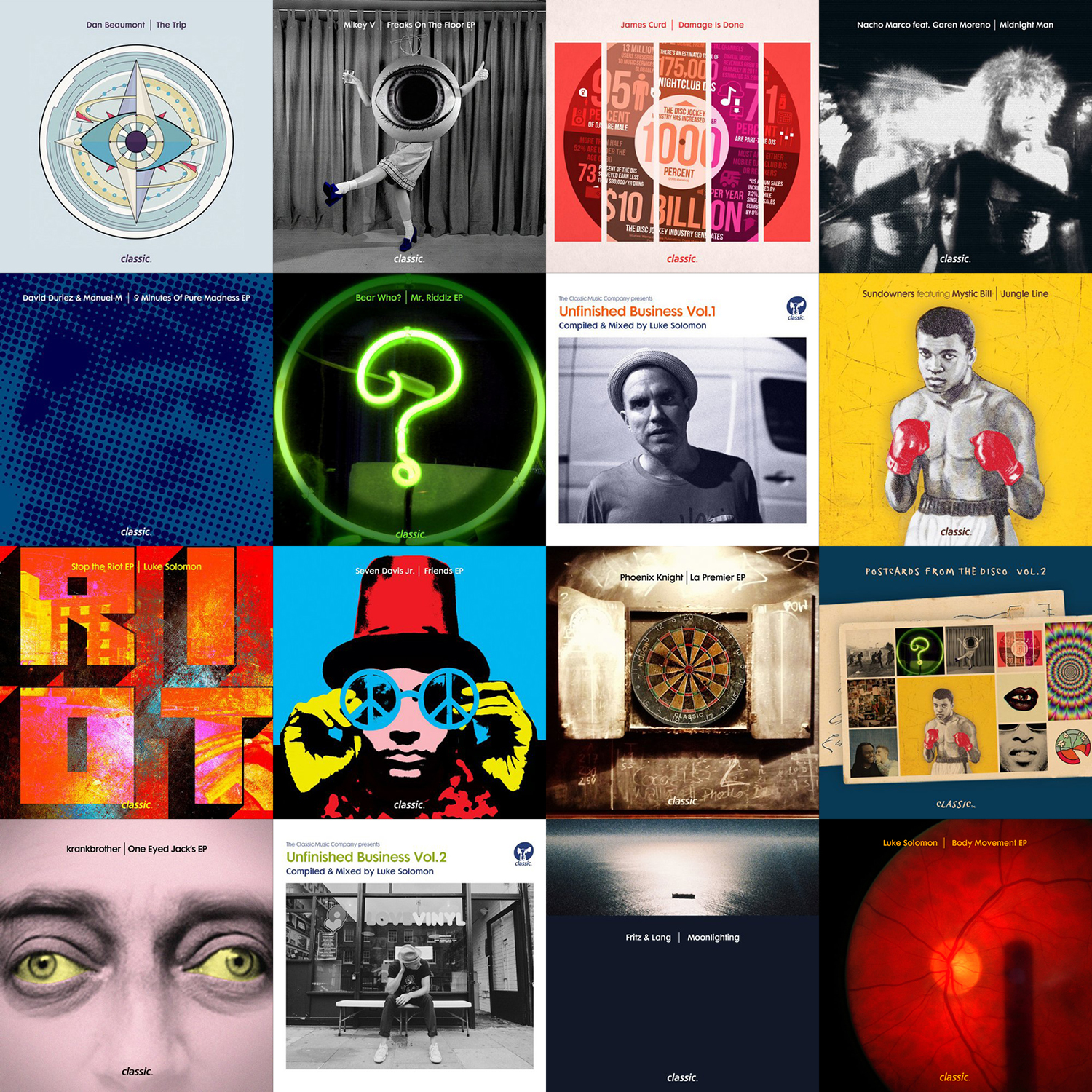 Over the past couple of years, Classic has extended its emotional reach (check Solomon and Jon Marsh's 2012 tribute to late DJ friend Kenny Hawkes, 'Lonely Dancer'), quirked 'n' jerked like never before (Mathew Styles' 2013 EP 'Out All Night' and Dan Beaumont's self-explanatory 'The Trip', introduced this year, are sterling examples) and delivered truly vintage future-grooves (what about Seven Davis Jr's legendary 'Friends EP' this summer?) – the kind of timeless, transcending, history-making music that the dance industry, by and large, has been missing in recent times.

That Beaumont and Davis Jr have landed big style for Classic in 2014 gives you an effective summary of what the label's overall year has been like. Epic. But let's grab Solomon himself for the full Classic rundown on what's passed and what's next.....
How do you quantify Classic's achievements this year Luke?
Put it this way...there was so much love for the label's achievements the first time round and to have been able to achieve that love again this year is amazing. We've overcome the fact that Classic's core audience is now older, and have won over new audiences. These were big challenges and I've loved being able to tackle them and do all of this with the label again. Classic today is more than just re-issues, it's much more than that. I've been able to take my A&R experience much further forward and further develop the label.
What are your particular highlights?
The Sundowners' release ['Jungle Line', featuring Mystic Bill] was really strong, and then we signed Seven Davis Jr which prompted a string of great releases hitting people across the board. I loved Dan's EP [Beaumont, 'The Trip']; I was won over by the title [of lead track, 'Trippy Pumper'] to be honest...it was a super-stormer that begged to be played in a club. And Seven...that was the icing on the cake really – a new classic in that old classic style which everyone has really supported this year. I also think the compilations have been important. Unfinished Business [Vol. 1 & 2] has gone far and wide, telling people our story...what we're about. We've grown a lot in 2014.

The 'end of year' lists are reflecting that.....
We couldn't be more pleased. Gilles Peterson named Seven's 'Friends' as one of his tracks of the year [the Worldwide Awards], as did DJ Magazine, at number seven I think, and XLR8R. Seven also had one of Beatport's house picks of the year ['Friends'] as well as me ['Stop The Riot', featuring Sam Lynham], and Dan was 30th in Time Out's Top 50 Songs of 2014, for 'Trippy Pumper'. There's been lots of patting on the back....
How did that pivotal relationship with Seven Davis Jr come about?
Simon Morell at Defected had been turned on to 'One' by Seven, which was floating around on a Detroit label at the time. He mentioned it to me, after which I found and purchased a few of Seven's tracks online. It was then that I found out Seven's manager was an old friend of Simon, so we were introduced and hit it off. My original plan was just to re-release 'One' on Classic but Seven started telling me about a couple of other things he'd been working on. The 'Friends EP' was staggering. You wait years for records like that...timeless records.
You must have plans to work again?
Yes, absolutely. We've built a strong relationship with Seven and I think he likes being part of a community...our community of misfits. His next project is an album with Ninja Tune, I think, but then after that we're looking to focus more on the house side of things. I'm looking forward to working with him in the studio next year.

And what about Classic's wider plans for 2015?
We have most of the year planned actually. The plan is to have new stuff every month and really make some noise in 2015. I'm happy to give you the exclusive on a few upcoming releases. The first one will be an EP from me alongside Nick Maurer, 'Body Language'. Then there are two releases from Honey Dijon & Tim K. The first, 'Burn (Step Into The Light)', has remixes by me, Pond Life, Crooked Man [AKA Sheffield veteran Parrot] and Knights Of The Hunted [AKA Parrot and Moloko man Mark Brydon]; the second, 'Thundah', has remixes from Terrence Parker and Hnny. Both are tributes of a kind to Frankie Knuckles, with those early Nineties sounds and two great vocals. Beyond that Brett Johnson releases the 'Bounces Back EP', a modern take on the 'Bounce! EP' he released with us some 12 or 13 years ago; this one features a remix by That Man Monkz. Then there's a Seven Davis Jr remix package, featuring Seven's new version of 'One' and remixes by Eats Everything and Krystal Klear. Finally, I have another new single lined up featuring Shit Robot and PBR Streetgang remixes, and there's Unfinished Business Vol 3 and all sorts of parties and showcases.
What's your main goal for the label next year?
Well, we've had a great year for vinyl but in 2015 we really want to build up our digital audience. The label's sales have to be dictated by more than just vinyl. Doing more with Beatport is a next step for Classic. It's the nature of the beast...you need the numbers to make a viable business. But we'll expand in the right way so that we remain different and esoteric. Reintroducing Classic today has been much more difficult that originally launching it. Today, everyone's tastes are scattered and people like to know specifically what they're getting. With Classic you never know what's coming next – that's a strength, but it can confuse people.
Isn't there a flipside to that – today's scattered tastes complimenting Classic's diversity? Do you not feel Classic has greater competition now from new, similarly-minded labels?
Over the years there have been labels that have championed more experimental house music, and those that have focussed on more commercial sounds, but there aren't so many that have been able to balance the two. I've always looked at Classic like my DJ sets, where I play all sorts of things. Derrick had his particular take on things, and was possibly more mainstream than I...he passed that attitude onto me, and the whole thing worked well, still works. I look at those Honey Dijon releases coming next year and, in a perfect world, they'd be considered pop songs. Of course Classic is still weirdo and it still works. A lot of house labels are genre-specific but that's not us.
So what is the current dynamic like between you and Derrick as far as Classic is concerned?
We have a great relationship. I'm actually in Chicago right now and we're going Christmas shopping after this interview! Derrick still flies the Classic flag but is happy letting me mother the content...he's happy so long as the history is being looked after. I'm generally looking after the nuts and bolts of things.
In which case, how do you personally explain Classic's mantra?
I think we've become even more particular where the label is concerned and that's down to being older...having experienced successes and failures, and developed a greater wisdom. We've needed to learn the new model of the music business, which relies on having a close connection with your artists, on those artists having real talent, and on your label having a proper business plan. Classic, as before, isn't about fame and stardom; it's focused on a bigger movement...on longevity. I went to Derrick's gig at the Smart Bar last night and he played an old Ron Trent-Chez Damier track that we first championed in our 20s. To see the same dancefloor reaction to that record, then and now, is what it's all about – to be a part of the history of house music means so much. In terms of Classic, we might not make waves right now with everything we release but I believe that the cream rises to the top. If we have the right approach to the music we put out then, in the long term, we'll achieve much, much more.
Words: Ben Lovett
For more on Classic Records visit http://theclassicmusiccompany.com