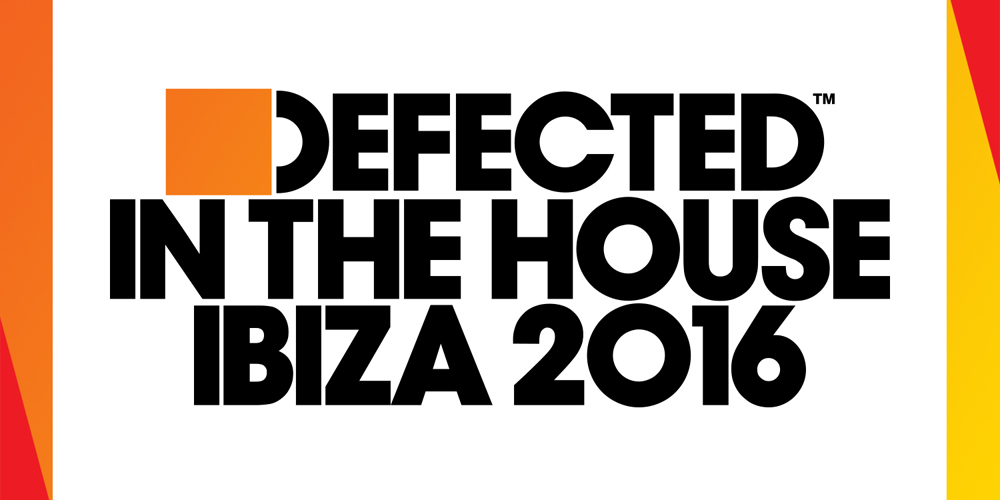 Whether you need a soundtrack for the balcony of your Ibiza apartment or want to bring that special White Isle feeling to your own front room, 'Defected In The House Ibiza 2016' is the only answer. Expertly selected and mixed by label founder Simon Dunmore, these three perfectly crafted mixes take you on a real journey around the island, from relaxing beachside sounds to peak-time club moments and music made for watching the sun come up after a night on the strip.
'Defected In The House Ibiza 2016' is the latest in this now famous series, aimed at celebrating the sound of the Balearics at its very best. It features all the tracks that will be soundtracking this year's season, providing the essential playlist for your summer and conjuring up the magic of the island.

With a summer full of fresh Defected releases fast approaching, this compilation is the first opportunity to hear many of the exclusive records that we're incredibly excited about, including the Deetron remix of Honey Dijon & Seven Davis Jr. – 'Houze', Sonny Fodera's new single 'Over This' featuring Shannon Saunders and Josh Butler's latest 'On The Edge'. They will be joined by brand new Defected music from South Africa's heavily-tipped Black Motion, DJ Cameo & Junction 13, ATFC, Armand Van Helden's destructive mix of 'Freak Like Me'. You can also expect to hear some hot releases from legends of the scene, including Mike Dunn, Mr. G, S-Man and Terrence Parker, making this a mouth-watering tracklist for lovers of that genuine Ibiza house sound.

Weaving between the many variations of house music, all three mixes paint the picture of what Ibiza means; an escape, a trip, a memory. Simon draws on his many years spent on the island, delivering an eclectic selection of sounds that instantly take you back to your favourite Ibiza memories and will make sure you want to be there to create more in 2016.
With the sun shining and Ibiza season fast approaching, this is a unique collection of music for all house heads.
Defected In The House Ibiza 2016 is out now (3CD / Download / Stream) on Defected Records
MIX ONE:
01. My System Echo - So Near
02. Fred Everything – Searching (Feat. Jinadu) (Acoustic Mix)
03. DZO - Blessings (729 Mix)
04. Nick Curly - Between (Accapella)
05. Divided Souls & Samuri – North (Feat. Sio Blackwidow) (Original Mix)
06. Pysh - Honey (Original Mix)
07. Full Intention - Beating Drum (Accapella)
08. Jackson Brainwave - Hear The Drum (Dub Mix)
09. Tim Deluxe - JAS (Accapella)
10. Rise Ashen - Second Wind (Rise Ashen Original Mix)
11. Black Motion - Rainbow
12. Josh Butler - On The Edge (Feat. Kerrie-Anne)
13. Och - Time Tourism (12" Version)
14. Logic - The Warning (Accapella)
15. Khan - Say Goodbye (Feat. Julee Cruise) (LoSoul 'She's Homeless' Mix)
16. Oscar G & Ralph Falcon - Never Let You Go
17. Mr. G - Precious Cargo (Feat. Blondewearingblack) (Vocal Mix)
18. The DangerFeel Newbies - What Am I Here For? (KZR's Defected Stripped Down Mix)
19. DJ Cameo & Junction 13 - Morning Rain (Feat. Manny)

MIX TWO:
01. Crookers - A Place In My Heart (Feat. Kym Mazelle)
02. Soul Minority - Always There (Feat. Nathalie Claude) (Norty Cotto Classic Mix)
03. thatmanmonkz with Khalil Anthony - Take U 2 My House (Jimpster Remix)
04. Will Monotone - Rulers Of The World (Original Mix)
05. Kings Of Tomorrow - So Alive (Accapella)
06. S-Man & Harry Romero - Searching (Feat. Melisa Whiskey)
07. ATFC - Git Yo Hands Up (Burnin' Deeper Mix)
08. Prunk & Bas Roos - What I Do
09. Purple Disco Machine & Boris Dlugosch - Set It Out
10. ATFC - No Victim Song (Feat. Hannah Williams)
11. Rachel McFarlane & Nick Hussey - Let Nothing
12. Gastek - Liquideep (Hector Couto Detroit's Remix)
13. Mike Dunn presents The RC Groove Project He's Gonna Make It Alright (Feat. Ron Carroll) (MD'z Original Receipe Vocal Mixx)
14. Mat.Joe - When You Hear That Sound (Original Mix)
15. Terrence Parker - Heart Break
16. Roland Clark - Resist (Accapella)
17. Alaia & Gallo - Who Is He? (Feat. Kevin Haden)

MIX THREE:
01. Riva Starr - Without You
02. Anna Cavazos & Sam Haas - Paydirt (Original Mix)
03. Noir - Music 4 Me (Accapella)
04. Space Echo - Soul Power
05. Gene Farris - The Lucky Ones (Original Mix)
06. Tonja Dantzler - In And Out Of My Life (Dario D'Attis Remix)
07. Spencer K & Matt Sassari - Isuly (Worthy Remix)
08. Riva Starr - Raw Feel
09. Pino Arduini & Javier Bollag - Los Pueblos (Pablo Fierro Remix)
10. Joeski - Clap Yo Handz (Feat. E-Man)
11. Enzo Siffredi - Are You Insane?
12. Mark Fanciulli – Control (Feat. Joe Le Groove) (Accapella)
13. Honey Dijon – Houze (Feat. Seven Davis Jr.) (Deetron Extended Remix)
14. Wrong Copy - In To 5 (Original Mix)
15. Osunlade - Momma's Groove (Accapella)
16. Tommy Bones - Aisha
17. Lee Walker - Freak Like Me (Armand Van Helden Remix)
18. sanXero - Let's Freak (Feat. Mr. V & Louie Vega) (Freak-A-Pella)
19. Fred Everything – Believe (Feat. Kathy Diamond)
20. Sonny Fodera - Over This (Feat. Shannon Saunders) (Extended Mix)