Ask your average deep house enthusiast who their top DJs and producers are and they'll more than likely reel off names like Jamie Jones, Dixon, Âme or Tale of Us – excellent artists of course, but perhaps some of the more obvious figure-heads of modern deep house. A name that perhaps doesn't spring to mind so readily is Andre Lodemann; the East German DJ and producer who has, relatively speaking, remained in the shadows of the underground scene for the best part of two decades, despite having released on reputable imprints such as Buzzin Fly, Freerange, Simple, Rebirth, Room With A View and his own experimental label Best Works.
Lodemann is an enigma of sorts. Amongst his peers and deep house aficionados, his name is synonymous with originality and quality music - but seldom do we hear much about him. In a rare interview, Defected's Hannah Thomas sets out to find out more about this unsung hero and why he chooses more often than not to shy away from media exposure.
"In my opinion it's all about listening to the music, not the person" opens Lodemann. "It's important for the music to speak first. I can't be sure what effect this has had on my career but what I can say for certain is that I am where I am because of the music I produce and play.
"Occasionally it seems that image and profile have become more important today than in the past due to the oversaturated market." he continues. "A good image campaign can create hype, but this hype does not necessarily stand for quality." In a climate where image carries so much weight, it is perhaps more meaningful that he has achieved so much without one. Paradoxically Lodemann, in all of his wisdom, has achieved a relatively high profile by opting not to eschew exposure for exposure's sake, instead focusing solely on his art.
His music does indeed speak for itself, as does the overwhelmingly positive feedback from 'Coming Your Way EP', his debut release on DFTD with which Lodemann "wanted to keep deep in the traditional sense. It was my intention to have one slower and one faster groove to show my range of production and I wanted both to undergo a kind of metamorphosis". Indeed the two distinct cuts do take you on a kind of a transformative flight; his singular, intelligent sound resonating on a highly emotional level.


This end result is far from accidental: "When I produce I am looking for an emotional reaction within myself" he offers. "I like to tell a story, taking the listener and myself on a journey." With Lodemann there is an emotional intelligence and understanding, which is perhaps unsurprising given the 12 years' experience he clocked up working as a social worker with teenagers in the Berlin suburbs. Music has always been an outlet for him – a vehicle for self-expression and reflection. "I use music to express my feelings. Sometimes, when I have a lousy day I produce a dark track that really catches my mood and helps recapture that moment and reflect."
There is nothing formulaic about his production, nor the creative process in the studio; his production prowess seemingly determined by his ability to mirror the unpredictability of the human condition. "It usually starts with one element that inspires me. It can be a random sample or an effect tried out while experimenting with my software. From there it's a lot of messing around until the music finds me". He defines his own sound as "the contrast between warm analogue and aggressive sounds with many different layers and playful usage of effects and also constant transition. There is no architectural approach, no predetermined framework.
"In the nineties, I was deeply influenced by soulful deep house. I brought a lot of stuff from labels like Nervous, Strictly Rhythm, Guidance, Open, Distant, Junior Boys Own, Power Music, Deep Dish, Glasgow Underground, F-Comm, Svek. After the turn of millennium I discovered the kind of "modern" style of house-music with a more electronic, techy approach which came out on labels like Sonar Kollektiv, Ovum, Freerange, Buzzin Fly, Dessous, Innervisions, Ostgut Ton. In my productions I combine these influences, trying to mix soulful voices and organic sounds with techy, mechanical aggressive sounds."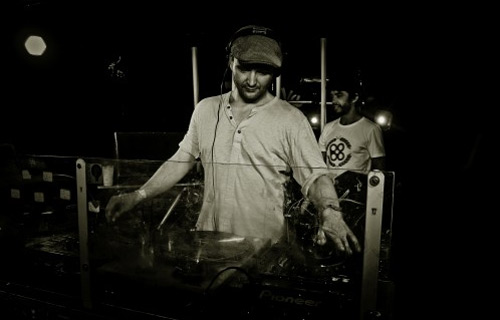 As well as this music melting pot of musical stimuli Andre cites his home town as having an indirect influence on his production style. "Berlin is a relaxed place for such a big city. When I come back from playing on the weekends I love the chilled- out atmosphere of daily life. On the other hand the club-scene is massive and so versatile. If you want to catch good acts you can go out almost every day of the week to get inspiration. In the early nineties it was mainly about Techno and Trance in Berlin but today the scene is more flexible. So many artists and DJs have moved here over the last few years which had a big impact on Berlin's club scene. Besides the well-known clubs, there are so many locations where you can find all shades of electronic music"
On the one hand the growth and increasing popularity of electronic music has its obvious benefits for the East Berliner, yet Lodemann speaks warily about its negative consequences "The DJ market is oversaturated with artists and a lot of superficial music. It's difficult for both consumers and bookers to understand the differences between artists and their different musical backgrounds. Today it is very difficult to make a living in the underground music business."
So how has Andre Lodemann, the very antithesis the artificial superstar DJ, managed to survive? "The most challenging thing in my career has been making that decision to stop my day job and pursue a full time career as a DJ and producer. I had to make a conscious decision to follow my art which meant having to make compromises. On the artist and label side of things I think it's important to scale things down to the essentials when it comes to musical output. You need to be able to give records the time and attention they deserve which ultimately gives them more value. It's all about finding the right balance."
Any final words of advice for those track to make it? "Define a sound, tick with it and slowly develop it. You need to express yourself. But even more important is patience and the ability to accept set-backs. Be authentic and believe in your ideas even if others doubt it."
Words: Hannah Thomas
Coming Your Way EP is out now – buy from Beatport and Traxsource