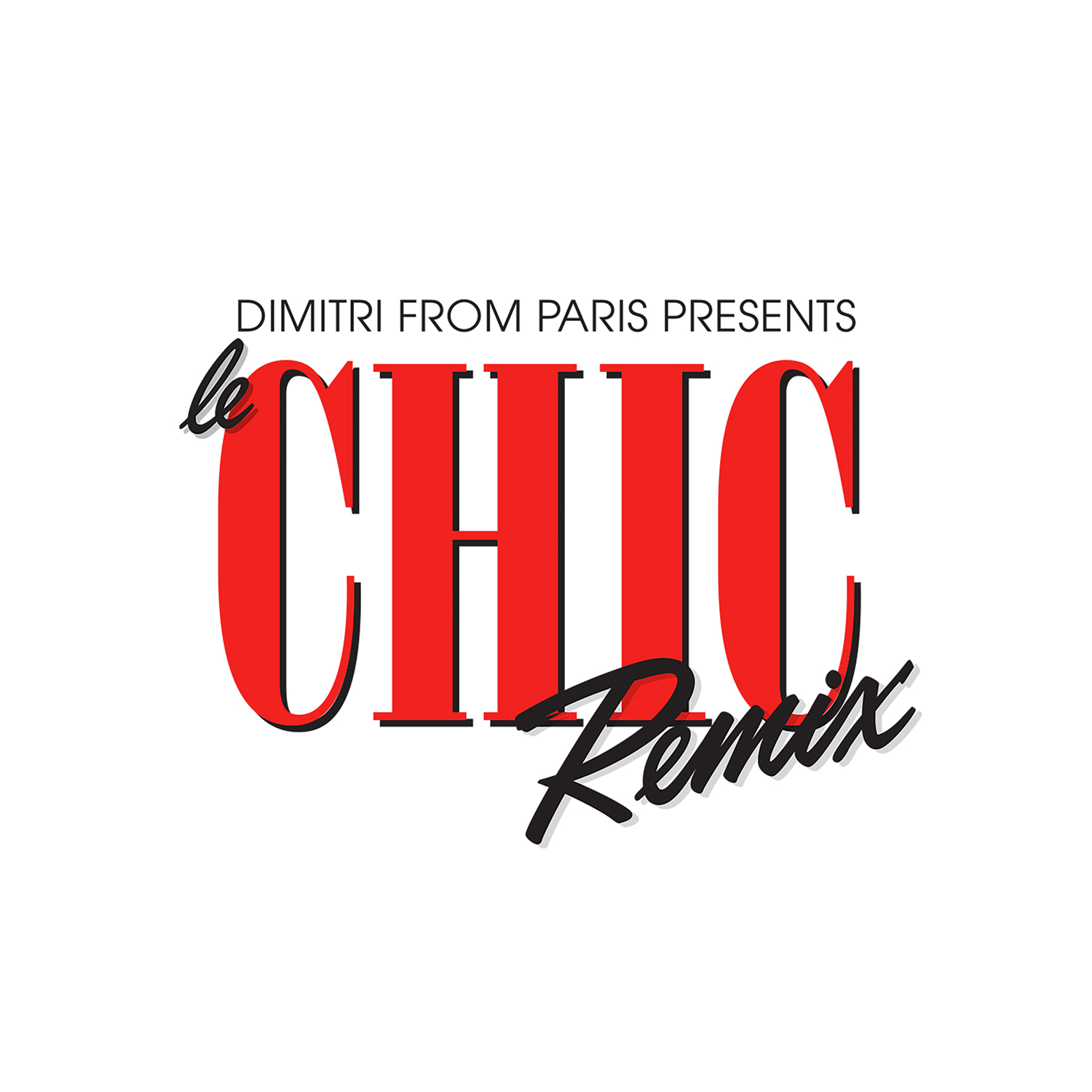 Available on 2xCD, download and streaming via Glitterbox Recordings on 27th July. Vinyl release date TBC. PRE-ORDER HERE
Dimitri From Paris: "That is what I consider a bit of a lifetime achievement - I still can't fully fathom that this is real. I find it quite overwhelming when I realise I was actually allowed to get my hands on those absolute - stone cold - monumental - (insert your own favorite superlative here) - milestones of Dance Music"
Rarely does an artist pay homage to the classics like Dimitri From Paris. The Grammy nominated producer, remixer, composer and DJ has made every one of his repertoire of reworks sound effortless; no mean feat when the original tracks are by the likes of Disco's greatest musicians. He has a long history of remixing classic records, starting in the late 80s and culminating in this achievement of a lifetime, 'Dimitri From Paris presents Le CHIC Remix'. 
This 20-track album features three brand new remixes alongside the much-loved essentials all brilliantly remastered for 2018, tracks that have resonated with artists from Frankie Knuckles to Disclosure, Gilles Peterson to Mark Ronson. Alongside the remixes are instrumentals of each (four of which are previously unreleased), for the ultimate bumper pack. For this project Dimitri was entrusted to use the original studio masters from circa 1978 - 1980 that feature all of the individually recorded musical and vocal elements. The songs have been respectfully remastered, unveiling never-before-heard performances, turning the spotlight on the beautiful orchestrations of one the most unique and highly-revered production duos of the Disco era and beyond; Nile Rodgers & Bernard Edwards, along with their CHIC Organization of musicians.
Kicking off with the unmistakeable CHIC staple 'Le Freak', Dimitri's timeless remix making the exquisite instrumental harmonies shine like only Dimitri can, the album delves next into 'Lost In Music' and CHIC's classic 'I Want Your Love'. Norma Jean Wright's life-affirming 'Saturday', written by CHIC along with Robert L Cotter in 1978, has been remixed by Dimitri to cinematic proportions, the climax of many of his DJ sets. Sister Sledge's 'He's The Greatest Dancer' is given the Dimitri treatment with a new extended mix, drawing out the string motifs, showcasing unheard sections from the original master tapes, sounding better than ever. Further exclusives include 'My Forbidden Lover' and another Sister Sledge masterpiece, 'Got To Love Somebody' with cowbell and horns resplendent. More highlights include a new remaster of Sister Sledge's evergreen 'Thinking Of You' and the final track, an underdog from French chanson singer turned one-time Disco act, Sheila & B. Devotion 'Your Love Is Good', a euphoric high to close on and another track using elements from never-heard-before recorded outtakes.
Through Disco grooves and meticulously reverent production, 'Dimitri From Paris presents Le CHIC Remix' gets to the heart of why CHIC's music remains so universally relevant, underlining the enduring cultural significance of dance music in its most unabashed form. This album is a demonstration of how captivating the sound of a full orchestra of musicians can be, compared to today's largely computer generated offerings, celebrating the eternally endearing qualities of some of CHIC's best-selling productions, not to mention, for over 40 years, the unquestionable power of a great Disco record.
CD TRACKLIST

CD 1 
CHIC - Le Freak (Dimitri From Paris Remix) (2018 Remaster)
Sister Sledge - Lost In Music (Dimitri From Paris Remix) (2018 Remaster)        
CHIC - I Want Your Love (Dimitri From Paris Remix) (2018 Remaster)  
Norma Jean Wright - Saturday (Dimitri From Paris Remix) (2018 Remaster)  
Sister Sledge - Thinking Of You (Dimitri From Paris Remix) (2018 Remaster)
CHIC - My Forbidden Lover (Dimitri From Paris Remix)
Sister Sledge - He's The Greatest Dancer (Dimitri From Paris Remix)
CHIC - I Feel Your Love Comin' On (Dimitri From Paris Remix) (2018 Remaster)
Sister Sledge - Got To Love Somebody (Dimitri From Paris Remix)
Sheila & B. Devotion - Your Love Is Good (Dimitri From Paris Remix) (2018 Remaster)
CD2 (Instrumentals)
CHIC - Le Freak (Dimitri From Paris Instrumental) 
Sister Sledge - Lost In Music (Dimitri From Paris Instrumental) (2018 Remaster)
CHIC - I Want Your Love (Dimitri From Paris Instrumental) (2018 Remaster)  
Norma Jean Wright - Saturday (Dimitri From Paris Instrumental) (2018 Remaster)  
Sister Sledge - Thinking Of You (Dimitri From Paris Instrumental) (2018 Remaster)
CHIC - My Forbidden Lover (Dimitri From Paris Instrumental) 
Sister Sledge - He's The Greatest Dancer (Dimitri From Paris Instrumental)
CHIC - I Feel Your Love Comin' On (Dimitri From Paris Instrumental) (2018 Remaster)
Sister Sledge - Got To Love Somebody (Dimitri From Paris Instrumental)
Sheila & B. Devotion - Your Love Is Good (Dimitri From Paris Instrumental) (2018 Remaster)