WORDS BY TRACY KAWALIK 
The good thing about dance music is that it brings people together. Colour, race, religion, class, sexuality, it doesn't make a difference—dance music is for anybody and everybody. The drums and the melodies create a universal language we all speak and connect with. 
Like that, the club becomes a spiritual mecca for positivity, openness and freedom of expression. On the dancefloor battles and beefs have been put to rest, out-of-this-world experiences have been shared, friendships formed, and even the most fractured cultures have united over one common message; to feel joy, and spread love. 
When it comes to the DJ, the only blessing more powerful than orchestrating all that from above is sharing it with your family, and not just your techno or house family... but your DNA. 
At the top of 2021, families across the scene are flexing next level synergy from behind the boards. Thanks to combined musical and creative dexterity these formidable forces are not only elevating all who step up to groove with them, but propelling each other's sonic legacies to new heights and collaboratively producing some of the top house and techno records to date.
When it comes to turning the dancefloor into family business, veterans like The Martinez Brothers laid the foundation. However, today Kevin Saunderson's first family of techno, dance music dynasty Floorplan, inimitable Nuyorican Grammy winner Louie & son Nico Vega, and  Defected's own Dunmore Brothers are making up the new-gen kicking down doors and blazing a new path.
With club life, packed out tour schedules and a return to the dancefloor still on pause, Defected was lucky enough to sneak some time with them all. 
"He has the final approval. If he tells me something is "bangin'" then I know he really likes it. If something is only 'cool', then I'll go back to the drawing board! He's like a sparring partner – he'll knock you down sometimes, but he still loves you!" Rising DJ Dantiez might sound like he's putting too much weight on a co-sign, but then again, the opinion he's talking about belongs to Detroit's finest, techno pioneer Kevin Saunderson… his dad.
"The first time I saw him perform, I was like 10 years old. It was the first-ever Movement Festival and Carl Craig was putting it on. I got pulled out of school early to go check out the venue" Dantiez beams. 
"When I found out my pops was actually throwing Movement festival, I was just blown away. My dad was doing this big event in our city!! That was just a super proud moment for me. I remember telling all my friends he was this huge techno DJ that travelled the world! Before that, it was like "What does this guy do on the weekends?"
It might have taken Dantiez a minute to work out the world his father was busy shaping and secure his own spot on the scene, but once he put his mind to music his innate abilities and passion for it soared to fever pitch. Dantiez honed his skills, studied his tools in heady studio stints, while crafting his own sound, and soon locked down his own live gig.
"He reminds me of me. I'd stay in the studio when I was his age for days. When you practice and work hard, you become who you really are and what you really love. If you put the time in, you can only get better, that's just pure mathematics. When I saw his focus despite all the distractions out there for young DJ's today that's how I knew it was meant to be for him. I know it's his DNA. I knew he was ready."
Dantiez played his first-ever set at Movement Festival, but Kevin admits it was him that felt the pressure. "I was a little nervous. Because it was my boy, I knew people wanted to see him, but on the dancefloor, you got haters too! Everybody's in the room. So I was thinking to myself "You better not mess up."
Off the back of thunderous debut sets, Dantiez formed The Saunderson Brothers with his oldest sibling Damarii and landed a string of solo projects and remixes (including inking his name to some of his father's most iconic). Then became a firm fixture on tour with Kevin and the newest member of Inner City.
"I would be passing through and hearing how his sound was evolving and developing and make jokes like 'Man you ripped me off, that sounds like Inner City!' But part of it really DID." Kevin continues. "Dantiez was working with vocals just like me and instrumentals that had that underground, dark, dirty vibe to them. Eventually, I said to Dantiez, 'We should try and finish this off and make an Inner City record? But hey, you better outdo me, man!" Kevin laughs.
In 2017, Dantiez released 'Good Luck' the first Inner City track after the group's lengthy absence from the scene and cemented a remarkable 30-year comeback that ignited the beginning of the new generation of their legacy.
Since then Idris Elba has jumped on singles like 2020's politically charged, anthemic single 'We All Move Together'. Steffanie Christi'an features on their latest release 'No More Looking Back', and their mother Ann Saunderson sings on several of the tracks off the new Inner City album.  
Between swapping intel on the latest technology for each other's expertise, there are plans for a family project in the works following the success of last year's collaborative single 'Signature Moves'. "Damarii and Dantiez are working on the Saunderson Brothers. Dantiez and I are working with Inner City stuff, we're both doing solo stuff under different aliases. My wife might come up with an idea, then I'll give my two cents. So the hardest part for us as a family is making sure we're not duplicating ourselves, and continually creating unique music so that each project sounds different."
But the Saunderson's aren't the only dance music family in Motor City clocking lengthy fanbases, critical hype and accolades across the scene while perfecting a balancing act. 
Robert Hood is an undoubtedly pivotal part of the story of techno. He was a founding member of the raucous 'Underground Resistance' crew alongside Jeff Mills and "Mad" Mike Banks, and founder of minimal techno imprint M-Plant. He's often considered the creator of the genre. Still, he left Detroit for Alabama in search of higher ground and was awakened by a vision to incorporate gospel music with house, disco and techno. The first record he released was the soulful, gospel-infused masterpiece 'We Magnify His Name' under his new alias Floorplan. 
In 2014 he and his wife had another lightbulb moment. Upon witnessing his daughter Lyric's growing skills with music and her debut set, Robert Hood fell in love with the idea of expanding Floorplan to a duo.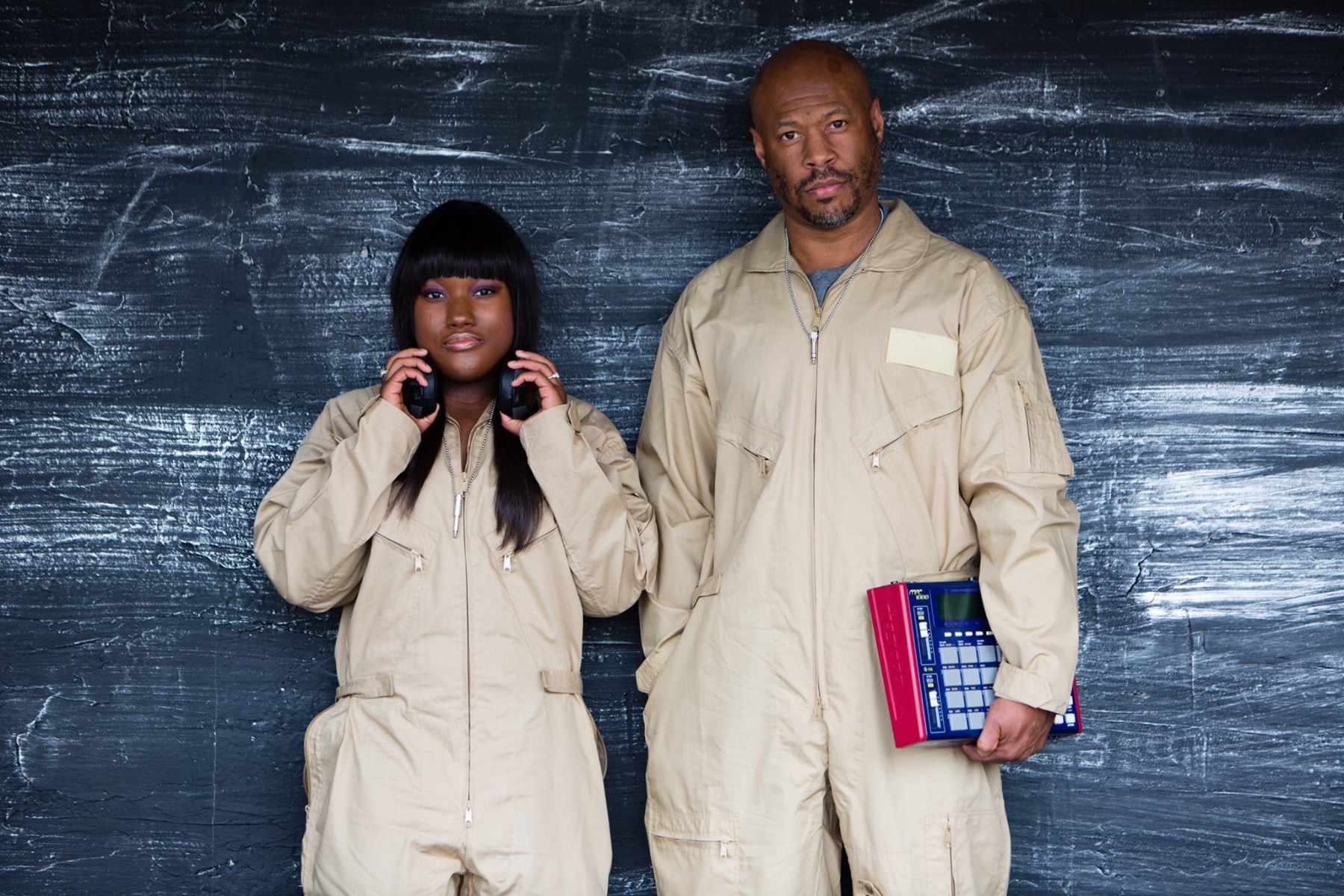 "One of Lyric's first DJ sets was actually at our Baptist church with a full choir. The praise and worship teacher invited Lyric to lead and DJ a techno gospel song called 'Let It Be Known'" Robert reflects. 
In terms of Lyric's musical destiny, it was a domino effect from there. Her performance at church was a big hit, people loved it, and the young DJ began to carve out her own path. 
"I had a Sweet 16 party, and my parents were like 'Maybe you should DJ?' So I practised and worked on it, and did a small set. That's when I started to want to really DJ. I didn't know a lot apart from where the queue button was, but I put the work in. My father taught me everything he knew about DJing and I've got better and stronger, and am constantly refining my tools and skills to get that perfect mix every time. I know more now, but it's important to always stay a student. Practice makes perfect and I'm always still practicing." Lyric reveals. 
Like her peer Dantiez Saunderson, Lyric's first-ever live gig as part of Floorplan took place at Movement Festival beside her father. The 12-minute set was another success, but it would be their monumental follow-up for Boiler Room x Dekmantel Festival when Floorplan's supernatural musical divinity was solidified. 
Looking back, Robert confesses "You know what, I was nervous for her, but only because I know her nerves were getting the best of her. All her family was there, we had a lot of people around us, and I knew how much she wanted to make a good impression. Of course, she's my daughter, and when your kids are giving a recital or playing a sport, you're always just praying for them to do their best. But I let her fly on her own and once she put those records on the fear went away. Today, her confidence level has gone through the roof." 
Since then Floorplan has played hundreds of exquisite, soulful, spiritually uplifting live sets everywhere from Berghain's Panorama Bar, District 8 to festivals across all four corners of the globe. The pair have been behind some of the last decade's best-loved cuts like 'Tell You No Lie' and 'Never Grow Old'. As well as delivering a two-track debut on Luke Solomon's Classic Music Company imprint 'Right There / Holy Ghost' in early 2021.
Having produced two of the most politically outspoken and culturally vital tracks of last year in response to the unjust death of George Floyd 'The Struggle' and 'Save the Children' it's no secret Floorplan are fearlessly passionate about sending out a deeper message. 
When pressed to sum up the importance of bringing the church to the dancefloor, Robert waxed lyrical "The gospel message has always been important for our family and our aesthetic. It's how we frame our mindsets and our sound outside other artists like Aretha Franklin and James Brown. Gospel music is the most powerful sound in the universe. It transcends racial boundaries, it breaks down walls, and it unites people together that might not necessarily mix in the outside world for one thing. Love is the message. That's it. In times like this, we really need it."
When it comes to the advantages of working together, Robert gushes "We've come together naturally, and we're always busy planning our next step. Lyric was born on father's day, so she's a Daddy's girl and I always wanted to have a daughter. We bond effortlessly and have really come together even more so with the music. We're double the power! She's anointed, I'm anointed so when we're walking together that moves us to a higher level past the competition." He continues "My wife is constantly advising us too, she's the silent partner. The bible will tell you that a three cord strand is not easily broken. So when us three come together, that's power."
Offering up advice for families who might want to follow in their footsteps, Lyric adds "Everybody has their own god-given vision. My Dad can add in the little pointers and tips to better improve what's there, but in the end, he had to step back, not be so critical and let me just express myself and embrace what I'm doing. So for anybody who's going to DJ with their parents, just open up and be yourself. Say what you want to say and make what you want to be making and understand that sometimes your parents aren't going to agree with it. I have made tracks that my Dad has said 'Those are "alright" tracks' but I won't take it to heart, I'll go back to the drawing board and try again and a lot of the times it comes out better. Know that it doesn't hurt to shoot your shot and see what happens." 
When it comes to bloodlines, few come from a more profound musical heritage than Louie Vega. His father was a jazz saxophonist, he's the nephew of Hector Lavoe, one of the most outstanding and respected salsa musicians in the history of the genre. He's been married to hugely successful and unique house and Latin vocalist India and now vocalist Anané Vega. Within Masters At Work, he's partners with Kenny 'Dope' Gonzalez, whose father is also one of salsa music's icons. 
In his time on the scene,  Louie Vega has racked up 7 Grammy nominations, run his own imprint with Gonzalez, MAW Records, and become a heavyweight across global dance music for his multi-hyphenated talents swerving from house, to salsa, Afro-beat, jazz, hip-hop, gospel and soul.
And while most with a career like Vega's would ride high off the hype of their legacy, kick back and take the pandemic as a long-awaited excuse to finally take a break. Instead, amid the surreal madness of quarantine, Vega made the decision it was time to embark on yet another musical venture, this time with his son Nico.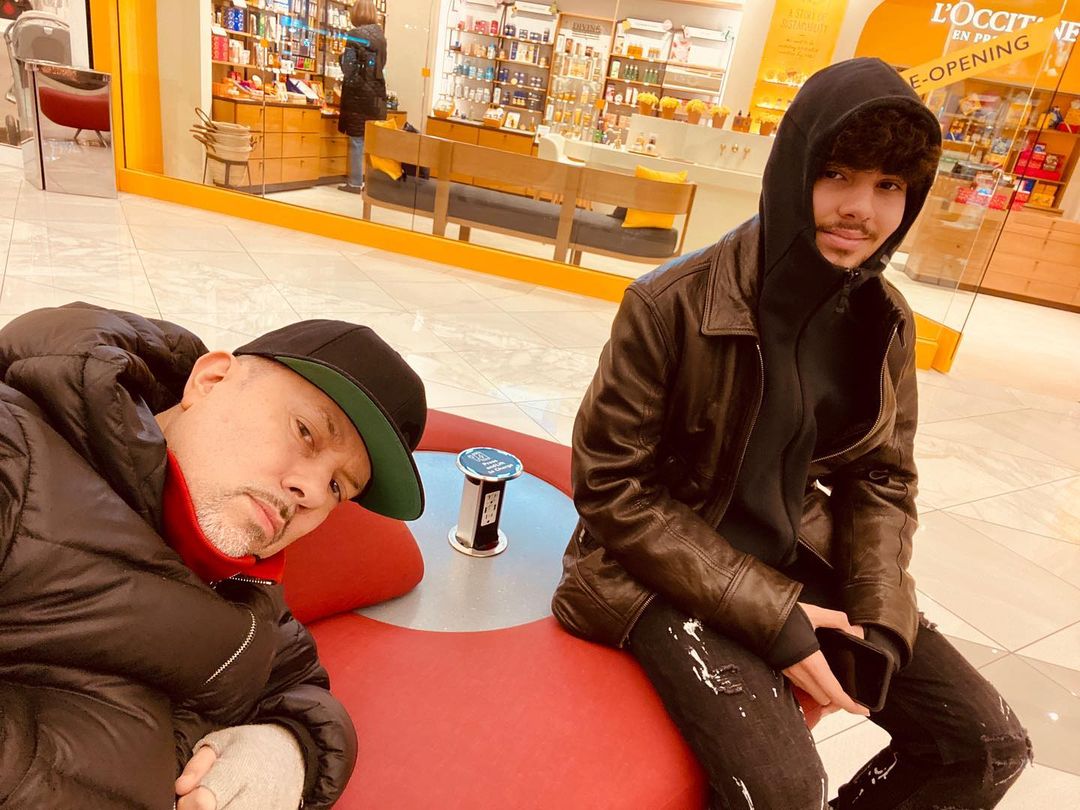 "When Covid hit about a year ago, we were all at home. I wasn't able to work with my engineer of many years Yas Inoue. So my wife Anané and I bought Nico Ableton's Live Deluxe Package and the Push Suite as a gift for his birthday." Louie tells us. 
Within weeks Nico was up and running. "I started hearing beats and grooves coming from his studio, and when he invited us in one day to hear his tracks we were completely blown away with the result! I had projects and remix inquiries coming in by artists Dua Lipa (Warner Brothers, asking for a Masters At Work Mix), Honey Dijon (Classic Music Company requesting a Louie Vega Remix), DJ Krust (on Crosstown Records) and many more, so what was I to do?!"
Louie took a chance on Nico and let him flex his newfound abilities in engineering and producing, and in the end, Nico worked on all the records above, plus a few more.
Speaking about what Nico brings to his already heavily establish sonic palette, Louie explains "Nico has a sharp ear. He started playing keyboard when he was 11 years old. So he knows what he wants and knows music. Those are all great advantages when in the studio. He trusts his instincts and stands by a piece of music and believes in the work. Nico can be soulful, he can be tracky, he can be techy, and he can be musical. There are no boundaries, I've heard him produce downtempo tracks even with a more rock, jazz, edge. So we connect massively with no challenges, we are both openminded."
He continues "I love how Nico approaches a track. After developing the beat, he sits with his keyboard and plays chords and melodies. He hears things I would not usually hear in the vocals and harmonies. When he plays his basslines, his choice of notes are so unique and melodic. It's very inspiring to see him figuring out what works. You can see his mind turning when he listens to a track before he starts on. Because of that, he taught me you can learn any piece of gear, there are no limits!!" 
Pausing to offer his own advice to the aspiring new-gen DJs Louie says "If it's in your heart to be a DJ, producer or artist then that's where it has to start. You have to love it to do it. Learn the roots and history of the music you like, start there. You can do as much as you want to do, it's limitless, knowledge is everything!"
With lockdown forcing other producers to get creative with how they collaborate across the pond, back on home turf another proud musical dad is Defected label boss Simon Dunmore. 
Breaking down the moment he knew his sons were ready to step into the booth, Dunmore explains "In all honesty, this is all their own vision. Sure they grew up in an environment where they were constantly exposed to music and artists but knowing how brutal the industry can be I actually encouraged them to look elsewhere for a career path. I have also been very occupied and away from home, so I have not had as much time to give them the guidance they deserve. So the fact that they have worked it out for themselves gives me confidence."
Dunmore invited his boys Louie and Lucas to join him during a B2B set at Café Mambo in Ibiza, and the rest is house music history.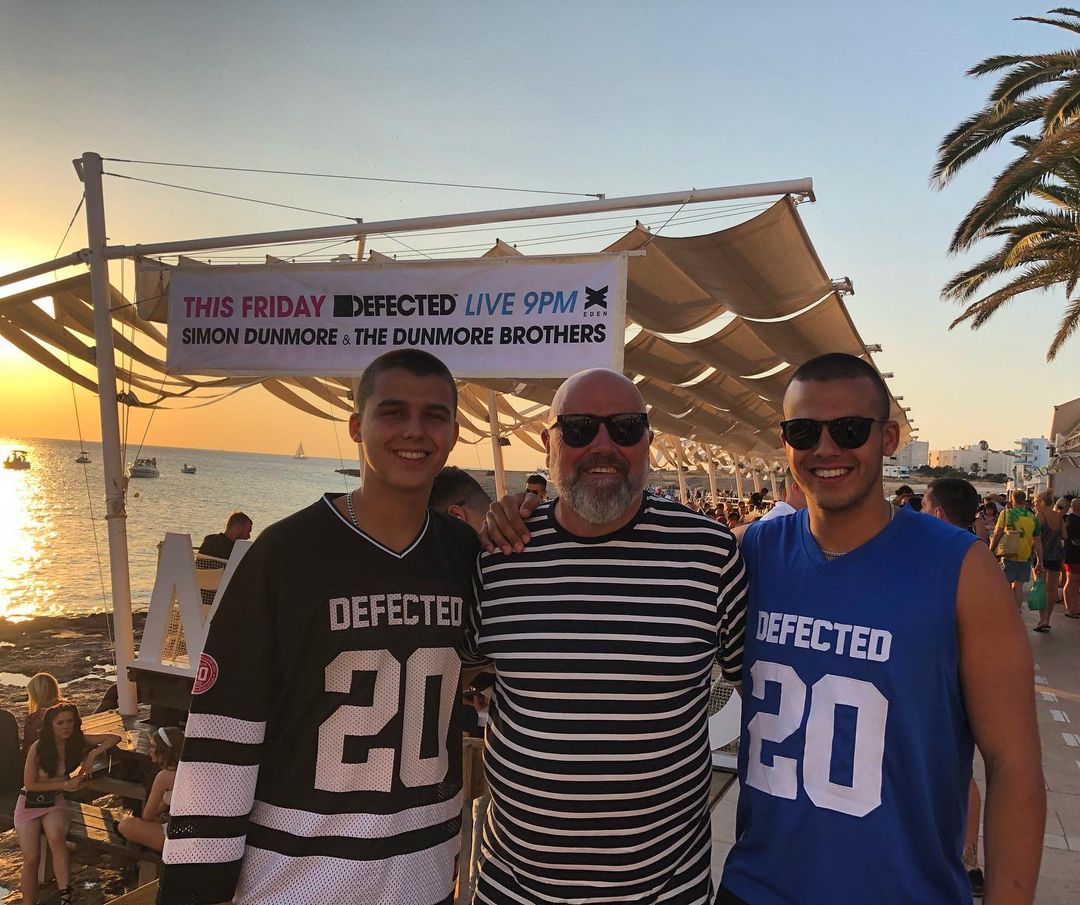 "Before that, we had never really DJ'd together" says Simon's eldest son Louie. "He was on the billing and asked us to join him, which was definitely a special experience! The main thing we've learnt from him since then is to dig deep for music. Not to play the same set twice. Don't be afraid to sample and take inspiration when producing. And to remain humble and approachable." Louie and Lucas say there's a good creative balance while admitting every musical partnership doesn't come without challenges. 
"In a family environment, you tend to just say it how it is, and that sometimes leads to disagreements for sure. However, I think this allows us to progress further as we can be open and honest. The greatest reward for having this common interest is that it means we spend a lot of time together! We love showing each other tracks and ultimately just sharing music."
"Louie and Lucas dig deep for music. Like me, they do not have an 'off' switch. They want tracks to be special to their sets and to set them apart from other DJ's. They research, plan their sets but adapt if necessary. As their father, I am happy to help them get noticed, but whenever they have played, they have delivered. The reaction and energy they get from the audience is real. And that is why I finally felt it appropriate to encourage music as a career path for them both. I just need to be there and keep them grounded. Ultimately whilst it's not a skill set, one aspect I definitely feed off is their youthful energy and enthusiasm."
Having made a name for himself without ever anticipating his sons would pursue their musical lineage, Kevin Saunderson articulates the biggest force that pushes him to continue playing music "I never considered by sons would pursue music. They were athletes, and I was about keeping them in shape and keeping them out of trouble. I was a sports guy myself, and I thought if I gave them the guidance I didn't have, maybe they could be professional. Instead, Damraii traded his future in pro baseball after getting drafted to fall back into music with Dantiez." He pauses "But I get it. For me, music is not just a part of me, it is me. I think sharing vibes and something so uniquely created, such as music, is needed. When I was Dantiez and Damarii's age, I listened to Parliament Funkadelic, Prince, Madonna, the B52's and all this music that was cool. But I felt like there was a void in dance music. It was a combination of technology, knowing that people need to dance and not hearing these same records over and over again that led me down the path. There was a new dance coming, and my vision helped make dance what it is today. It's a great feeling to see that happen with the genre and with my family and it's an important factor to remember, especially now how much it's needed. Techno changed the world." 
View this post on Instagram
Dantiez closes by adding, "It's easy to want to be good overnight, and I think patience is something that's learnt over time and I had to learn it myself. In the end, like my Dad says, it can't be forced. It should be fun, it should be no pressure. What we do is what we do, and we strive to achieve our goals. That's what's important. Let it come naturally and from the heart. Everybody has just got to feel it."
Listen to 'Holy Ghost / Right There HERE and Idris Elba & Inner City feat Steffanie Christi'an 'No More Looking Back' HERE.