Good Night Out is the first coordinated London-wide campaign that tackles harassment in venues, pubs, bars and clubs. Created by Julia Gray and Bryony Beynon, the people behind the now widely publicised Hollaback London, Good Night Out aims to work with London venues to create a safer, hassle-free environment. And it's gotten off to a cracking start, as Defected's Ben Lovett found out.
"I love London. I've grown up here, and I'm completely attached to it. But it also drives me crazy. It's a real bugbear that I don't always feel comfortable visiting certain areas or certain bars and clubs" Julia Gray, co-director of anti-street harassment movement Hollaback London begins. "This is the city that I love but because of the threat of harassment not all of it is accessible. I want my freedom, and so do a lot of others."
Launching this month, Good Night Out is Gray and fellow director Byrony Beynon's strike back - the 'first ever London-wide campaign to end sexual harassment on nights out'. Since Hollaback London opened its doors in 2010, women have been posting stories of harassment whilst out at night in their droves; not to mention those from the gay and transgender communities. These experiences are so frequent that the victims have stopped going out altogether.
"Groping on the dancefloor, grabbing, bum-slapping, lewd comments, following people home, the list goes on," Gray remarks. "We started this campaign because of the volume of stories we were getting about harassment and even assault in bars and clubs. We wanted to help look after people, give them the confidence to report these incidents. We also wanted to prevent these incidents happening again, by alienating negative behaviour in bars and clubs."
Despite the positive response to Hollaback London's formation, the pre-launch feedback on Good Night Out has totally astounded Gray and Beynon. "We've been shocked by just how the positive the reaction has been to our latest campaign" Gray reflects. "We've had so much support from the clubs we've contacted; their responses have been really great. Then again, we've been really careful in the way that we present this campaign. We want it to be universally positive. We're not looking to tell these venues what to do, or to bring them to book. We've got to work closely with them, put in the collective effort now to make a difference."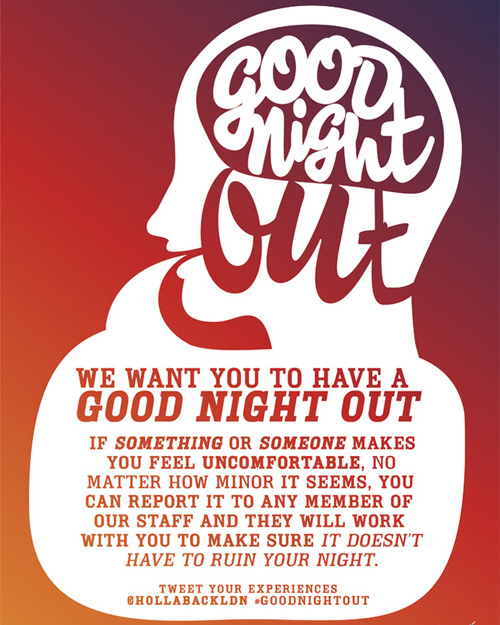 Generally speaking, London nightclubs have much to concern themselves with. They are regularly tied in to the issues of noise pollution, unsocial behaviour, violence and illegal drugs. Whether it is one venue or several doesn't matter – the entire scene is tarred by the same stereotypical brush. It would be understandable, therefore, if club owners processed Gray and Beynon's approach defensively.
There have, of course, been one or two minor obstacles. "A couple of venues haven't yet come back to us, which is disappointing" Gray confirms. "And some others have put up one or two of our campaign posters, we know, but that's it. They've also altered the poster design. We don't want any venues to pay lip service to what we're doing here; the response needs to be emphatic."
fabric is an excellent case in point. It was actually fabric publicist Kirsti Weir who helped kick start Good Night Out in the first place. "Kirsti contacted us and asked if we could do something together" Gray says. "She was really positive about Hollaback and had a massively pro-active approach to tackling the issue of harassment, whether inside fabric or elsewhere."
"We've always had a zero tolerance harassment policy and we've been working with Hollaback London to boost our patrons' awareness of our commitment to stamping it out with our online campaign and highly visible posters" Weir comments. "It's great that the Good Night Out campaign is a collaborative effort across London, and it's something we fully support and endorse."
"We're sensitive to the fact bars and clubs have their own way of running things, so the key for us is to work closely with them and their existing policies" Gray stresses. "We've been tailoring our approach according to each venue, and that's making things a hundred times more effective."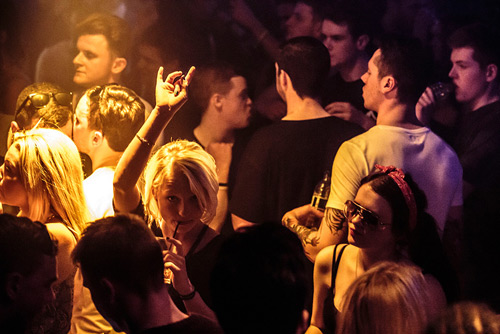 fabric, then, Ministry of Sound, Village Underground, The Alibi, Dalston Superstore, Dance Tunnel, the Shacklewell, Vice-owned pubs The Old Blue Last and Birthdays, and the University Of London's Union bar are all on board so far. The participating venues have agreed to stand behind any 'patrons' subjected to harassing behaviour, collectively voicing the Good Night Out's campaign's core oath (as detailed on its posters): "If something or someone makes you feel uncomfortable, no matter how minor it seems, you can report it to any member of our staff and they will work with you to make sure it doesn't have to ruin your night."
Has the issue of harassment in London clubs grown worse in recent months – is that a more specific reason for Good Night Out's launch right now? "We want to launch on a positive footing" Gray starts, "but to be honest the issue hasn't got worse. It's always been bad, and now Bryony and I have a little more time, and the eager support of others, to really take the work we've done with Hollaback to another level."
Gray, 25, works in publishing whilst Beynon, 27, teaches and manages several other community projects. Both push the Hollaback cause hard where and when time permits. "We have a funny routine but are totally committed to fighting harassment; we're often firing off emails in bed in the early hours" Gray urges. "We started off with a blog. I was in a group of girlfriends where the experience of harassment kept coming up again and again. My friends were content to try and forget it and move on but I've always been the outspoken one and couldn't sit back. I wanted to find a platform people felt they could use to speak out and show that this behaviour wasn't acceptable." Gray, herself, first experienced harassment on the street when she was 14; the man in question tried to follow her home.
So, is she content with the progress Hollaback London has made thus far? "It's difficult to gauge specific progress but we had a huge reaction immediately upon launch" Gray says. "And in the four years we've been going we've had coverage in every single national UK newspaper and now Bryony and I sit on advisory boards for the TFL (Transport For London) and the British Transport Police. Hollaback itself is now spread internationally across some 50-60 cities."
Hollaback began in New York in 2005 when a friend of Executive Director Emily May saw a man masturbating in the train across from her. She took a picture and reported it to the police who did nothing. Instead, she posted on Flickr, the story exploded and harassment, at last, was flagged as a major social issue to tackle. May decided to launch an online site where women could swap stories of harassment and further engage the problem. Hollaback New York has, in turn, spread everywhere from Buenos Aires to Mumbai via Toronto and Paris.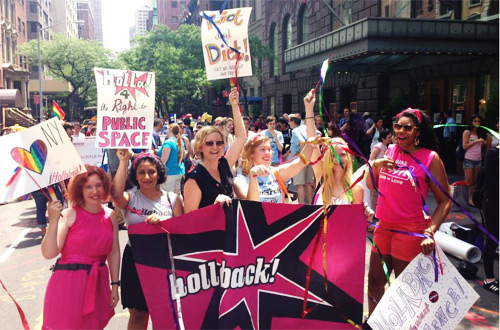 "We are well positioned because we have autonomy but also the support of the umbrella organisation when we need it" Gray explains. "Often the form of harassment can seem trivial, almost nothing, but men don't realise the affect that can have on women. It's all about power. But then the harassment can also come from gay men towards other men; we've even had one or two cases where women have harassed men, but that is rare. We've said it before but, all in all, we want to re-educate people on what public behaviour is acceptable."
In the coming months, Gray and Beynon plan to strengthen ties with other Hollaback organisations in England and the UK – existing hubs in Sheffield and Edinburgh quickly spring to mind. Longer-term, Gray highlights her own personal desire to make London a more positive, considerate environment, in general. There's not only the question of sexual harassment but a wider one relating to issues like racism and homophobia. "We'll see where things take us" she says simply....
Good Night Out's initial momentum is certainly encouraging. Gray has been non-stop with media interviews, workshops (at the London School of Economics) and affiliated activity around International Women's Day – another notable peg for the campaign's launch this month. "This is a brilliant campaign...and we congratulate all the bars and clubs who have signed up for recognising the issues and taking a stand" Sarah Green, of the End Violence Against Women Coalition, remarks. "We asked YouGov to survey London women in 2012 about their experiences of sexual harassment in public places and found that almost half of younger women had experienced it in the last year. Clubs and pubs have a critical role to play in making their spaces intolerant of this behaviour."
At the same time, Gray recognises that the overriding purpose of bars and nightclubs is to bring people together, entertain them with great music and send them home later with Cheshire Cat-style grins across their faces. "I think it's important to remember that many of these places exist to promote a fun, exciting environment for people that love music, and love to let their hair down" she says. "Many of the venues we have spoken to recently are all about establishing a respectful, positive relationship between DJ and dancer, so there's common ground between us. They are businesses but not all of their aims are materialistic; they're there to promote harmony on the dancefloor. We like the sound of that too."
Words: Ben Lovett
For more information on Good Night Out and how you can support the campaign, visit http://goodnightout.tumblr.com/ or http://ldn.ihollaback.org/