Presenting the latest edition of the acclaimed series that inducts a select few elite producers in the house music Hall of Fame. House Masters Joey Negro is an incredible, eclectic collection from the one of the world's leading proponents of disco-inspired house music.
Joey Negro is the most well-known pseudonym of master British producer, remixer, DJ and label owner Dave Lee. With his production career beginning in 1988, Dave is intrinsically linked to the birth of house music in the UK. Famously recording under a variety different aliases including Akabu, Doug Willis, The Sunburst Band, Jakatta, Raven Maize, Sessomatto and Z Factor he has created a truly exceptional back-catalogue accounting for many of house music's highlights over a career spanning three decades.
Disco has always played its part in Lee's music: he was one of the first British artists to incorporate disco samples into the various house music styles with which he is so recognisably identified. Indeed, as a genuine aficionado of disco he has few equals anywhere in the world. He's as productive as ever either in the studio or behind the decks today and most recently under his Joey Negro alias, Lee was integral to the success of Defected's brand new Glitterbox residency in Ibiza this summer.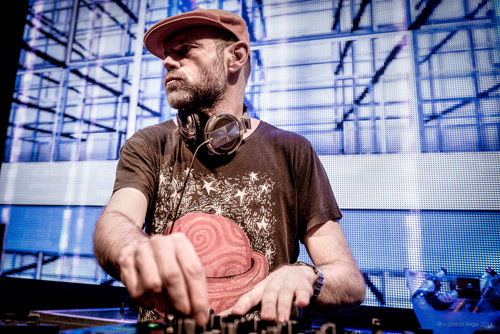 In terms of production, Dave's imagination and creativity has proved limitless. He's enjoyed both huge commercial success on records such as Jakatta's 'American Dream' – a UK No.3 and 'Make A Move On Me' alongside an avid underground following through monikers such as Akabu and via labels such as Transmat, Junior Boys Own, NRK and his own thriving label, Z Records.
From the live disco and boogie of The Sunburst Band to the unique funk-fuelled grooves of Joey Negro, House Masters Joey Negro is Dave's personal curation of the greatest records from a catalogue that spans every corner of house music.
As well as genre-defining original productions under the guises of EXTORTION, Doug Willis, Raven Maize and of course Joey Negro, also included are a handful of seminal remixes, from Erro and Masters At Work to Patrice Rushen and Blaze, all unmixed and DJ friendly.

12 additional tracks feature on the digital product including an exclusive Joey Negro re-edit of Erro's 'Don't Change' as well as further remixes of Dave Lee originals from Henrik Schwarz, Ame and Dennis Ferrer.
"It was a case of balancing the various sides of what I've done over the years" says Lee of the selection process. "You want to include the personal favourites and some tracks that were popular purely on the underground, alongside others that were more successful on a commercial level.
"As a producer one of the skills you must have is remaining objective, even when you've heard the piece of music you're working on several 1000 times. The same goes for the selection here. The House Masters series is literally a who's who of house music, so obviously it's great to be part of it."
Defected presents House Masters Joey Negro is out 11 January (2CD and digital) on Defected Records - order from iTunes and Amazon
Tracklisting:
Disc One
01. Masters At Work feat. India 'Backfired' (Joey Negro Club Mix)
02. Joey Negro feat. Taka Boom 'Can't Get High Without U' (Joey Negro Philly World Mix)
03. Erro 'Don't Change' (Joey Negro Club Mix)
04. Simphonia 'Can't Get Over Your Love' (Dave Lee's Full Length Mix)
05. Joey Negro & The Sunburst Band 'Garden of Love' (Joey Negro Club Mix)
06. Candido 'Dancin' & Prancin' (Joey Negro Disco Blend)
07. Extortion 'How Do You See Me Now' (Joey Negro Club Mix)
08. Doug Willis 'Get Your Own' (Joey Negro Club Mix)
09. Doug Willis 'Begun 2 Luv U' (Joey Negro Original mix)
10. Joey Negro & The Sunburst Band 'Everyday' (Full length album mix)
Disc Two
01. Patrice Rushen 'Haven't You Heard' (Joey Negro Extended Disco Mix)
02. Blaze 'Wishing You Were Here' (Joey Negro Extended Mix)
03. Yolanda Wyns 'I Know You, I Live You' (Joey Negro Club Mix)
04. Joey Negro 'Do What You Feel' (Expanded mix)
05. Reese Project 'Direct Me' (Joey Negro Disco Blend Mix)
06. Akabu feat. Linda Clifford 'Ride The Storm' (Joey Negro Club Mix)
07. Joey Negro pres. Jakatta 'American Dream' (Joey Negro Club Mix)
08. Joey Negro & The Sunburst Band feat. Donna Gardier & Diane Charlemagne 'The Secret Life Of Us' (Joey Negro Extended Mix)
09. Raven Maize 'Forever Together' (Forever United Mix)
10. Joey Negro 'Must Be The Music' (Joey Negro Club Mix)
Bonus tracks for Digital
01. Erro 'Dont Change' (Joey Negro Playout Edit) (Exclusive)
02. Akabu 'Phuture Bound' (Ame Remix)
03. Joey Negro & The Sunburst Band 'Journey To The Sun' (Dennis Ferrer Remix)
04. Joey Negro & The Sunburst Band 'Man of War' (Henrik Schwarz Remix)
05. Akabu 'Your Wildest Dreams' (Joey Negro Medusa Mix)
06. Joey Negro 'Ride The Rhythm' (Joey Negro Club Mix)
07. Martin Solveig 'Rocking Music' (Joey Negro Club Edit)
08. Joey Negro 'Make A Move On Me' (Joey Negro Club Mix)
09. Sessomatto feat. Thelma Houston 'I Need Somebody Tonight' (Joey Negro Original Serious Mix)
10. Joey Negro & The Sunburst Band 'He Is' (Joey Negro Club Mix)
11. Sessomatto 'Moody' (Joey Negro Club Mix)
12. Joey Negro & The Sunburst Band 'Far Beyond' (Full Album Mix)