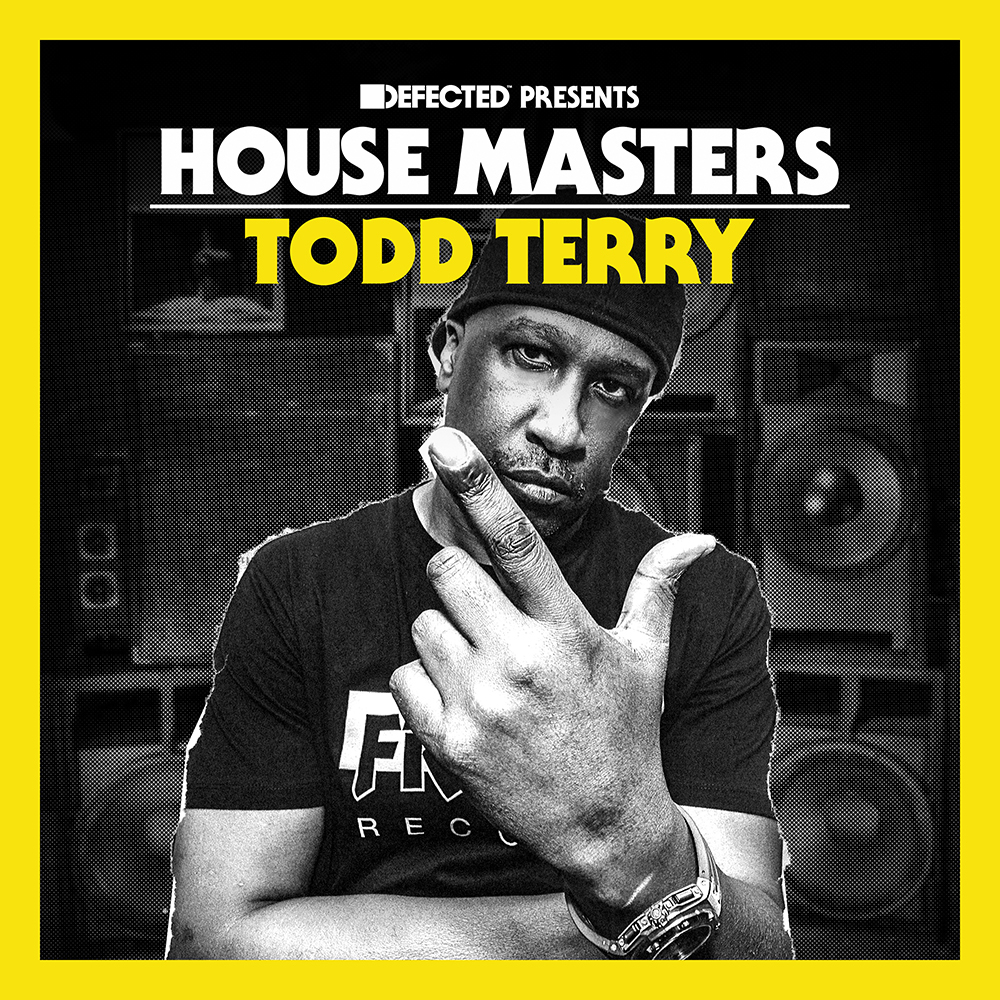 After three years in the making, we are proud to announce that Todd Terry will be next to join our list of legendary House Masters, with an album released on June 24th. Along with performances for Glitterbox at We Are FSTVL and Space Ibiza this summer, exclusive t-shirts for his iconic Freeze Records and many other exciting projects in the pipeline, 2016 is set to be a memorable year for the Todd Terry and Defected partnership.

Born and raised in Brooklyn, Terry first entered music as a block DJ playing hip-hop, disco, Latin and even rock – the melting pot sounds of his neighbourhood. But by the mid-Eighties house was emerging and Terry's head had turned. He stormed England and Europe in 1988 as a DJ and producer, with his fame quickly spreading back to the States and further fuelling his reputation as a true US dance pioneer.
Underground tracks such as 'A Day In The Life', 'Weekend' and 'Can You Party', recorded under various aliases, captured the revolutionary imagination and are now considered genre-defining classics. During the subsequent decade Terry upped his ante again, an album project with Ministry Of Sound – A Day In The Life – leading to time at Mercury and the opportunity to record global crossover anthems 'Keep On Jumpin' and 'Something Goin' On' with Martha Wash and Jocelyn Brown.

Meanwhile, Terry skilfully balanced commercial remix work (Garbage, Jamiroquai and, most notably, the iconic 'Missing') with pure artistic projects (1999's drum & bass album Resolutions) and the generally deeper house momentum of his turn of the century label, In House. The global dance scene has inevitably moved on over the past 15 years or so, and yet Terry has continued to DJ on the biggest stages, successfully develop In House and its roster of talent, and, as of 2013, thaw his seminal Freeze imprint with a series of hot reissues and fresh re-edits.
Fittingly, the original 'master' is now set to release the latest edition of our House Masters compilation series next month - a series subservient to house music's all-time most influential figures. We present to you - Todd Terry, House Master…
CD1
1. Everything But The Girl - Missing (Todd Terry Remix)
2. The Todd Terry Project - Weekend (Club Version)
3. The Jungle Brothers - I'll House You (Club Mix)
4. Bizzare Inc - I'm Gonna Get You (Tee's Urban Dance Mix)
5. Playgroup featuring KC Flightt - Front 2 Back (Todd Terry Remix Re-Edit)
6. Todd Terry featuring Martha Wash & Jocelyn Brown - Something Going On
7. Todd Terry featuring Martha Wash & Jocelyn Brown - Keep On Jumping (Tee's Freeze Mix)
8. B.M.E. featuring Leroy Burgess - Pray (Tee's Freeze Mix)
9. The Darryl James/David Anthony Project featuring Fay Victor - You Make Me Happy (Todd Terry Re-Edit)
10. Todd Terry featuring Tara McDonald - Play On (Tee's EQ Mix)
11. Todd Terry All Stars feat. Kenny Dope, DJ Sneak, Terry Hunter & Tara McDonald - Get Down (Kenny Dope Original)
CD2
1. Royal House - Can You Party (Club Mix)
2. The Todd Terry Project - Bango (To The Batmobile) (Club Bang)
3. Black Riot - A Day In The Life (Club Mix)
4. Black Riot - Warlock (Club Mix)
5. Masters At Work - Alright Alright (Club Mix)
6. Masters at Work - Dum Dum Cry (Dum Club Version)
7. House Of Gypsies - Samba (Tee's Freeze Mix)
8. Gypsymen - Babarabatiri (Tee's Latin Mix)
9. Gypsymen - Camarera
10. House Of Gypsies - Sume Sigh Sey (MAW Remix)
11. Dred Stock - Pump (Dress It) (Rah Freeze Mix)
12. CLS - Can You Feel It? (Music House Mix)
CD3
1. Todd Terry - Desire (What I Want)
2. Todd Terry - Put Your Hands Together
3. Todd Terry presents Sound Design - Make The Beat Pound
4. Sax featuring Elan - Don't Turn Your Back On Me (Halloween Mix)
5. Hardhouse - Check This Out (Club Version)
6. Hardhouse - Voices In My House (Voice Dubba)
7. Todd Terry - Rock 2 The Beat
8. Todd Terry - Drop That (Original Mix)
9. Lime Life - Baby Can You Reach (Original Acetate Mix)
10. Todd Terry - Can You Dig It
11. Todd Terry - Ready To Go (Tee's InHouse Dub)
12. Todd Terry presents Sound Design - Razen Theme