As arguably the most important figure in the creation and popularisation of house music, Frankie Knuckles was respected, revered and loved in equal measure.
Following the tragic news of Knuckles' passing this week, here we present a previously unpublished extended interview between Defected's founder Simon Dunmore and the Godfather of House that took place back in 2011; a fascinating insight into the life and career of this extraordinary man.
You can also listen to the interview on Soundcloud
Simon Dunmore: Welcome to London, Frankie.
Frankie Knuckles: Thank you so much.
Simon Dunmore: Part of the process of house music is not about what's happening now, it's about how we got to where we are, and you are one of the people that was there before the very beginning. So I'd like to you to give people a little bit of an insight into Frankie Knuckles and how the scene evolved in the early years.
Frankie Knuckles: Sure.
Simon Dunmore: Could you tell us a little bit about your introduction into music before you became a DJ, what were your musical influences?
Frankie Knuckles: As a kid, I used to sit and sketch for hours whilst listening to whatever my sister was playing on the stereo so I think those were the things that were pushing me along without even realising. I listened to everything from Wes Montgomery, Sergio Mendes and Brazil '66, to a lot of Jazz and Motown records I heard on the street. When I got to the High School, studying Art & Design, whenever I had sit down and work on a project I'm listening to music but by the time I got into the 11th grade I discovered clubs and the nightlife. I was running around with Larry Levan, who introduced me to The Loft.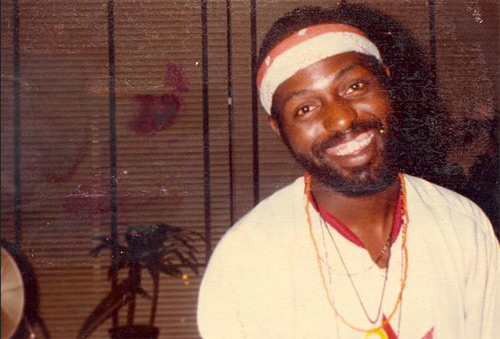 Simon Dunmore: How old is someone when they're in the 11th grade?
Frankie Knuckles: Sixteen to seventeen.
Simon Dunmore: So you were hanging out with Larry Levan at The Loft when you were sixteen years old?
Frankie Knuckles: I met Larry when I was fourteen, whilst I was in Junior High School but it weren't until High School that I began to run the streets with him (laughs).
Simon Dunmore: Was he DJing back then?
Frankie Knuckles: Neither of us were DJing. We started hanging out at The Loft, and David Mancuso was thinking about taking a vacation at the end of the summer, which meant The Loft would have been closed. Another friend of mine was working for Nicky Siano at The Gallery, who was getting ready to go into the Air Force but he had spoke to Nicky and recommended me as a replacement. I reported to work the following weekend and my job was to set up the fruit bar, decorate the premises, and other general duties. I brought Larry there after a while, and that's how Larry came to work there as well. Larry spent more time in the booth with Nicky and I spent more time in the periphery.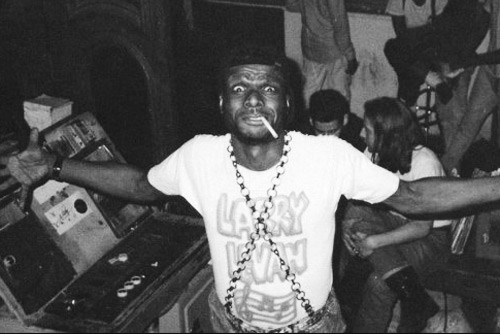 Larry Levan

Simon Dunmore: So that really was your early education in regards to DJing…
Frankie Knuckles: Up close and personal.
Simon Dunmore: What equipment would you use in those days?
Frankie Knuckles: Nicky had a pair of Thoren TD25 MKII's –belt driven turntables, a Bozak mixer, Altec Lansing speaker system, and there were no subs in the room at all, everything was in the ceiling. When I look back on the place was not very big, but everything looks enormous when you're that young.
Simon Dunmore: The perception is that you're from Chicago but you're actually from New York. Could you tell us a bit about growing up in New York?
Frankie Knuckles: I was born and raised in the 'Boogie Down' Bronx. It was far from pretty, I didn't like it. I was desperate to get out of there, I was destined to get out of there, and this is before it really went down the toilet. I always knew that there was something better for me and I had to get it. I knew the only way to get it was to get up and get out so I moved in with some friends from High School and grew up in Manhattan after that.
Simon Dunmore: Is that when you started to DJ at the Continental Baths?
Frankie Knuckles: While I was working at The Gallery, Tee Scott, who was one of the biggest DJs in New York at the time and playing at a club called Better Days, had asked me to come and play on Monday and Tuesday nights because the club was about to open seven days a week. I had never played records at that time, I hung out with Nicky and we were close, so when Tee asked me if I wanted to do it I told him that I didn't have any records, to which he replied 'you know the music, you can use my records'. At this point I could really use the money because I was in High School, there are things I want to do, and I want to look cute and fabulous like everybody else. I took the job, and did it for about six months until shutting it down due to low attendance.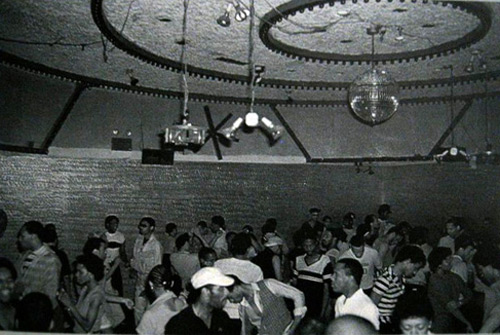 Better Days, New York

Simon Dunmore: So your becoming a DJ was entirely spontaneous, it was never something you dreamed about doing?
Frankie Knuckles: No, it was an opportunity that that fell into my pathway, my whole focus was fashion; menswear, sportswear, costume design for stage and screen, I was pretty much being groomed for that kind of thing.
Simon Dunmore: So you're filling in for Tee Scott at Better Days, you've never played records before so what did you do, practice mixing for a few days?
Frankie Knuckles: That's exactly how it was, I was really practicing, I was really learning, it was real OJT [on the job training] as they called it. I knew the music, yes I knew it all, but I had to learn how to put it together. Back then it was completely different to how it is now because songs were everything, and as long as you played the right song you were in there. You didn't have to put it together well but if you played the right songs, you were in there. Today everything relies heavily on the technical end of it and everything matching, the energy in one place rather than being everywhere.
Simon Dunmore: Why did you move to Chicago?
Frankie Knuckles: After I left Better Days, I worked at the Continental Baths for around five years with Larry. I went there as Larry's light man because Larry got the residency. Back in the day, that's how you got a job as a DJ –if you could be the light man you could ultimately become the DJ because you're right there with the music and sooner or later the DJ has to go to the bathroom (laughs). A couple years after we were there, we became Richard Long's apprentices. Richard taught us everything about sound, he didn't do the sound system, nor did he install the sound system for Continental Baths, but his theory was 'if you guys are going to play music then you need to know how to drive your equipment, you need to know everything about it'.
At the same time Richard was turning his showroom into a nightclub and asked Larry to do the residency, so I ended up as the resident at Continental Baths. Robert Williams wanted Larry for the Warehouse in Chicago but Larry was in the process of leaving Richard Long and building The Garage so recommended me to Robert Williams. I was second choice but I didn't mind (laughs). I had nothing else to do, Continental Baths went bankrupt and closed down at the time, so I was playing at a lot of different places but I wasn't happy anywhere.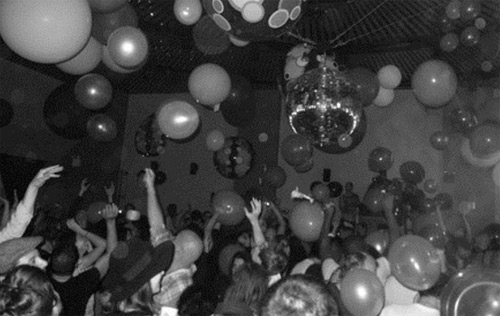 The Loft, New York

Simon Dunmore: What was the reaction from the club goers in Chicago when you started playing a New York style of House? Was it much different to the House in Chicago?
Frankie Knuckles: Chicago didn't have any clubs, not of that kind; it was a whole other ball of wax when I got there. Most of the clubs were taverns on the south side and they all had jukeboxes. They had no DJs, there were no DJs playing anywhere, the only DJs that were really playing were on the north side of the city and they were predominately white. There weren't a black DJ who stood a chance at getting a job at any one of those clubs, and then I come along with the Warehouse: an itty bitty building on the west side of the city. I'm doing something that they've never quite experienced before, unless they travelled to New York – going to places like The Loft or The Gallery.
Simon Dunmore: At what point did the soundtrack of the Warehouse evolve from Disco, Salsoul, and Philly International into House, what was the catalyst?
Frankie Knuckles: Looking back, it probably became visible by the time I left Warehouse to open Power Plant. It was pretty well defined because I had already met Jamie [Principle], I had already done my first remix and had the likes of Steve 'Silk' Hurley and Marshall Jefferson, who were all working on tracks of their own, a lot of them putting out tracks long before myself.
Simon Dunmore: It was a moment in time when a lot of producers were all influenced by the same thing, technology kind of happened and all of a sudden this style of music was being made simultaneously. Were these people connected, did they all speak to each other or were they all making the music independently?
Frankie Knuckles: I don't know how well any of them knew each other; apparently they would all hang out at The Warehouse. The Warehouse was only open one day a week, on Saturday night, and all my focus went into that Saturday night. I'm playing from midnight til noon the next day, and occasionally I'll do a twenty four hour marathon set. All those guys were hanging out, I didn't know who they were, and apparently they were watching me pretty close but a lot of the music they were trying to put together was based on the stuff that I was playing. By the time I had done the remix to 'Let No Man Put Asunder' for First Choice, things had turned around. At that point, I was also working at a record store where I met then I met Jamie, who came into the record store and asked me if I would consider producing him. I had never produced anything other than the remix for First Choice, but I took his trust in my ability and took a leap of faith.

Simon Dunmore: There's a story that I read in a book by Sheryl Garratt, do you remember her, editor of The Face…
Frankie Knuckles: (Gasps) She was a really close friend of mine and I really don't know where she is nowadays, we were really close.
Simon Dunmore: The book reads 'when everybody entered Warehouse they were given an acid tab and during the course of the night…' this may not be true but I'm just asking you because it's a great story '… at one point you would completely stop the music, cut all the lights so the room was pitch black and the noise of a train would be going through the sound system causing widespread pandemonium'.
Frankie Knuckles: That's half true.
Simon Dunmore: That's half true?
Frankie Knuckles: No one was given a tab of acid when they came through the front door; they sorted that out on their own. I did a lot of environmental things in that room – I was very experimental. This club was in an area of the city that had been abandoned so we were the only thing there other than a church maybe half a block away. There could be points in the evening where the energy level is so high that I felt I needed to give people a chance to catch up to themselves so the song playing would fade right into a rainstorm and then we'd turn on the exhaust fans and the heat in the room would completely disappear.
In the dark people actually felt like they were in a rainstorm because you'd hear the thunder, it'll get really intense and as the rain would begin to fade out, you'd hear a train fading in from a distance played with the spatial awareness of the audience. People would run into walls and into each other, they couldn't see where they were going but in the cold light of the morning people are standing around outside talking about the trains and the rain. People would rush me, some of them loving it, some losing their minds – especially if they're tripping on acid. In the dark you think you're really seeing these things.
Simon Dunmore: What effect did Ron Hardy have at The Muzic Box, and the sound of Chicago?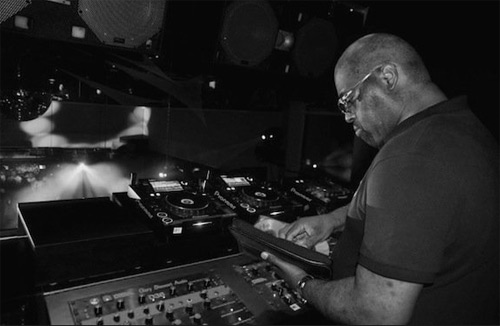 Frankie Knuckles: Ron Hardy made The Muzic Box his own. When I left Warehouse everybody was really upset, I got a real bad time because people didn't want me to leave. I didn't want to leave, but I was trying to take the club to the next level, I was trying to get it to grow, I was trying to upgrade the sound system but I had partners who had more of a 'if it isn't broke, don't fix it' mentality. I'm from New York City, and this is what you do to stay on top of it. I'm not saying we need to spend a million dollars but we owe it to our audience to make improvements because they attend religiously every Saturday night. It's one of the major reasons why I started cutting tape and editing early on because when disco is declared dead, I'll have to do something to keep these people interested.
In hindsight, I didn't realise I was actually doing something that would take me somewhere else, I was just trying to keep people interested – they know the music but they're going to hear it in a way that they've never heard it before. With all that was happening; people buying it and really getting into it, I just thought the club needed to grow with me, at that particular time I felt it was time for me to move on. The last days of the warehouse were really dangerous; people were being robbed at gun and knife point both outside the club and on the dance floor. Warehouse was originally a slice of heaven, they lived for that Saturday night. They didn't have to dance with anybody if they didn't want to, sometimes they meet someone and dance with that person the whole night, and they probably never spoke to each other until the following Saturday at Warehouse. When they offered The Muzic Box to Ron Hardy, Ron came to me and asked for my blessing and I said 'Be fair, don't try to do what I did, do your thing and I promise you, they'll love you for it'.
Simon Dunmore: You moved back to New York and the next phase of your career started with the productions you were involved with.
Frankie Knuckles: I did a little bit of production in Chicago before I left; I mixed the original version of 'Move Your Body' for Marshall Jefferson, and there was a whole host of small records that came out on Trax. I didn't get paid for any it but the education paid dividends because I figured that the more time I could spend in the studio is the more I could learn. By the time I left Chicago, record companies and A&Rs were coming out of the woodwork asking me to do things, I just happened to get in at Def Mix.

Simon Dunmore: For people that didn't know, Def Mix was a production, remix, and DJ organisation which consisted of yourself, David Morales, later on Satoshi Tomiie, and managed by Judy Weinstein.
Frankie Knuckles: Def Mix belonged to Judy and David. I become a client at Def Mix, David and I were also partners in the studio. I had made so much of a name for myself at the time, and I'm attracting a lot of work but David weren't getting the respect he deserved, which weren't fair because he worked as hard as I did and we did so much work together. Eventually we had to separate in order for him to get his.
Simon Dunmore: How did you meet David Morales?
Frankie Knuckles: I've always known Judy, we were both Loft members. She used to work for David Mancuso at the time, so we went back much further. When I moved back to New York, I was playing at a club called The World on the lower east side. I had gone to see Judy in order to tell her I'm back and I'd need to join the record pool when she asked 'have you got a manager?' I didn't know I needed one because I was being offered work overseas; I had already been to London, whilst doing a four month residency for Delirium at Heaven, every Thursday night. Judy began to tell me about her blueprint for Def Mix's development into a production company and asked whether I'd be interested in becoming apart of it.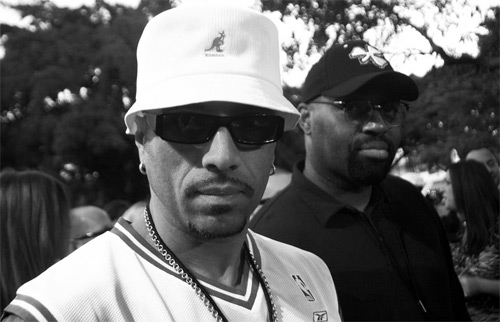 Knuckles with David Morales

Simon Dunmore: What was the chemistry between you and David, who was responsible for what specific part of the music making process?
Frankie Knuckles: We were equally responsible. It's interesting because we'd be at the SSL (Solid State Logic) boards in the studio and he'd take the top end, where all the drums were because that was his thing, and I'll take the bottom end with all the vocals, harmonics and pretty stuff (laughs) The main controls on an SSL control board are in the centre so I'd do all my mutes etc, and he's doing his thing on the top end, and eventually we'd meet in the middle to fuse it all together where you'll get something like 'Where Love Lives' by Alison Limerick.
Simon Dunmore: The discography of records you were involved with, at that period of time, is pretty extensive. There were certain records such as 'Where Love Lives' and the Frankie Knuckles remix of 'Pressure' by The Sounds of Blackness, both of which are timeless pieces of music.
Frankie Knuckles: Those were real moments in time.
Simon Dunmore: We sent a tweet out to the Defected followers on Twitter, asking them if they had any specific questions for you and lots of people replied with the question 'How did 'Tears' come about?'
Frankie Knuckles: It was in 1988 and I went to Japan for the first time on a promotional tour for Shiseido, who were launching a new line of products. The first gig was in Tokyo and they had this kid on the keyboards that was playing a fan fare just before I would come on. That kid was Satoshi Tomiie, he didn't speak a word of English but we started communicating through an interpreter. When I got back to New York we continued to talk back and forth, and he mentioned that he had some ideas about a song before posting a cassette with an outline for 'Tears'. I fell in love with it; I was playing the cassette everywhere so Judy said that I should turn it into a song because every one was talking about it.

It wasn't signed to a record label, I was just playing a cassette and everybody loved it. Judy kept telling me to turn it into a song but I thought it was beautiful the way it was but in order for it to really get over and go somewhere we really had to write a song to it. I asked Satoshi who he'd like to sing on the record, and he chose Robert Owens. Robert was my room mate at the time because I was recording an album for Chris Blackwell, who had offered me a production deal at Island Records – that album was for Robert Owens, and we wrote the lyrics, its that simple.
Simon Dunmore: And that's it, a record that still sounds great.
Frankie Knuckles: It really amazes me when people approach me about that song because it came together as simple as I just explained it to you, but when it touches people the way it has, it still fascinates me. Some people start crying when they tell me the story, I don't discount their emotions, it's just amazing when you develop something and it touches people like that.
Simon Dunmore: A couple of years later came probably your biggest commercial success, 'The Whistle Song'. When you first hear that record, there's nothing in the record that is overtly commercial, yet it was an enormous success.
Frankie Knuckles: Who knew? I definitely didn't. At that particular point I had a record deal lined up to sign with Virgin Records in England. I was the first DJ to be given a that's record deal and Judy felt that it would be better to sign in the states because we'd be able to keep some kind of control over what's going on, and I'd be closer to home. The first person I started working with was Eric Kupper, who mentioned the idea of a whistle and I thought about it.
Whilst this was happening Junior Vasquez walks out of the Sound Factory, and Bill Smith who was Junior's partner called and asked whether I was available play on Saturday. So I was in the studio, excited about it and I'm working on 'The Whistle Song' so I'm thinking, 'I've got to have one good song that's going to make the biggest impact on Saturday night'. I'm also thinking that it'll be great for late in the evening because it's kind of groovy, it's beautiful, and when I put it on at Sound Factory people took to it and it blew up. It did more than I expected it to, I think it did more than what most of us expected it to and then they asked to use it in the Lipton Iced Tea commercial, I don't think any of us was prepared for what was going to happen.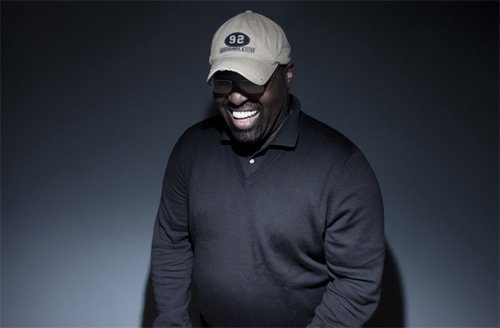 Simon Dunmore: Often when I speak to people that have had big successes, the big success is never something that they set out to do, it was just something that they did for themselves, sometimes it was one of those 'we can kill some time at the end of the studio session' creations, and other times its birth out of there being no pressure.
Frankie Knuckles: It's the first track that we worked on together, and it felt really special to me. I thought this is going to be great because when I play at the club its something that's mine, something that anybody else may not necessarily get into because I've had that kind of career where there are pieces of music that I gravitate towards, that other people don't necessarily get but after a while they see the beauty of it. I find myself stuck out there a lot of the time and I think that happens to a lot of DJs, they find a piece of music that they really connect with but they might have a large body of people in front of them that don't necessarily get it but they'll go along with the program just so you can get to the next record.
Simon Dunmore: You mention Eric Kupper, and you also used to work with a keyboard player called John Poppo…
Frankie Knuckles: John Poppo was actually my engineer, he played keyboard on a couple songs when Terry Burrus or Peter Schwartz weren't available (laughs)
Simon Dunmore: The sound of the production at that time was very distinctive, amazingly produced… was there anyone who played percussion in particular?
Frankie Knuckles: There were a couple people who played percussion, Morales played percussion for me a couple of times, there's a fella called Bashiri Johnson who's worked with everybody from Michael Jackson to Whitney and everybody in between. One of the great things was that all these people are session musicians and session singers. When I really started writing and producing songs I'd bring my own background singers and a lot of the time they'd be Mariah's background girls and guys , they all live in New York city and their session musicians and that's what they do, that's how they make a living.
Simon Dunmore: Do you think its part of the reason that the records sounded like they did back in those days and that they were successful not just on the dancefloor, on the radio as well, was down to the fact that you used real singers, real musicians, and you put the whole soundscape together? Fast track to today and everyone's just making records on their laptops.
Frankie Knuckles: We were the last of a dying breed; we were the last to come down a pipe that actually worked in real recording studios with live musicians, singers, and full on production in a live room. Today it's done in bedrooms, it's very one-dimensional and that's what the music's grown into, whereas when you were producing in a live room on a seventy two track board, you've got to spread out – the production can really breathe, overall it sounds big.

When you listen to a song like Sounds of Blackness 'The Pressure', it's huge, and the way everything is mastered after we finished… it was big! Now everything is pretty much done on laptops or in people's bedrooms and most of them don't know the first thing about producing, that's the one thing that's missing. If they had some kind of education in a real live room or even if they just took their production and put it in the hands of a real engineer, having a second set of fresh ears to take it to that next level would make it come across bigger than it actually does but they limit themselves.
Simon Dunmore: I often have the discussion with people and their argument is that there are no sales, so what's the point of us investing. My argument is: if you invest, you'll get the sales – it's a chicken and egg situation.
Frankie Knuckles: Being on this side of it, I stopped producing and remixing for a very long time but I'd still go shopping looking for music and would find great difficulty in finding things that appealed to me. It's not enough for me to just throw out whatever is available, for me each song that I play has to be as great as the one that was on before, so shopping around and trying to find music that's essentially going to make a difference is really difficult.
When I got asked to do Hercules & Love Affair for example, that's what pulled me back into it because at that particular point I figured if I'm going to do this then I have to be able to do it at a level that's comfortable for me, and I don't care whether I make money out of it or not because that's not what its all about. The fact that the quality of music had gone down so far meant that this particular end of this business was beginning to get disrespected all the way around.

When everyone gravitated towards 'Blind' the way they did blew my mind and at that point I figured that if I was going to do this, it'll be on my own terms. I've got the experience, I know exactly how to make these records, I know exactly how to make these songs work but I have to make sure that song is there first. Either its going to work or its not going to work but it doesn't matter because I'm not trying to get rich doing it, that's not the reason why I do it. I think that quality music, especially when you're in a nightclub under a beautiful sound system, is essential, it's necessary; somebody's got to do it.
I was actually surprised when Hercules & Love Affair first asked me to do it because when I first heard it, I didn't hear it. I wasn't into it and then I got sick, I got ill. I told them I wouldn't be able to do it because I was going to be out of it for a while and they said they would wait, they waited nine months. When I got well and I got back to work they came and they were like 'would you do it now?' I did the mix, knocked it out and send it to them, and left them with it whilst I was on the road, didn't think about it. By the time I got halfway through that tour, the song was out and people knew it and I didn't know.
Simon Dunmore: It was a sound and element of dance music that people had missed.
Frankie Knuckles: I didn't realise how much it had been missed, I knew I had been missing something on the dance floor and the sound that's like a nucleus of this business. There was a period where no matter how many different genres and offshoots were coming out, still at the centre was a sound that had a great amount of soul to it, a great amount of vocal and stories being told, something that you could sink your teeth into and then all of a sudden it was gone. For a long period of time it was gone and there was your Hard House, your New York Hard House, etc. I'm not knocking any of it but there's always been a situation where it would go around and then it would come back around but it was looking to come back around and there was nothing there, that's what scared me.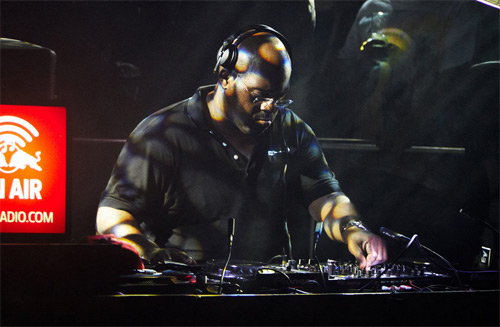 Simon Dunmore: Talking about the way that people used to make records or do their remixes back in that time. I remember when I worked at Cool Tempo Records, I went to see you DJ at the Ministry of Sound -maybe twenty years ago, and you played the Roger Sanchez mix of Kathy Sledge 'Take Me Back To Love Again', which had this amazing piano intro. You had two copies on vinyl and played that intro for five minutes.
Frankie Knuckles: It is the greatest production he has ever made.
Simon Dunmore: I sat there because I was doing club promotions at the time and I was like 'if I get my records remixed, I want them played for twenty minutes in a club as well'. It was a real moment in my career because I just got the value of dubs, into vocals, and back into dubs, and the craft that you needed to play a record in that way –to extend it yourself. Nowadays people get two hours to play so you can't afford yourself twenty minutes to play a record that you really love. Twenty years on I remember you playing that in the way you played it and that doesn't happen any more. How do you feel about that?
Frankie Knuckles: It's kind of heartbreaking. One of the things that's great about being a DJ is not just turning people on to something but there's a moment in the evening when JuJu comes into the room and that JuJu is magic when the whole room comes together until it becomes one. At that particular point your better off stepping to the back of the booth because the records are playing themselves. It's all magic and at that particular point you can do stuff like that, you can go in and out of records and they go crazy each time it comes back. At the end of the night when they walk out of the room that's the one song that they remember, it's the song that they're singing, and then they're beating themselves to a record shop to buy it and that's what's missing nowadays.
Simon Dunmore: Forty years Djing and Producing, what is the future for Frankie Knuckles, how do you see your next five years?
Frankie Knuckles: Honestly I don't know… I had a dark period, and at some point I guess everybody goes through it, especially if you had early success – if you get on the other side of it, you kind of look back and realise how blessed and gifted you are and you kick back and take things how they are. I don't stress about anything, I don't over analyse anything – as I said I'm working at a level that's really comfortable for me and everybody's working with me in that way. I'm going to ride this for as long as I can and I'm not going to take it for granted. I'm going to pick the right songs to work on and make them as beautiful as I possibly can.
Simon Dunmore: I'd like to finish by saying that the Dance scene has become very commercial and very overground in the last few years and the scene that we grew up in was never that way, it was more underground, it was about groups of people and communities connecting. Over the last four or five years that has been lost to some degree, even though people speak to each other on a regular via the internet, it seems that the communities and the small pockets of people that would break certain records in certain areas and cross over into other areas – where the term 'crossover' came from.

Those communities are coming back, and from what I've seem there's a real divide between what is the ultra-commercial side of dance music and the more indulgent, soulful, underground where kids don't want to be hit over the head for eight or nine hours in a club. I think that those kids are your people like Hercules & Love Affair, and they want to know about Frankie Knuckles, they want to know about where the music that they are inspired by has come from and you were one of the people making that sound, you were there at the beginning. I believe that for people like you, there's a whole new generation of people that want to hear the story again. I don't know what your future for the next five years holds but I reckon it's going to be good.
Frankie Knuckles: I hope so, I really do, I have too much fun doing what I do and I think there's a demographic out here that gets overlooked all the time and these are our contemporaries that I'm talking about. When our contemporaries start coming out again because there's music that they can sink their teeth into, makes them feel good, and reminds them of where they came from, it becomes bigger than it is now because you've got where they came from and what's going on now.
Today's youth get a lesson on what this is and what this is about, they begin to realise that there's a lot more than just fluff. Radio is radio and its always going to be there but there is an element of the nightlife where there's a main road that everybody goes down, and then there's that little shack over there on the side that only a selected amount of people know how good it is and that's where they go. Even when this main commercial club closes, the shack will still be open, when their day comes to an end, the shack is really getting started and that's where all the best music resides. Some of these people will find their way over there and begin to learn what it's all about, that's pretty much what it was like growing up in Chicago and playing at the Warehouse. The bars would all close and people would say 'I know this place down town', and they would come and realise that it's been here all the time.
Not everything has to be on the main road, sometimes you find paradise in the smallest places and I think so many things are fuelled out of this which makes the commercial thing as big as it is. Me being able to make music like this again, the way I'm doing it –and I'm having so much fun. To able to redo 'Your Love' for example is something I thought about many times, I've watched many people cover it and I've never been totally thrilled about any of them. Being so close to it, I figured if I'm going to do it then there's no better time for me to do it than now because I can't imagine technology being greater than it is to be able to make it happen and still make it feel the way it did originally. I think reinventing myself and what I'm doing with Director's Cut, the way people are embracing it is a blessing.
Simon Dunmore: Thank you very much Mr. Frankie Knuckles.
Frankie Knuckles: You're welcome.