Singer-songwriter-DJ-producer Alison Marks and DJ-pianist Leah Floyeurs are Wallflower, the Defected-signed duo currently taking dancefloors by storm thanks to stunning debut single 'Say You Won't Ever' - a cultured blend of expressive song, danceable rhythm and real-deal remixes by Larry Heard and Brooklyn jump-jazz trioArchie Pelago, and now this month, Deetron and Asadinho. Marks and Floyeurs are just back from Wales' discerning Freerotation festival and have a new single, Manifest, on the way as well plans to complete several other half-started tracks and, possibly, tour beyond all that.
There are solo commitments too. Marks, a former Muzik mag DJ comp winner, has enjoyed residencies everywhere from Turnmills, London to Propaganda, Moscow in her time; today, she releases solo material via labels Rebirth and Dogmatik, and presents online radio for www.dhpradio.com (born out of cult US website Deep House Page). Floyeurs, meanwhile, supplements her own DJ bookings with a regular slot for visual internet radio broadcaster Timeline Music. Right now, however, we're focused on Wallflower's fragrant and rather incredible growth....
How, and when, did you two meet?
LF: Alison and I met on the dancefloor of a cheesy club in London, in August 2008. A mutual friend of ours was DJing, she introduced us and we bonded over our enjoyment of some amusingly dressed people in front of us.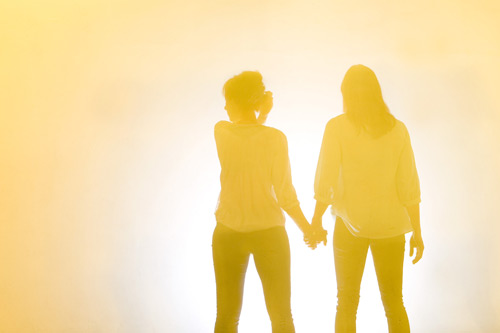 But Wallflower has bloomed much later?
AM: Time and distance are not often on our side...so it can take us a while to do anything. We are still separate performers as well. But we discovered we shared a certain lineage in music, we're not spring chickens shall we say... I invited Leah to come to my studio and we started messing about together, we enjoyed ourselves and a few themes developed.
LF: At the time I met Alison I was working full-time in the City of London for an American insurance company. I had played piano for two years in hotels and restaurants a decade earlier, and DJ'd in a few clubs for two years prior to that, so the idea of reclaiming my musical talents seemed like a faint glimmer - meeting Alison and indeed finding a new circle of friends helped me nurture that.
So what do you each bring to the table?
LF: Alison does all of the production! She's the studio maestro. She also writes lyrics and sings. I am the piano man. The dynamic of our relationship is in constant flux creatively, which is what keeps the wheels oiled!
AM: We're both fairly forthright and it can create sparks but as with all true relationships as time goes on we learn more and more how to best manage each other. How we create depends on what we are making. I might have a few drums ready or we start from scratch. I am the producer, engineer and vocalist. Leah is a proper pianist and is especially great at picking kick drums! She often writes with just the piano and I adapt the sounds afterwards.

I like this way as it means that you are starting with solid musical content and not just creating music from sounds. There is nothing wrong with that, in fact I love machine music, but I also like to hear some 'music' in my music. I like to record when she doesn't know as that's often when the magic appears and I'll edit it later if necessary. I add more atmospheres around her with my ham-fisted piano playing. Leah has a good ear and is great at cutting the wheat from the chaff and helping to finalise the decisions - thank God, as I can be a terrible dawdler!
Did Wallflower expect its debut single 'Say You Won't Ever' to be such a huge success?
LF: No! What it has become is very different from the original version, which is not only testament to the skill of the remixing artists - not least Larry Heard who completely transformed it - but shows the potential inherent in the simplicity of the original which just carries a humble piano and vocal.



What about the new remixes by Deetron and Asadinho? Are you comfortable with others altering Wallflower's original, poignant vision?
LF: I welcome constant creativity and the re-working of ideas. Some artists don't approve of the remixing arena, for a whole host of reasons, but I feel what's important is the energy of your intention behind what you create. Asadinho and Deetron have given 'Say You Won't Ever' two very separate personalities which is in keeping with what Wallflower is all about.
AM: We enjoy the 'Wallflower' idea of giving birth to a piece pure and organic in structure – such as piano and vocal – and then setting it free. I love hearing other interpretations of our songs; it's one of the reasons I love writing songs so much...they have a life of their own.
How do you describe the 'Wallflower' sound?
LF: I think the Wallflower sound will always have an innocent and pure feel to it, with focus on sensual melodies and moods. Right now we are delving into more deep, melodic house tunes.
AM: Yes, we have some dance floor feelings rumbling which is good. I have always loved a good song above all else though so I'm continually searching for that.
So what's next?
LF: We've just been at my favourite festival Freerotation, where we've plotted our next moves. We have our second release 'Manifest'coming out on Rebirth shortly.
Any tour plans?
LF: We have a stack of work to do in the studio before a tour pops out. But it is on Wallflower's mind!
AM: We'd love to tour! We're currently performing mostly in my lounge though, which is probably for the best!
Where are you based then? London isn't it?
LF: Alison and I live on opposite sides of London and we have very busy and different lives [Leah still also works in insurance, part-time, whilst Alison works part-time in a primary care service for homeless people], so when we do get together we spend as much time as possible in her studio. Of course I'm originally from Brisbane. The last time I was there was a family reunion in September 2011 – I spent some time on my own in the house I grew up in. The piano composition for 'Say You Won't Ever' was inspired by the repetitive shrill of a bird, which rang out every morning about 4:30am. It repeated a particular riff which boomed across a valley at the back of our property. On the fourth day I jumped out of bed and planted its voice on the family piano.
What have been Wallflower's best and worst moments to date?
AM: Best? Anytime we're in the studio together pissing ourselves with laughter and not getting enough work done! Worst? Last year, when we decided that if we carried on making music together we were gonna start hating each other. As you can hear, we made it through....
Where would you be without the music?
LF: I will always be involved in music in some shape or form. Sometimes it takes over your life, sometimes it sits on the sidelines.
AM: Agreed. Music is a part of us so without it we just wouldn't exist.
The new Deetron and Asadinho remixes of Wallflower's Say You Won't Ever are out now on Defected Records – buy from Beatport and Traxsource