WORDS: DANIELLE KOKU (@baithoeven)
Lauded for its international exports by way of natural resources and cultural products, Nigeria is often praised as a nation with much going for itself. Fela Kuti was the Pan-African pioneer of the Afrobeat genre in 70s Lagos, (not to be confused with Afrobeats, Afropop or Afroswing). His sax sounded the national demand for a better Nigeria, a better life for not only himself, but his fellow countrymen. Sadly, his story is not unique enough to be translated into a timeless parable. Today, there is little reprieve for those who want more for Nigeria. When their sources of frustration meet avenues for escape, protest music emerges as the words a nation's bravest use to directly address their oppressors.
Speaking to those on the same protest ground in the Nigeria of 2020, their frustration is palpable, as is their hope. They walk the same footsteps as Fela, sharing the same emboldened spirit and ingenuity to continue resisting a state that refuses change.
October 2020's End SARS movement exposed the globalised nature of police brutality, stripping bare Nigeria's kleptocracy for the world to see. Lambasting the same politicians Fela did in International Thief Thief, protestors framed them as mere puppets for Western governments, domestic enablers who would keep the continent poor in return for material gain. In Fela's own words, Them get one style wey dem dey use / Them go pick one African man / A man with low mentality / Them go give am million naira breads. It is cast as the quintessential looting elite, marked by brutality towards the very people they claim to serve. 
When I ask the young people who turned out on the streets what this years End SARS protests did for them, Tami M. puts it simply, stating that the Nigerian experience itself is "couched beneath layers of corruption, suffering, deceit, and a general lack of care" so it naturally follows that "music that speaks to our plight is always welcome and incredibly moving". Like Makua A, they both recognise music as giving protestors the strength to fight on, the "soundtrack to their feelings", in Makua's own words. Firing protestors up to remember the exact reason they were marching or soothing their angst was a presence much needed. Funnily enough, both Tami and Makua cite Afrobeats star Davido's Fem song as the indirectly direct diss protesters levelled at government. Ironically, Fem means "shut up" - and that's exactly what the movement needed, for the government to pack up their "all talk no action approach" and actually stand for real, everyday Nigerians.
"When Fela sang Beast of No Nation back in 1989, he was fresh out of 12-month imprisonment on the same tyrannical president that still rules us till today under the guise of democracy. Fela spoke about his experiences, and those experiences continue to speak to our current reality as a people because nothing much has changed. Protesters get beaten or worse killed, others have been arrested or had their accounts blocked. All this was done in real-time and well documented and yet, the beast remains." - Tami M.
Protests culminated in the Lekki Toll Gate Massacre on the night of 20th October 2020 in which the army opened fire on peaceful protesters after strategically turning off the landmark billboards as a light source, President Buhari has addressed the nation only once - to shamelessly shirk responsibility. Besides this, he has threatened further action in the face of their defiance. With lives lost, the movement has not stopped but it is regrouping, and may channel it's frustrations into the ballot box, instead of the streets.
To be frustrated at the state of one's own life as an individual is one thing, but to earnestly await a nation with as much potential as Nigeria reflects damningly on generations of politicians who have failed to distribute resources, account for public spending and create opportunities for their citizens. According to Quartz Africa, the country's unemployment rate has tripled in barely five years. For young musicians themselves, the cycle of frustration continues. Independent Artist Yinka B. explains to me that "Fela's music will always be relevant until Nigeria becomes a better place". Afterall, "three of the Kuti generations are still making music about the same things today - Fela Kuti, Femi Kuti, Seun Kuti". The potential of music to reprogramme the minds of a nation is not lost on Yinka, and he has every intention to continue building a fanbase that understands this.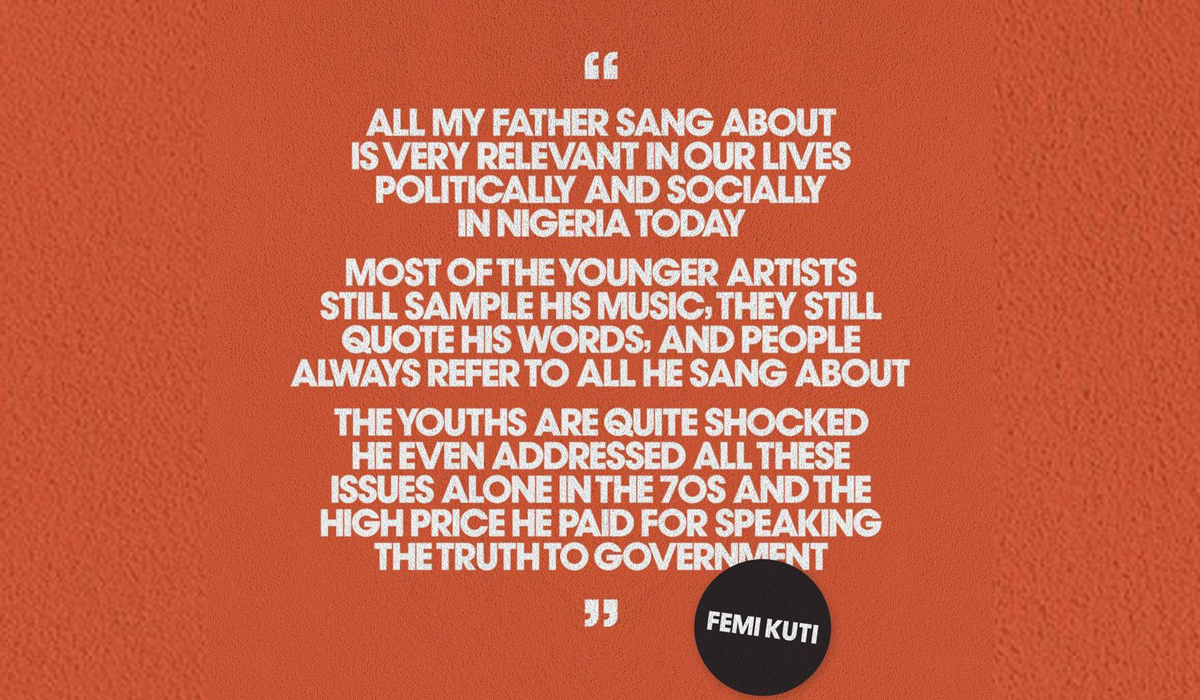 Femi Kuti simply tells us "people always refer to all he (Fela) sang about". The story comes full circle in a way that is bitterly sobering. Pushing for change always demands an answer of when exactly it may come about, but with the 2023 elections looming as people debate whether current President Muhammadu Buhari will attempt re-election, the weight of End SARS will be felt for years to come.
---------------------------------------------------------------------------------------------------------------------------------------------------
Fela's estate nominated Lagos-based charity the Cerebral Palsy Center for donations, who aim to positively impact the future of every child with Cerebral Palsy by providing support, respite, parental empowerment and educating the public. We will be making a donation in the coming days to help support their invaluable work. Please find out more and donate here.
Simon Dunmore: "Being able to promote and hopefully introduce Fela Kuti's music to a new audience is an honour. Fela's music and influence is ubiquitous. His political messages are still as relevant as ever, whilst his music… still played and often sampled is frequently heard on dance floors globally. ITT was originally released in 1979. A message to the corrupt authorities and corporations in Nigeria… Recent events in the country sadly echo the original lyrics strongly to this very day. Armonica and MoBlack approached Fela's estate in order to gain permission for his remix and this release."
Armonica and MoBlack's new mix of 'International Thief Thief' is out on November 27th. Pre-order on digital and 12" vinyl here.