Here's the second part of our interview with the innovators, musical geniuses and house pioneers Masters At Work.
Read Part 1 here
One of the clubs of which you were a big part when it first opened was Ministry of Sound in London… how did it compare to the New York scene?
KD: I remember walking into Ministry at around 9 or 10 in the morning when we were playing later that night. It was amazing to see that we did this music and it came across the water and people were into it and were feeling the music. It's crazy how far music goes, to see it go to countries where you can't even pronounce the names. Playing in Ministry was great, it was a great sound system, the people that came there were just into it, it was a nice space, a nice sound: it was definitely dope.
LV: We already had early connections with Ministry because they brought Larry Levan here when it first opened to play and help out. He knew a lot about sound and so was here consulting. You have to imagine that in New York in the eighties there were about fifteen or twenty Ministry of Sounds. Every place had sound systems like that because Richard Long did them who did Paradise Garage. So you had a lot of clubs in New York which had huge sound systems, but to hear that London had one, we were blown away. When I first came to London I was playing at Sunrise and Energy and I was blown away by the scene. I was like, 'wow, look at all these people with soul, but everybody is white!' I was bugging out and was like, 'wow they really love soul music, it's beautiful and it's perfect for us.'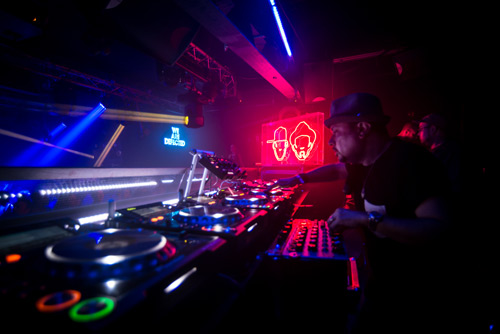 I believe that when we first came here, we were booked at Ministry of Sound with Lil Louis. We were blown away by him: we loved his productions. When we walked in he was playing a carnival-esque record and the vibe was crazy. When we went on, the cream of the crop of DJs and producers were waiting to see who these Masters At Work guys were, they were all there. The creators and seeds of what was happening in the UK at that time were there, the place was packed, the energy was amazing and it was like being back in New York in the old days for us. We were blown away by it.
KD: London especially was like our second home. We made friends, it felt like a home away from home, it was great.
LV: We got to work at some of the best studios too. We worked with Incognito in the UK, and then after the major labels in the United States started doing records with us, major labels in the UK started coming after us, as well as the independents. We didn't always have time to work at home, so we started working on the road as well as playing in clubs. I'll never forget when we worked in Sarm Studios, which is where we came up with 'The Bounce'. We were working on an Incognito remix and we started jamming and 'The Bounce' was created. We were like, 'this doesn't go with that song, let's put that away for later'. And eventually it became one of the Kenlou jams.
We had great experiences in England, the love that we received from the people. And then we went up north and it was a whole other thing. It was like, 'wow, what's going on here… we're driving into farm land!'
KD: And none of the girls were wearing anything! They were in like negligees, it was crazy, and they didn't have coats on. And it was freezing outside, I was thinking, 'do they not sell coats here?'
LV: We were blown away by the scene there, and the way they created a club out of a barn. It was a whole different experience, it was great: we couldn't believe that people knew and loved our music that far from home.
Tell us about the new House Masters Masters At Work release…
KD: We wanted to focus on what hasn't been put out before, that's the main thin. There's so much music and there have been a lot of compilations. So we really tried to pick the joints that got overshadowed or missed or unreleased, whatever the case may be. That's the first thing, to try to compile a list that is different. You don't want to keep rehashing the same songs, because there's a lot that came out. There were also tracks that were bigger than others, but that doesn't necessarily mean they weren't as good, they just got over shadowed. So that was the main thing: trying to pull together some of those obscurities.

LV: We tried to think of the balance as well, because there are so many records that a lot people know us for, but at the same time there arealways those that haven't heard those records. We are thinking about the new kids, and the ones that know us, we are thinking about everybody. There are forty tracks so there is a big selection. I was happy when I heard the word forty because we have such a big collection: we wanted to find some things that were interesting, but also take care of the fans.
KD: Younger kids that know us, it's because of their parents. I feel the grind is on right now, we are at that point in time where we need to be re-introduced, so that's important. Thank god we are still here doing this and that we are still able to play, and we can show them how we did it and how it's done, because a lot has changed since we started. I think so it's good that they see the art form of what a DJ does and how a DJ selects, and how a DJ reads the crowd. It's important so kids can see this and understand what is going on, and they can learn that it's about putting stuff together and not being scared to try something or to play a certain record.
On that note, during your time in the industry some of the technology involved in production and performance has developed considerably. Has that affected your personal approach to creating and performing music?
KD: No, I still do what I do; he still does what he does. I think about it here and there, I think how can I incorporate technology and still make it funky, and take it to the next level. I embrace technology, because if I didn't things wouldn't be happening so fast. You can work on an aeroplane, with a little controller, or an iPad, so on and so forth. That's cool, but I'm talking more about the DJing aspect. It's very different to play certain things on the spot, opposed to something programmed, where you are pushing buttons and shit like that. That shit is corny. I get it, I get certain people are not as savvy, or their vision is different, that's cool, that's still art, they are still playing music. But I think, go back a little bit and learn the art form of playing music and DJing first. That's just my opinion.

Over the last couple of years, house music has become very popular in the mainstream, certainly in the UK. Is that the also the case in the US? How do you think the mainstream popularity affects the underground roots of house?
KD: Yeah it definitely started a few years ago, you started to see urban artists doing up-tempo music, or incorporating the 4/4 in their songs. Neo starting doing records touching on it, so did Justin Timberlake. Buut what you have to understand is that some of the guys are house-heads too. So a lot of these guys that do the urban records, they like house music, and they would listen to our stuff and they would incorporate that. So it started there, and then I guess, the bulb went on over here, and it was like wait a minute, 'this is us all day!' At home, it wasn't as relevant as it was [in the UK] for all these years. Here on the radio, you would hear house songs on mainstream radio, but that just wouldn't happen in the US. It was underground. It was on mix shows, on the weekend Tony Humphries mix shows: that's where you heard the house records and the new stuff that was coming out.
It's dope that it's back, and MK has a No.1 record, because he has worked hard and he's been there since day one, so it's good that he's able to get that now. Because you work on this music and you don't make it initially to be a big smash, but you want people to hear it. There's nothing wrong with that so if radio is supporting it, why not? That's dope.
L: I'd say with the US, after Neo, and when some of the other artists starting making 4/4 records, it happened because once David Guetta got there he collaborated with a lot of the R&B and hip hop artists, and the EDM thing just exploded over there. In a way, I feel that it got people into dance music again. Like a person that didn't know anything about dance music, so then you want to know more about this music, and eventually it reaches in these areas, and that's what's happening now. Before I left [the US] to come over here, Disclosure were all over the radio on pop stations, I'm talking about the biggest radio stations, the biggest pop stations. Disclosure to me is closer to where our sound is, so I think it's great. The pop artists follow the trends, and they are going to make their music in line what is happening. A lot of them do anyway, that's the way it is in the US. A lot of the pop artists now are interested in this sound, especially now it's coming a lot closer to us.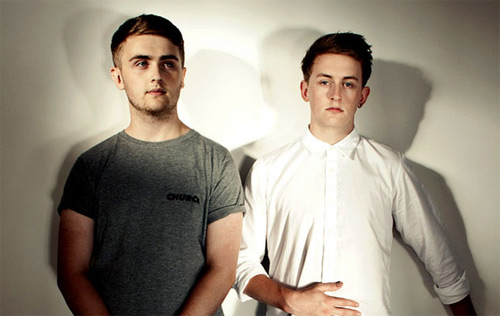 Over here [in the UK], you guys move a lot faster, you have always moved faster and that's what we love about it. It's already happening here, we can see that and there was a little period where we weren't coming here as much, but now it's starting again. We are really excited about where it's going.
When we were making records in the nineties, when we were producing we were looking at disco music and 70s music. Those records influenced us, so now you got to think, we are in 2014, where are the new producers going to look? They are going to look back into the 90s, where house came from, and now we are part of the influence with guys like MK, and Todd. We are very excited, it's now about us collaborating with some of these artists, the ones that fit what we do, and take it to the next level.
One final question for you: as a collective, and individually, you've given so much to dance music. What has it given to you?
KD: Just being able to see how happy people are, when you're playing music, it's just crazy to me how you can make people feel with that. It changed my life, and it's changing their life. That person might have had a terrible day, and they came out last night and we just made their day a little easier. It's been a very fast road. We're talking about these times in the 90s, and I remember those times like they were yesterday. It's been twenty four years, where did it go? It shows you that you have to spend time with those people that you love and your friends because time just goes.
Music definitely changed everything. Like I said earlier, I didn't really see another profession, and I didn't really see anything else that I wanted to do. But I'm happy it worked out, I was lucky it all worked out. I worked hard, but at the same time it was luck: the timing of everything, to meeting Louie and meeting Todd, and how everything worked out along the way, it's been good.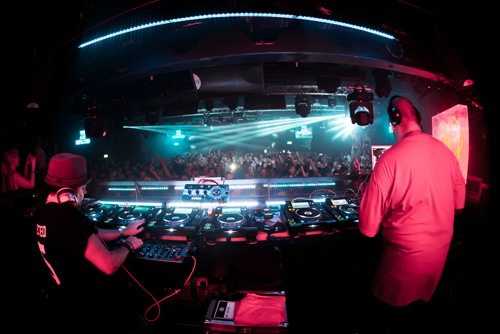 LV: The fans that we have the built, the foundation, and the large group of people around the world in different countries and different cities, the new friends, and the families we have built, and our own families: of course our lives have changed. From living in the Bronx and living in Brooklyn, we now have our own places, we have our own companies, we work together, we have created this huge body of work and I am really excited now about this new project. I think it is going to be the beginning of the next era of MAW. I'm just really grateful, and I feel like we are blessed. Thank god for everything, for what he has put in our way. I'm just really content with what we have done, and I'm satisfied. I feel like we have really made a musical statement and I'm just happy we are able to touch people's lives and make them feel good.
Defected presents House Masters Masters At Work is out now (4CD, double LP and digital) on Defected Records - order from Amazon / order from iTunes