Severino Panzetta is one colourful quarter of disco-shimmy sensations Horse Meat Disco, alongside James Hillard, Jim Stanton and Luke Howard: the unique London collective that has rapidly established itself as a global force to be reckoned with, creatively splicing a whole heap of deep dance treasures covering everything from Chicago house to soulful glitch.
It is the boys' inimitable DJ programming – fuelled by a steadfast commitment to digging the deepest, dustiest record crates when out 'shopping' on tour – and uncanny knack for feel-good bump 'n' hustle that has served them so incredibly well since teaming up just over 10 years ago.
Hillard had previously worked at cult soulful-dance label Nuphonic and helped supervise the release of a couple of compilations by disco god David Mancuso (under the banner of his seminal party The Loft). Related business visits to New York brought him into contact with the city's blossoming gay nightlife scene, and its euphoric soundtrack - Hillard was inspired. Not to mention disheartened by the equivalent, flat-as-a-pancake scene back in London. The combination encouraged the formation of Horse Meat Disco with close friends Stanton, Howard and Panzetta.
The 'Disco' began in 2003, growing rapidly from a low-key Soho basement bash to spearheading the Noughties' disco renaissance, as well as spawning parties, tours and guest residencies all over the world – including Paris, Berlin and New York. A weekly Sunday shindig still takes place in London today, despite the collective's chaotic fame, situated at 'Horse Meat HQ' The Eagle in Vauxhall. And Hillard and co.'s original mission statement continues to resonate – to mould a fun-time dancefloor for everyone; to build a carnival atmosphere with a distinctive British dash of camp 'n' soul.
In their most recent months, Horse Meat Disco have started recording a debut studio album; this off the back of four cult compilation mixes for Strut/!K7 and a collaboration with Joey Negro on TS Monk cover 'Candidate For Love'. The bookings are snowballing too. Like Negro, the boys have repeat appearances confirmed at Defected's glamorous new White Isle night – Glitterbox. Severino has dropped by to tell us more....
Tell us about Horse Meat Disco's Glitterbox debut back in June?
Well, I didn't actually make it to that but I heard it was fun; great shows from everyone and good reactions. I think people like the party and are looking forward to our next appearance there on 16 August.
Sev, tell us you're playing that one?!
Yes I am, alongside Luke Howard! Fun is the secret to Horse Meat Disco's success. Of course, we like to play and push obscure records but every gig needs some fun records and I'm not ashamed to play those. That's always been our approach.
What does each of you bring to the table?
We all bring energy and the same mentality of having a fun party – generally gay but mixed every time, everywhere....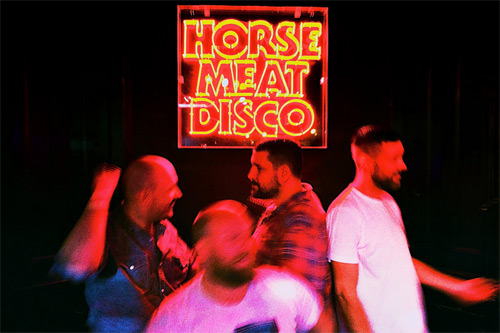 You seem to bring so much energy – have you had any time to reflect on your rapid rise and success?
I guess it's all just happened very organically. And as I say, when you keep it simple and bring the fun then everyone's happy. The girls, especially, are the first to open up the dancefloor, which we love!
Moving on to the studio, tell us about this year's hook up with Joey Negro?
That was our first production. We are all, of course, huge fans of Dave Lee's [man behind the Negro mask] sound. He's actually a friend of Luke's, so we were honoured when he asked to hook up on 'Candidate For Love'. He's also a great, fun DJ.
Is this the prompt for regular Horse Meat releases – studio album included?
Well, we're touring so much this summer that, for the mo, the studio is closed. We've had an amazing time...one month touring the States, now Europe, and Lisbon this week so we can't complain. But, yes, we definitely need to do more with the studio, and with a few fun vocalists. Chaka can you do it with us?!!!!
What are you views on the dance music scene today?
After years of minimal, people want some soul back and happiness. I guess it's probably like that. We haven't really thought about where we take our DJing next. We're so busy. But I do DJ as Severino sometimes, in a more house-y environment and I love it.
Having fun is crucial, you say, but your record selections are equally important. In a digital world where more and more music, old and new, is instantly accessible how do continue to stand out?
Luke and James are very, very good at finding obscure records, so they keep digging and digging. I guess Jim and I are the more modern ones, and that mix is interesting. We also need to thank the friends, producers and other DJs who send us great music.
Finally, what are your biggest musical discoveries this year?
DJ Haus [London rave rejuvenator] has been a great discovery. Octo Octa [Brooklyn house producer] too and the return of Mousse T!
Severino joins Horse Meat Disco for their next Glitterbox appearances, 16 August and 20 September – visit www.glitterboxibiza.com for more info and tickets