With the launch of a fresh brand identity, a new sister label to Defected about to drop and two new residencies in Ibiza confirmed for the summer, it's fair to say Defected's founder Simon Dunmore has had a busy start to the year. Happily, he's still found time – as ever – to mix the annual Defected In The House Ibiza compilation, which this year boasts 3CDs and over 50 tracks of some of the finest house music you're likely to find.
Ahead of its release later this month, we caught up with Simon to discuss the motives behind the new identity, changing people's perceptions and why he thinks the label he started nearly 15 years ago is in better shape than ever before.


It's fair to say there's been a significant change in Defected over the last couple of years… what prompted this change?
The change in Defected was prompted by the change in the dance music industry. Certain elements of the industry became very generic and very soulless in my opinion, which wasn't a sound I really wanted to be associated with. So we went back to putting out more discerning, underground, soulful house music. And from that moment on, we just seemed to get more recognition from our peers and from the people we wanted to be associated with, as well as from the people we wanted to make music for us. It was just that something so extreme was happening and so it made the choice really simple.
What have been some of the challenges involved in changing people's perspective about Defected in that time?
I think that people's perceptions are hard to deconstruct when they've made their mind up about something. Once a label has been around for a period of time, the shine goes off it. They're not new anymore and maybe not so cool. The music industry as a whole naturally wants to support the underdog and people want to be associated with things that are fresh. So having a label that is ten years old was quite problematic because we just weren't new. After all, once you've written about Defected and what we do, how do you write about it in a new way?
It started with signing a few choice records, from people like Inner City, MK and Storm Queen. I think that opened a few people's ears and eyes to what we do. I also think that people appreciate the fact that we have good expertise in promoting and marketing underground dance music. It doesn't mean we have to sell out, it just means that we are really good at informing people that certain records are really good records. They might not necessarily be on the radio, or might not be being played on the commercial high street, but they are good records that we think people should know about. That's what we've always done; in that respect nothing has changed in the 15 years of Defected being in existence.
Defected have just launched a completely new brand identity… why did you decide the time was right for this to happen?
We're just coming up to the Ibiza season, which will be our 11th year on the island. We have Bomba and Ushuaia Tower residencies, both of which are two new destinations on the island, so that part of what we're doing is brand new. And a lot of the people making music for us now are new to the label. We still have our veterans that we've worked with for a long time – like Copyright and Sandy Rivera. They make great records for the label but a large percentage o f the music that we release and the DJs that play for us are new to the label. So we have new business, new residencies, new producers we're working with and so I thought, to really deconstruct everyone's preconceptions about the label -whatever they might be - it might be a good time to rebrand and have a look at the logo. And so we decided that we were going to have a new logo and a new website as well. And so essentially my opinion is that we are starting a brand new business but starting it from a much better place than when we first started out in 1999.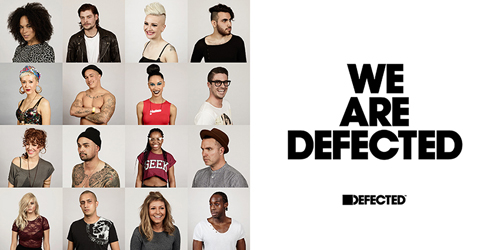 How did Trevor Jackson come to be involved in the project?
We've used a number of designers over the past few years and if I'm honest, they've done a good job, but I'm not sure if they did a great job. It wasn't something I could ever puff my chest out and be super proud about.
Several years ago we put a record out by Trevor Jackson, and it was a great record. It didn't particularly do that well but we put it out. And before that he was actually managed by a friend of mine, a guy called Matt Andrews who unfortunately passed away, but I knew Trevor from back then, from about 18 years ago. Anyway, Trevor phoned me up because he hadn't got his royalty statement from us and it was while we were talking about the design. And so I suggested to my guys that we should get Trevor Jackson to do a redesign on our campaign for this year. I remember everyone looking at me and saying "Trevor's never going to do it; he's not going to be into what we do." And look what happened! I couldn't be happier with the results and the feedback from people personally getting in touch with me and on our social networks so far has been amazing.
There was a lot of speculation about the reasons behind Defected's departure from Pacha last year… tell us about your own motives for leaving..
We had an amazing season last year. I believe it was our most successful year in the 8 years we were at Pacha, but when I had a meeting with the new management team in October, their account of the 2012 season bore absolutely no relation to what I'd experienced when I was there every Saturday night. It became really clear that there was a real disconnect with how they saw Pacha's future and their perception of Defected. Despite what they said in the press recently, they definitely wanted us to stay, but it just felt like it was time to move on so I went and saw [former Pacha Brand Director] Danny Whittle and he told me about Giuseppe, and he told me about the new club and that kind of fitted in with everything we were going to be doing with the label.
It's all about change and moving the label forward and I believe it'll look great and it will be really, really impressive. And if we fail, at least we've tried to do something different. So whatever happens, I feel it was the right thing to do.
Given that Ibiza isn't perhaps the most welcoming environment for new business – especially clubs – to start do you think there's a risk involved with your Bomba residency?
I think leaving your comfort zone is always a scary moment and Pacha is undoubtedly one of the most iconic clubs in the world. It is, historically, along with Amnesia, the original club in Ibiza. It was an amazing place for us to be associated with. To walk away from that I believe it's a ballsy move. But I think it's those kind of things that keep you on your toes and making the decision to move and push things forward allows you to reinvent yourself and allows you to work with new people to be more creative
When I spoke to Danny he said that convincing people to come to a brand new club in Ibiza, when you've got the established clubs all around you and when you have people wanting to discredit you with some dirty tricks thrown in was the hardest thing he's ever done. And I can see that. But actually I think it just gives you passion and if you believe in it then you can sell people your vision. And so whilst there is probably an element of risk, I think that sometimes fortune favours the brave. Hopefully we'll get the luck we deserve this year.
The lineups are significantly different from last year and every year before that… what kind of statement were you trying to make with the artists you've chosen to work with?
We have our artists that we're associated with. So we have Dennis Ferrer playing for us and we have Sandy Rivera and we have Junior Jack – there are no surprises there. The big names we've booked from house history include Lil Louis, Frankie knuckles, David Morales, and Derrick Carter. I think these appearances give recognition to the history of house music and I think a lot of people who go to Ibiza are going to be excited to see those DJs because it is going to bring back the memories of the clubbing hay days of the late 80s and early 90s. But alongside them we've booked Disclosure, Duke Dumont, Eats Everything , FCL, Catz N Dogz and we have Guti playing for us. These are names that are up there making cutting edge dance music. So yeah, keeping working with new people and keeping the roster fresh is what keeps Defected ticking over and keeps me young at heart.


Let's talk about the Ibiza album… why is it important to you that you select the tracks and mix this every year?
Sometimes I'm quite critical of label owners, especially in the dance music industry. Sometimes it all seems to be for their greater glory. They sign other people's records, they release other people's music they put on events. But at the end of the day, the person who gets the star turn or the person who seems to get the priority is the label head and I'm quite conscious that Defected has never been found to be guilty of that. I've never produced music. I've done the odd remix back in the day and I've always DJ'd, but I've never considered myself to be a headline DJ. I still enjoy DJing but I'd rather promote someone else's career. The one indulgence I do allow myself though is to compile the Ibiza compilation. For me it sets the tone for what I view as where Defected should be at that moment in time.
How do you approach putting your Ibiza mix together each year?
I think with compilations, I think what people need to realise, it's not a clubbing experience. It needs to point people in that direction but listening to a compilation is a listening experience. When Dimitri From Paris did the first 'In Their House' compilation, which is probably back in 2005, he told me "this has to be a listening experience" and it's those records that stand the test of time. So if you look at the track listing, its very song based. There are many tracks that we've licensed in and there are many tracks that are associated with the people that we work with. People like Nick Curly, Julien Chaptal who's just released a EP, Rachel Row's 'Follow The Step' which I think is going to be a massive record this year in Ibiza along with FCL's 'It You'.
I think the great thing about house music at the moment is that it's rediscovered its soul. I think it's made it really, really interesting and it made it easy for me this year to put the album together because of that. There's so much good music out there and it's almost as though all the genres have come together again.
What do you think gives the Defected Ibiza compilation the edge over similar offering from other labels?
The key to the longevity of Defected is that I believe we're consistent. I don't think that we're predictable but I do think we always move things on in a consistent way. We always deliver things that are quality and I don't think we ever really let people down. We do like to keep people on their toes but I think people know that whenever they come to one of our nights or whenever they buy one of our albums, they're going to be well thought through. They know it's going to be a quality selection of music and that it's going to be packaged really well. And I think that consistency has bought us real loyalty. I think that gives us the edge over the competition.
There are people who are followers of fashion that jump ship and move onto the next thing as soon as they think it isn't trendy anymore. We don't. We just do what we do. Sometimes what we're doing is more fashionable than what we're doing at other times, but because we're loyal to our sound and to the people who like what we do, it gives us the edge because people know what they're going to get. I'd like to think that it's normally a good experience.
Defected In The House Ibiza 2013 is out 19th May – pre-order from iTunes