STORY BY CRISTIANO SPILLER (EDITED BY NICK GORDON BROWN)
A late-night studio session, a fateful car journey in Miami, a hot white label, writs galore, and hanging with Sophie Ellis-Bextor and Vincent Montana. The story of Spiller's house music classic.
The 16th March 2021 marked the 22nd anniversary of Boris Dlugosch playing a new track by his friend Spiller at a party at Miami club Groove Jet, part of 1999's Winter Music Conference. As Defected prepares to make the track that was to become known as 'Groovejet (If This Ain't Love)' available for the first time in a decade, Cristiano Spiller tells us the full story behind his classic.
View this post on Instagram
Part 1 - MIAMI 
I often get asked, "How did you came up with 'Groovejet'?". It was March 1999, I was going to the Winter Music Conference in Miami, my flight was early in the morning, so I decided to stay awake until it was time to leave, and then sleep on the plane. I was rebuilding my studio, so I had all the gear stacked in my bedroom. I sampled a record that I had just bought: 12" Gold Master Series on Salsoul, which included a previously unreleased Tom Moulton version of Carol Williams' 'Love is You'. I played with those samples for an hour or so and came up with this instrumental track, which is more or less 'Groovejet' as you know it now. I quickly burned 2 copies onto CDs and ran to the airport. When I landed in Miami my old friend Boris Dlugosch came to pick me up at the airport. While on the road he asked me if I had some new music and I put the CD on the car radio, but we started talking and got lost in conversation, and I forgot the CD. Later that day he was DJing in a club called Groove Jet and invited me to go.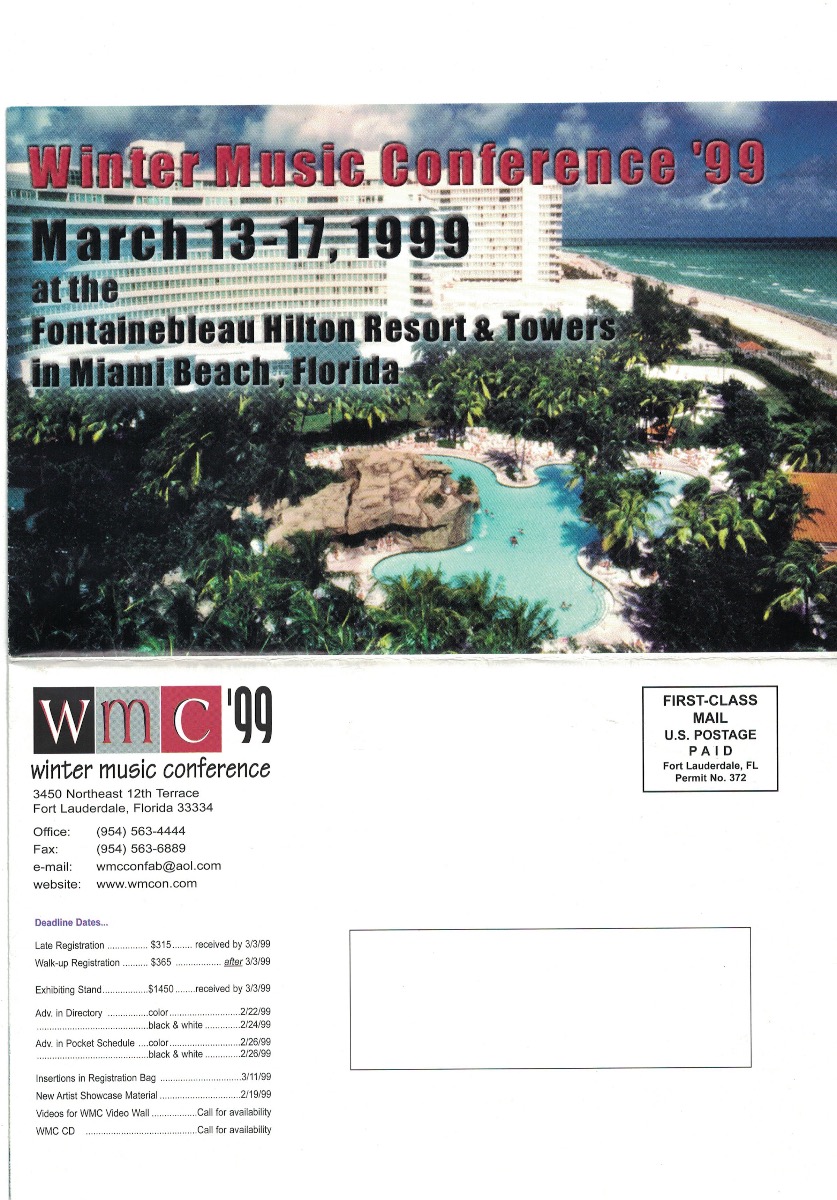 When I arrived, people I didn't even know ran to me asking about my new record, I didn't understand what they were talking about until Boris told me he had played that demo and people went nuts. That's how the story began for the record that changed my life and that's why I decided to call it 'Groovejet' (Boris suggested calling it Mighty Miami EP). I always regretted arriving late that night and missing that special moment when it was played for the first time, but incredibly enough, 10 years later a friend of Boris told him that he was there and recorded the whole set from the middle of the dancefloor using the internal microphone of a Minidisk Walkman. You can hear people's reactions to each record, you can even hear people asking him what the record was at that point. The whole set is amazing and an accurate portrait of the best tracks of that season in my opinion. 
Part 2 – THE SAMPLE AND THE WHITE LABEL 
The hype in Miami was a great start but it was still confined to those who were there that night. I had some independent labels asking to release the record, but there was a stumbling block: I had to clear the sample of Carol Williams 'Love is You' owned by Salsoul Records, who in addition to a cut of the royalties were asking for a $ 20,000 advance, a sum that I couldn't afford and that none of those independent labels was willing to stretch to either.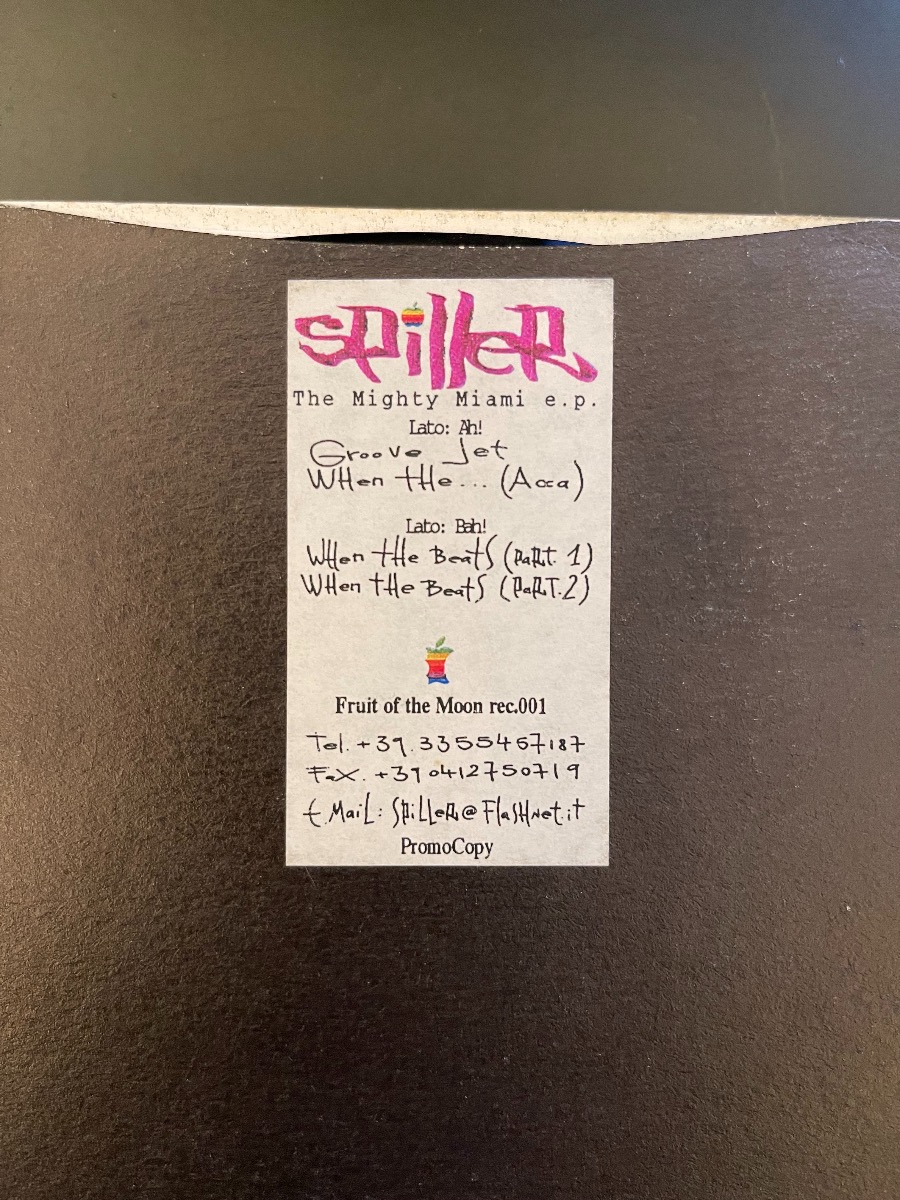 I decided to press 1500 white labels with a generic black cover. We then put little stickers on each record with the title and included a sheet of A4 paper that only said, "write or draw whatever you want" and my fax number. We started by shipping a few copies to the Italian record shops I knew personally, and we immediately received many faxes with both funny and enthusiastic feedback; and many record shops around Europe asking to buy more copies.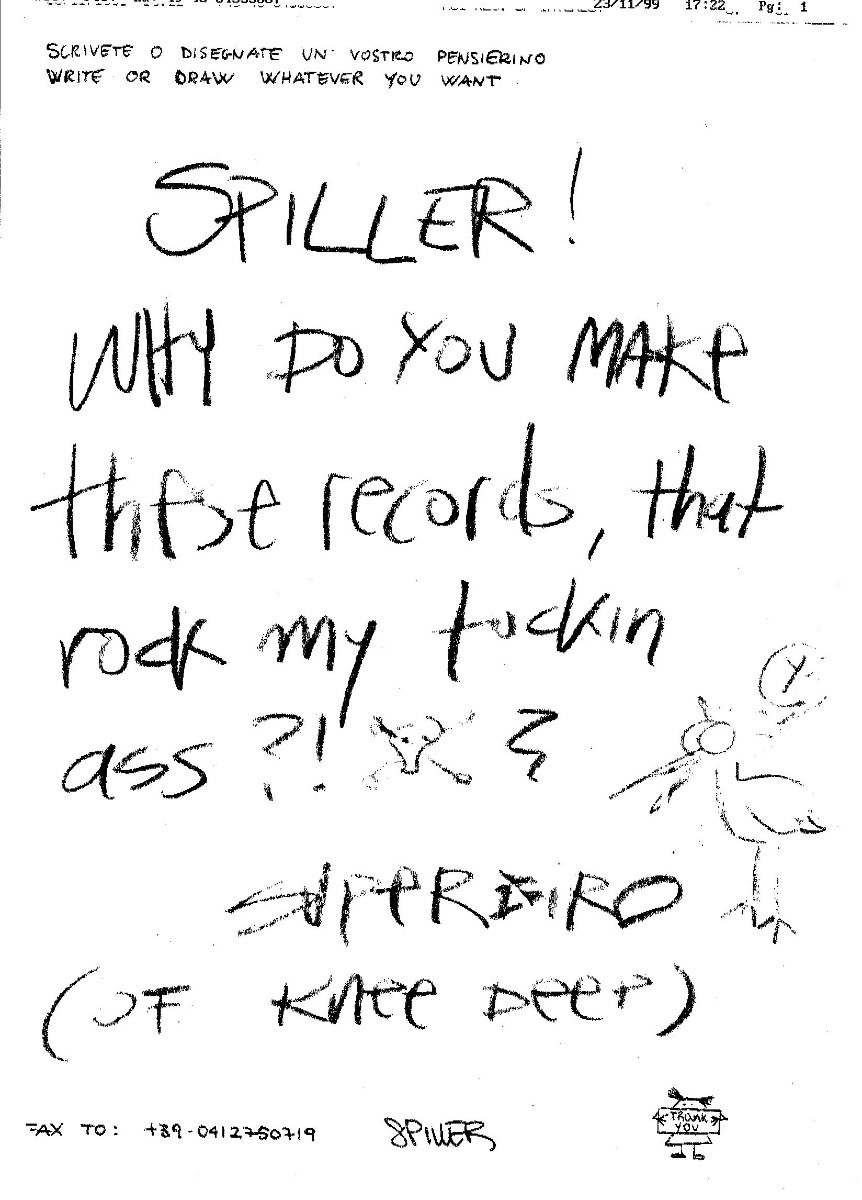 The record ended up top of all the buzz charts and we had a line of labels wanting to jump in, including Simon Dunmore at Defected, but Positiva (EMI) won the competition to sign it, partly because they had licensed all my previous records. We paid Salsoul and signed the contract that covered the use for any version / edit / remix whatsoever, including a new vocal version which they knew was in our plans. When the vocal version came out, Salsoul waited until the record was top of the charts to claim that we had no rights to use their sample because the title now was 'Groovejet (If This Ain't Love)', and not just 'Groovejet'.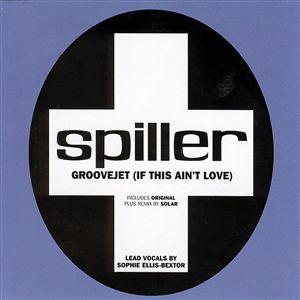 A lawyer advised us that we would most likely win the case, but that would have meant withdrawing the record immediately and waiting years to finish the trial. So we decided to accept and we reluctantly paid for the new license, obviously this time they asked a higher advance and even more royalties. It was a bitter one to swallow. The license duration was "in perpetuity", meaning it had no expiration date, but in 2010 they came at me again with a big law firm threatening a suit if I didn't renegotiate again. I told them that I would not renegotiate the deal for a third time and that I would rather take the record down - and so it was removed from every store and has been unavailable ever since. A few years ago, BMG bought the Salsoul catalogue, it seemed like a good chance to quickly make the track available again, but no, of course not. My contract covered me for any physical and digital format, existing or yet to be invented, but BMG argued that streaming is not a format, it's a service, therefore I had no rights to use the song on any streaming platform. So, it took another 3 years and the help of Defected, and we finally updated the deal for streaming services.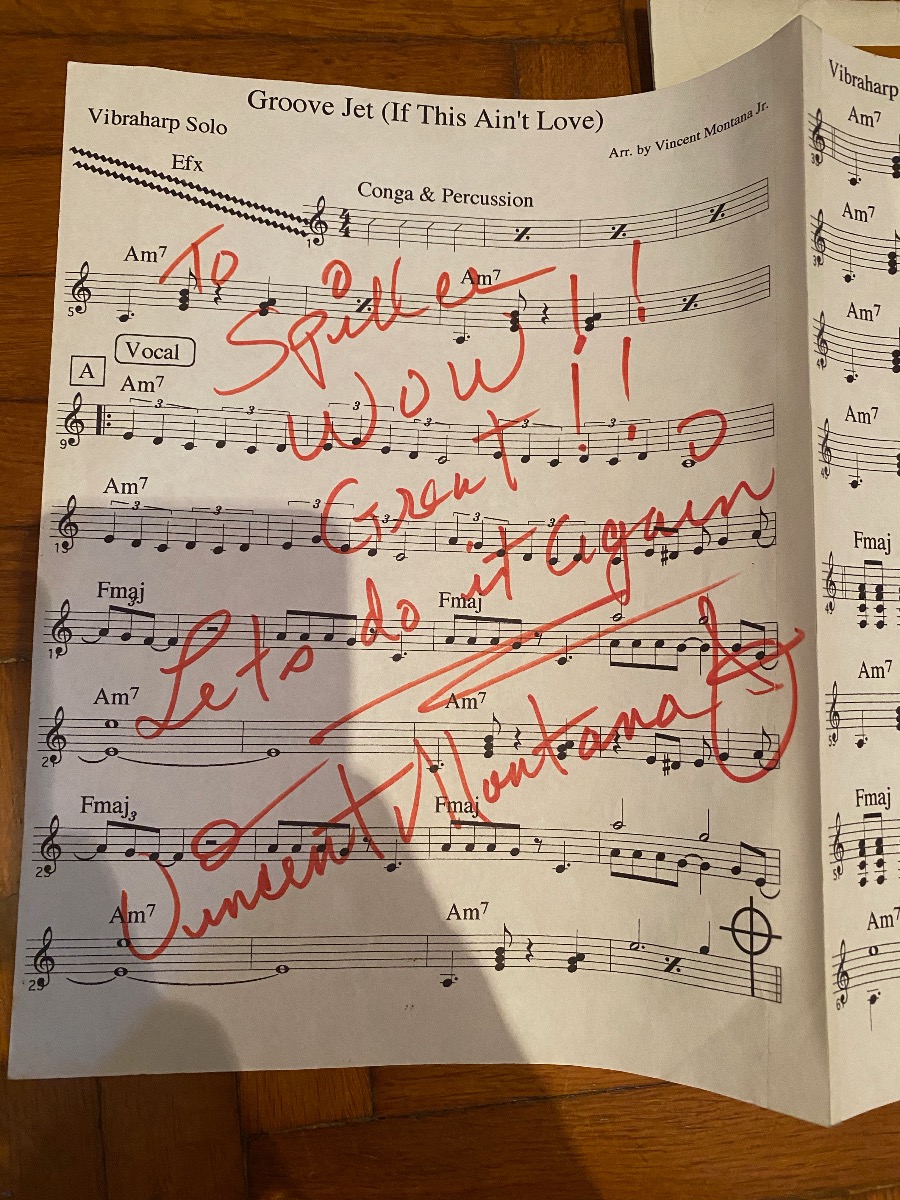 A very different story was my relationship with Vincent Montana Jr, director of the Salsoul Orchestra, who composed and produced all the music in 'Love is You'. In 2002 he came to Milan with his daughter for a concert and he asked to meet me, during the concert he performed a live version of 'Groovejet' playing his legendary vibraphone and at the end he gave me the score with a signed inscription that I jealously guard. Since then, every year he sent me a Christmas card and some new music. He was really kind to me and I was invited more than once to visit him in Philadelphia to make some music together, it's a great regret that I never managed to make it happen. 
Part 3 - THE FULL VOCAL VERSION  
I had decided this had to become a full song on that day before flying to Miami, it was not something imposed by the major labels or my management as some suggested. However, I didn't want to do the usual disco house song with a soul diva, at the time there were tons of those coming out every week. I wanted to combine the track with an original voice, something you would not expect. So, EMI/Positiva sent me a pile of CDs with song ideas and singers' demos. Sophie's voice stood out from all the others, it had exactly the character I was looking for. What I wasn't very fond of was the main riff in the first demo, so songwriter Rob Davis came in and fixed that with a nice melody following the violin riff of the instrumental. I didn't know how good looking and charismatic Sophie was until I met her in the studio in London to record the vocals with Boris Dlugosch. While we were there, Sophie re-wrote parts of the verses.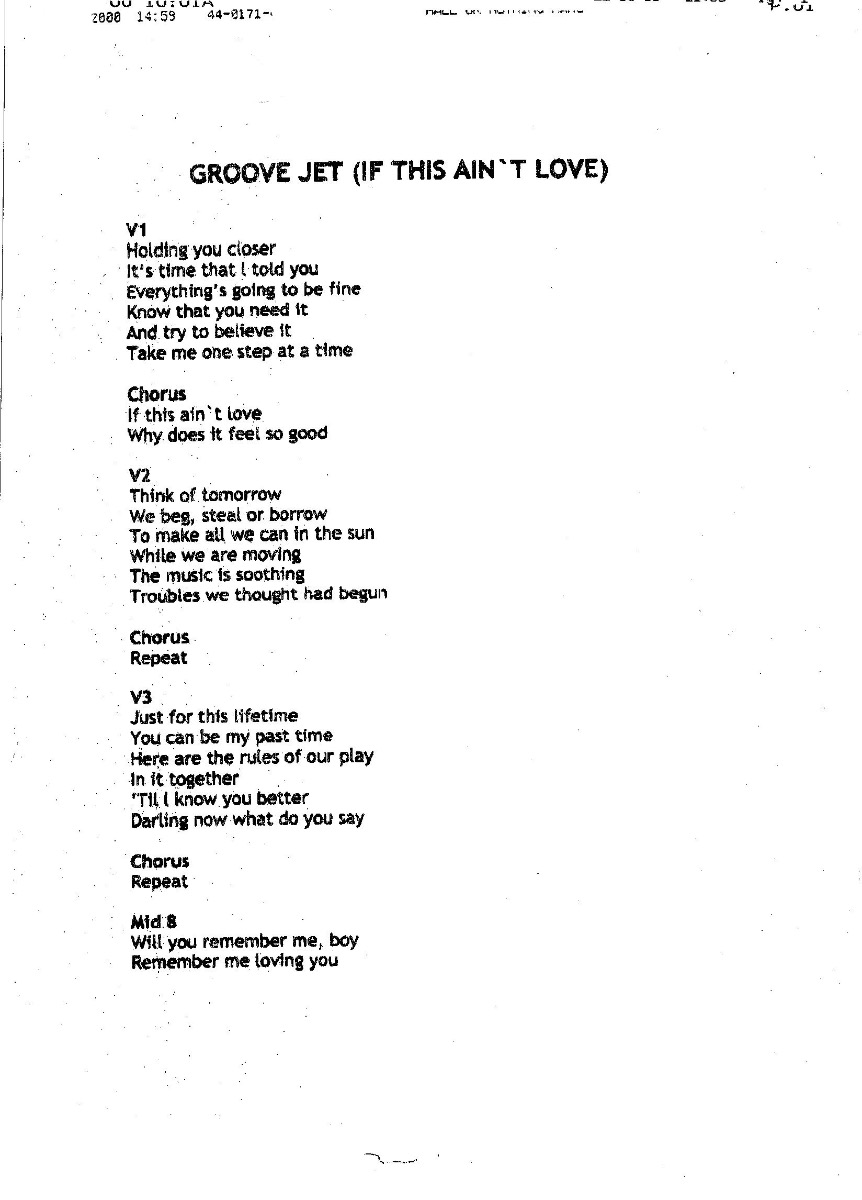 I was the resident DJ at a club in Italy at the time, and every time I was DJing there people would wait impatiently for the moment I would drop 'Groovejet', which at the time was almost one year old, I will never forget the week I played the vocal version for the first time, the club exploded when the music started but the very second the voice came in everybody stopped and stood still, it was panic, they looked at each other lost and disappointed and the dancefloor cleared. I was very confident in the song, but I have to be honest it scared me at the time, I pretended not to notice but I was super embarrassed, they were so used to the instrumental version that they just hated it at first, then a few weeks later it was a hit for them too. 
Part 4 - THE VIDEO 
When it was time to decide what to do with the video, I honestly had no idea, so Positiva commissioned a bunch of different treatments from production companies, most of them were a bit too serious, but the script that stood out was titled Big in Hong Kong as a reference to Big in Japan, it was much more down to earth as it was basically making fun of my height, which is something I've always been comfortable with, also Sophie's role was nicely balanced with mine. 
The final location became Bangkok. I was, of course, excited for filming my first ever music video in such a beautiful city but honestly it was also kind of shocking, it was July during the rainy season, incredibly hot, wet and polluted by the heavy traffic. The first day I got stomach flu probably from the water used for ice cubes and I was especially surprised by the amount of sex tourism I witnessed around the streets during those few days. Thankfully our German director (Frank Nesemann) focused on the city's brighter side, with the whole crew, he did a great job.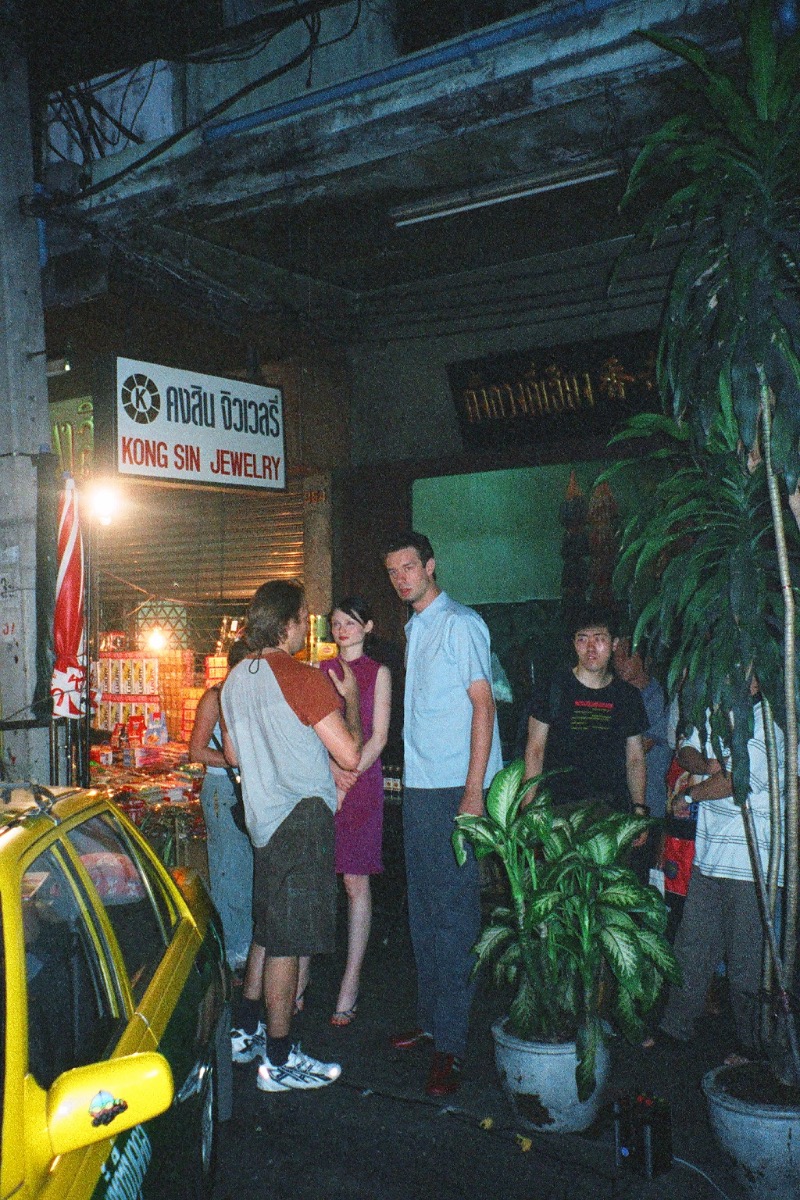 Fun fact #1: To go to Thailand I met in Paris with Stefano, my Italian manager, we had to take a direct flight to Bangkok with Air France during the final match of UEFA Euro 2000, ITALY vs FRANCE. Stefano was really into soccer and on the plane, it was 300 French versus us 2 Italians, the pilot (also French) was receiving updates via radio and was giving commentary during the flight, Italy pretty much dominated the whole game and were ahead by one goal, I played it cool but my manager could barely contain himself, at minute 90 he was already celebrating, then France scored so we went into extra time and they won it in the 103rd minute with a golden goal. The plane went crazy, everyone doing chants to our faces, so my manager wasn't in the best of moods for the next 48 hours.
Fun fact #2: the director had asked me to bring over my favourite clothes for the video. So, I travelled with a big suitcase full of clothes (mainly t-shirts), we then met in my hotel room and I showed him everything. He didn't like one single piece, so we only kept my shoes and they sent someone shopping for clothes for a 2.08 m (6.8 ft) tall dude… in Bangkok!
Fun fact #3: when I ask the taxi driver to turn the music up in the taxi, if you read my lips it looks like I am swearing in Venetian dialect, for 20 years I get asked by my Venetian acquaintances for confirmation about that, so once and for all: NO, I was just asking him to turn up the music! 
Part 5 - THE SUCCESS 
In the week of release EMI arranged a few TV shows and radio interviews, I was pretty shy so thank god Sophie was there and she did all the talking. Victoria Beckham with Dane Bowers and 'Truesteppers' was the favourite to go to number one that week and Victoria fought very hard to get it, she was literally all over the place doing all kinds of self-promotion, including shows in megastores and gigs in Ibiza. She even dragged her husband David to a promotional in-store appearance. Sophie pointed that out in an interview and the war was on. We were still number 2 on Friday night then on Saturday we overtook them. Dane Bowers recently declared that he heard rumours that our label sent people to the stores to buy a lot of CDs last minute, which is funny because that's exactly what I had heard that their record label was desperately doing trying to hold that 1st place.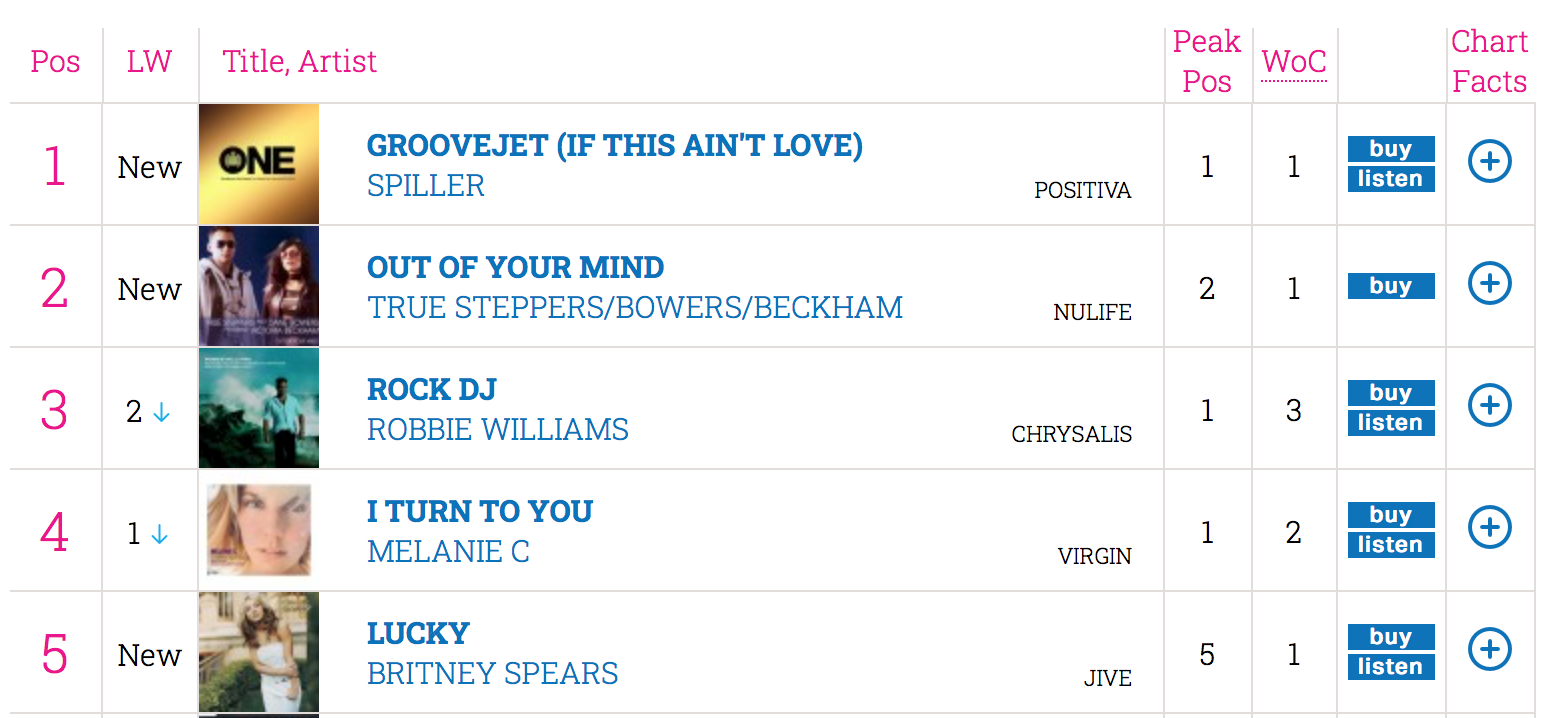 My manager called me, "Cristiano, the unexpected is happening, I think we are number one in the UK singles chart, you gotta come here immediately we've got to celebrate!" I didn't know how important a number one was until I heard the tone of his voice on that call. So, in one week I went from being an unknown producer to leading the most important pop chart, ahead of Britney Spears and Robbie Williams, I still can't quite figure that out. 
After going to number one in the UK, it went platinum in many countries including UK, Australia, New Zealand, Italy. I have no idea how many copies of the single were sold in total. It's the biggest-selling vinyl single of the millennium in the UK according to the Official Charts Company. It was the most played song on the radio for the decade 2000 to 2010 in UK, and Johnathan Ive declared in his biography that he chose 'Groovejet' to test the first prototype of an iPod in Cupertino, and that Steve Jobs' reaction was "Oh my god, this is gonna be so cool."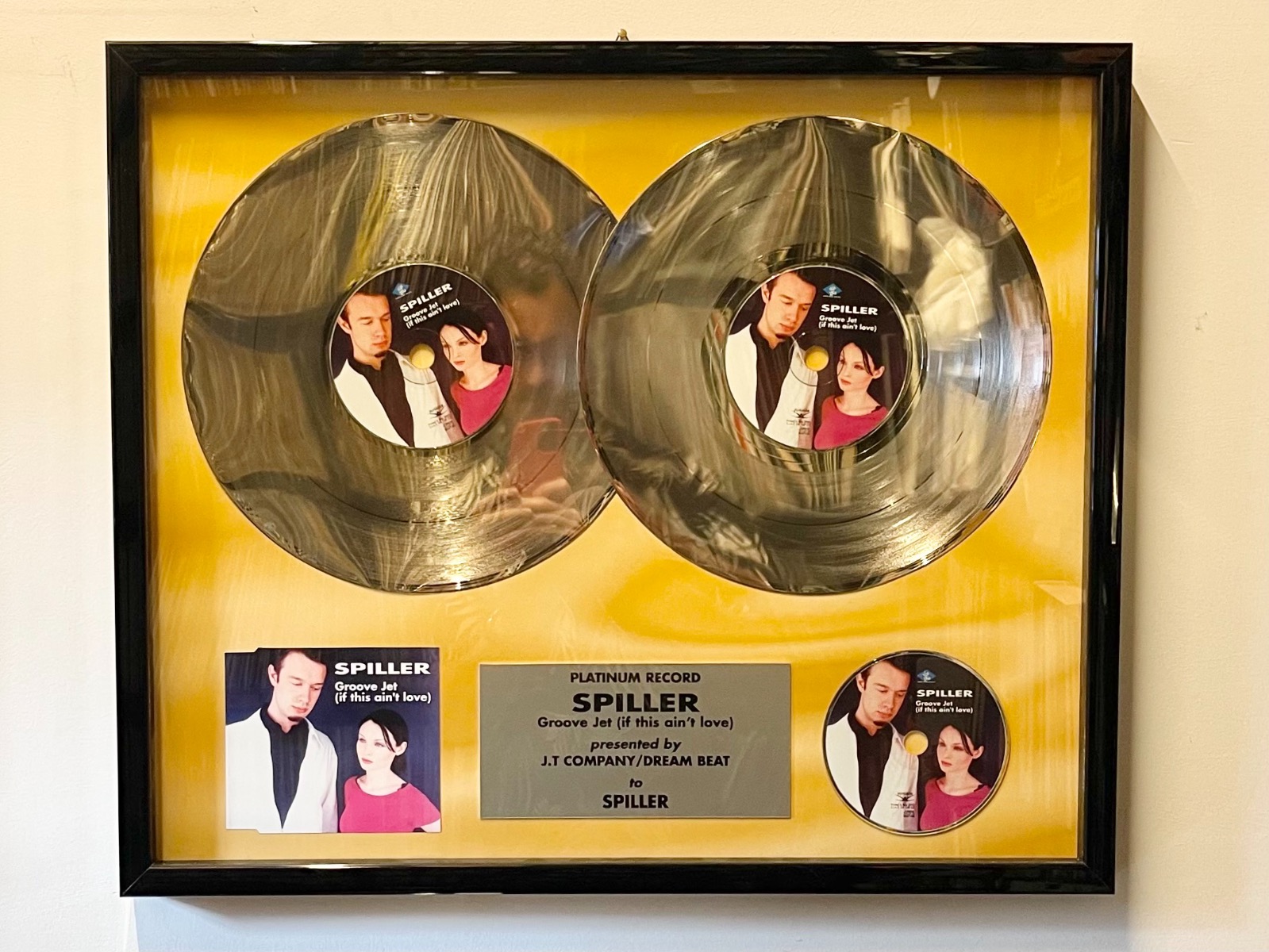 Part 6 - THE REPLAY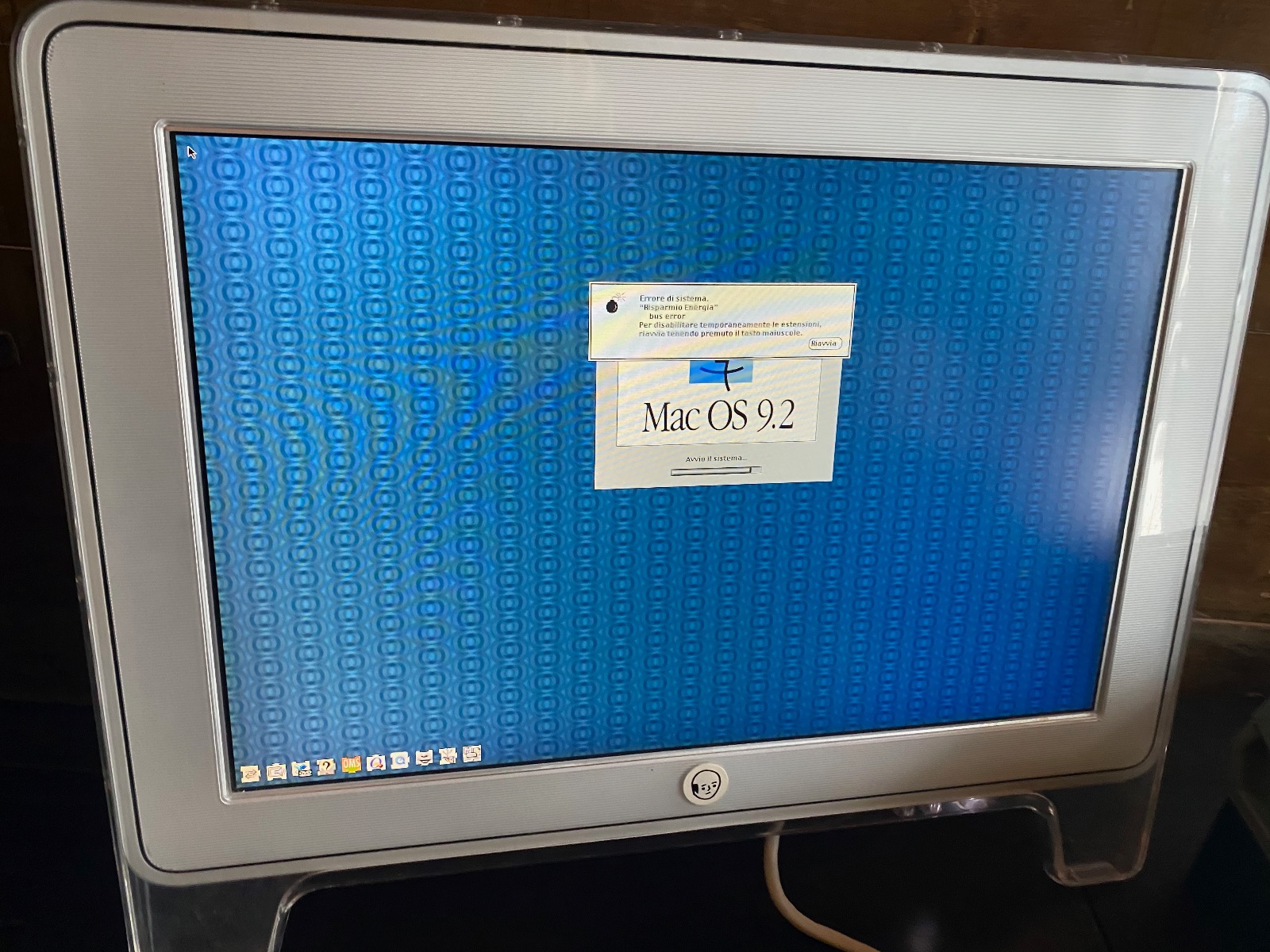 Before we were able to get a deal with BMG for the streaming, Simon Dunmore offered to finance a sample replay that we could use to rebuild the original 'Groovejet'. I was sceptical at first (as I have always been with all sample replays) but I thought there was no harm in trying. I ended up in a 7 month journey which kept me busy for most of the first 2020 lockdown. Spoiled by today's software, I didn't remember how much analogue production was involved in making 'Groovejet', so once I had the sample replay, I went digging for the old CDs and DATs with the stems, only to realise that they only contained the acapella and backing vocals. I needed all the drum sounds, fx and filters that I had used back then, so I had to revive my old PowerMac g3, I had to try 3 different monitors to even get the video card to work and see the happy face of Mac OS 9, then I had to find the right Cubase project, fix the extensions, fix the plug ins and when I had almost given up trying it finally opened, that was kinda magic from a nerd perspective. At that point I managed to run the new sample replay through that same plug-in filter (North Pole). But that was just the beginning, as I realised there were a lot of midi tracks involved too, all the additional drums were AKAI samples, luckily I still had my AKAI S6000 and I didn't throw away all my floppy disks, but I was so bad at labelling them back then that I had to go through all of them one by one with the slow process of AKAI loading, more than 200 floppy disks, that was quite a journey in itself as I found a lot of cool old samples from unreleased projects or embarrassing experiments with my own voice, there was this 'Groovejet' drum loop that I couldn't find, and I found it on the very last floppy disk I checked. I also had to find that airplane sound you can hear at the beginning, the additional toms and other effects, they all came from a Korg expander named TR-Rack, so I had to dig out that piece of gear too and re-sample all those sounds. Then months of mixing all this with the replay with the sound engineer who helped me with the final mix of the vocal version back then. It was never good enough and I thought about giving up many times, but we managed to make it and I am very happy with the result, it's not identical but it's as close as it can get, most people I played it too couldn't tell the difference. The great thing is that we now have the separate parts for the first time, that's great material for new edits and remixes.
View this post on Instagram
'Groovejet' is now available to stream and download via Defected Records, for all services head to: https://defected.lnk.to/DFTD626D