This week it was announced that after twenty-eight years of making music together, Daft Punk were going into retirement. Releasing music as a pair for the best part of three decades, Daft Punk's influence has been felt far and wide across dance music, being behind some of the biggest cross-over dance records and inspiring a whole generation of DJs and producers.
In light of the recent news, the Defected team have taken a look back at the Daft Punk catalogue and picked our favourite records from the enigmatic french duo...
Simon Dunmore
Daft Punk - Alive (1997) 
Simon Dawson, COO
Daft Punk - Da Funk (1995)
I was 14 when I bought 'Da GFunk / Musique' in 1996. It was the first 12" single I ever bought. I didn't know them, I didn't know it, being 14 I'm not sure I'd even ever heard it before that day. Like all good record shops they were playing music REALLY LOUD and at some point they played 'Da Funk' on the shop turntable. I'd never heard anything like it before. It was too slow in comparison to all the "dance music" I'd previously heard and it sounded like it was being played backwards…but that kick (!). I bought it there and then and bemused my parents with it and my love for house music from that day onwards.
There's a picture of my copy below, 25 years I've had it, look at the state of it, I can't even play it anymore, I've worn a scratch in it.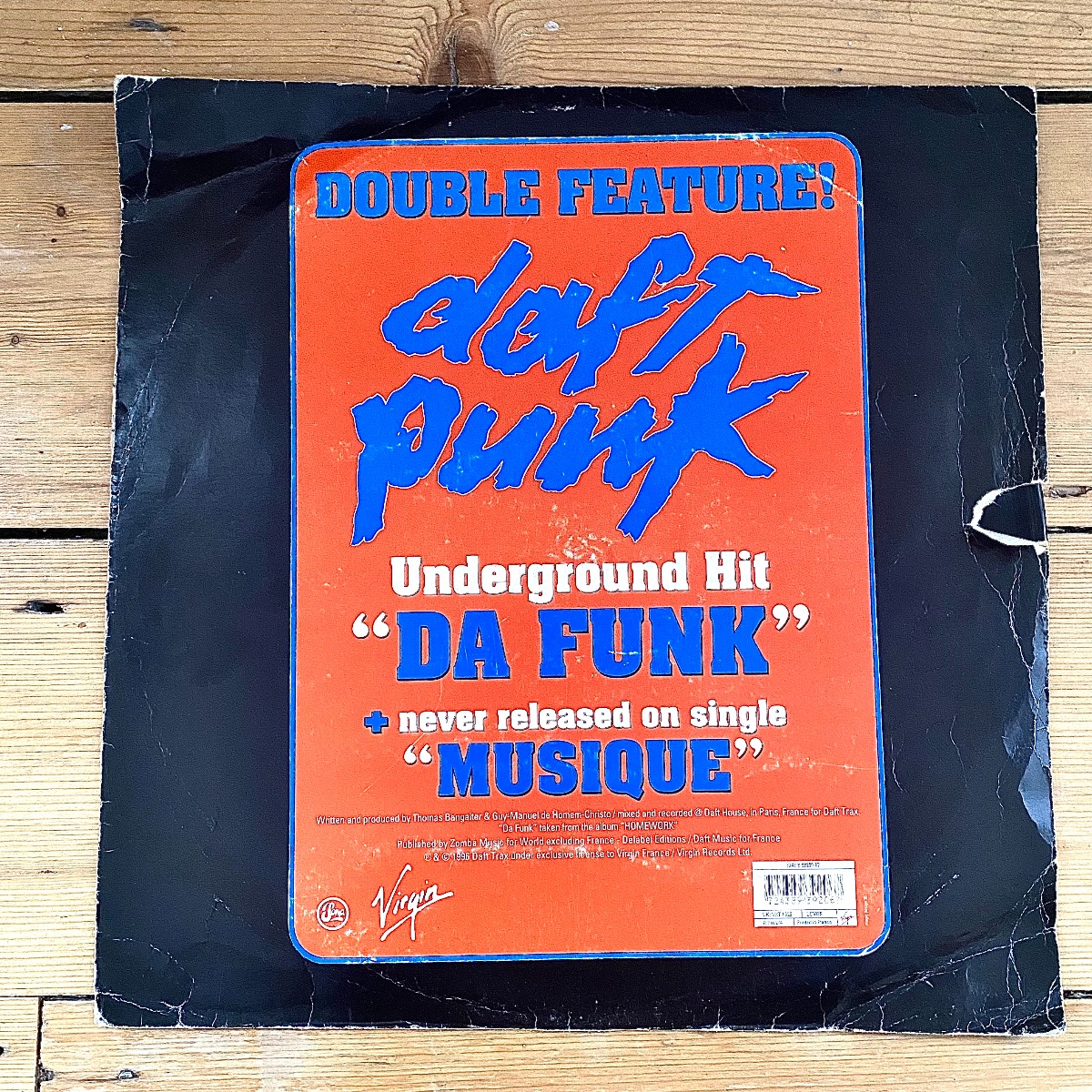 Daft Punk - One More Time (2000)
This isn't my favourite by any stretch but I'll never forgot 'the moment'... Back II Basics 9th birthday party in 2000, 'the white party'. Everyone was dressed in and everything was white, Dave Beer, dressed as Vegas Elvis in a white jumpsuit did a medley of the King's greatest hits half way through the night, anyway, DJ Sneak played. Sneak had two copies going, this was like the week the record had been released so we all knew it and he DESTROYED the Mint club with it that night - mixed it in, then before it really kicks in, cut straight into the beginning of the second copy, then back to the first, then to the second, back and forth teasing that intro out forever…then eventually letting one copy fly on that last "One More Time" before the beat dropped and it flattened us. Arms went up and the place went ape sh*t.  
Seamus Haji, A&R
Daft Punk -  Burnin' (1997)
High energy disco fuelled house with a Daft Punk attitude. I remember Louie Vega playing this at The Magic Sessions for the Miami Winter Music Conference the year it came out and it went off! I still play this out and it still rocks after over 20 years.
Tom Coxhead, Head of Digital Marketing
Daft Punk – Too Long (2001)
I feel like I prefer 'Homework' as a body of work, but 'Discovery' is a masterpiece and is home to some of my favourite Daft Punk songs on it. 'Too Long' is the final track on 'Discovery' and is 10 minutes of pure class… French touch at its finest, plus Romanthony was on fire as always. I also still have a photo of the original Essential Mix DAT that I took when I worked there (see below).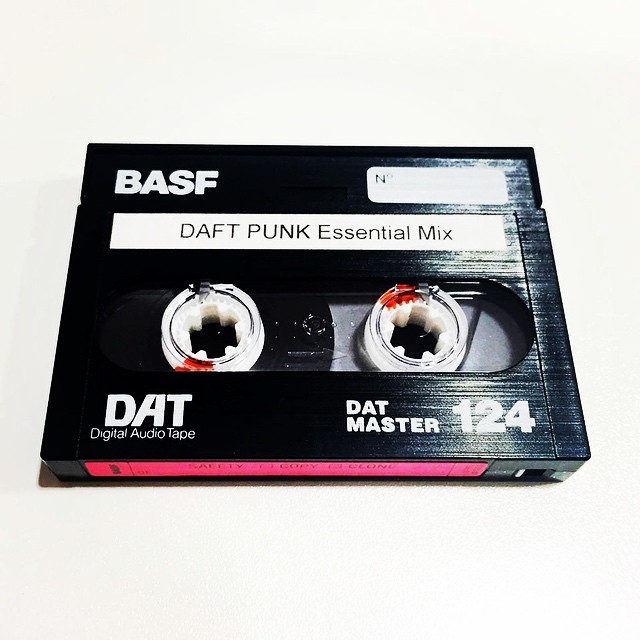 Cat Cook, Product Manager
I:Cube - Disco Cubizm (Daft Punk Remix) (2009)
One of the best remixes from Daft Punk in my opinion. Here's hoping that Thomas gets working on some solo productions now he has the time.
Joe Bennett, Head of Product & Curation
Daft Punk - Voyager (2001)
I'd probably say 'Voyager' from Discovery – it's such a beautiful, feel good track with a KILLER bassline. Further affirmed as my favourite after Carl Cox dropped it during the last ever Space set. Honourable mentions to 'Something About Us', 'Burnin'' & their remixes of 'Disco Cubizm' + 'Mothership Reconnection'.
Mitch Nunn, Talent Booker
Daft Punk – Voyager (2001)
There are 4 bars towards the end of 'Voyager' where the bass and percussion cut out, and all you can hear is the harp-like arpeggio sound. That is one of my favourite parts to a song ever, an absolute beaut of a record.
Nick Themelis, Operations & Production Assistant
Daft Punk - Rinzler (2010)
This is my fight or flight track, taken from their soundtrack for the movie 'Tron: Legacy'
Lucy St John, PR & Promotions
Gabrielle - Forget About The World (Daft Punk Don't Forget The World Remix) (1996)
Daft Punk's cross-over hits were some of the earliest records that got me into dance music and 'One More Time' was nearly the track I chose for this, but this remix with its distictly garagey, Todd Edwards-inspired vibe shows a different side to their sound that I love. 
Angus Brash, Graphic Designer
Daft Punk - Emotion (Human After All) (2005)
This track just feels perfect for the mixed emotions following this week's robot news. The bitter sweet closing track of Human After All, so slow but so powerful, so sad but so happy, so simple but so complex. Emotion feels like it should be played on repeat forever, whilst you sit back and remember everything that is great about Daft Punk.
Nathalie Hughes, Project Manager
Daft Punk - Around The World (1997)

I don't mean to be obvious, but it has to be 'Around The World' for me. It's an obvious choice but that's a funky banger right there.
Joshual Patel, Digital Marketing Intern
Daft Punk - Harder, Better, Faster, Stronger (2001)
I remember the first time hearing this record. I was only a child and my dad played it in the car. Next thing you know, my head was bopping to the beat and my dad had a massive smile on his face. It's one of the first songs that introduced me to dance music and always one that makes me… happy.
Rap Sanders, Catalogue Manager
Daft Punk - Alive (1997)
Taken from their Homework album, this was one of their earlier releases.
Tom Gotainer, Graphic Designer
Daft Punk - Rollin' & Scratchin' (1997)
I love this track because it has true punk flavour that builds up and peaks so intensely, it represents the raw side of their beginnings and what makes Homework such a great album.
Daft Punk - One More Time (2007)

Appart from being an amazing anthem, I love this song simply because of all the memories associated with it, knowing the subtleties of the vocals by heart and because let's face it, don't we all wish they would play one more time for us?
Check out this week's Defected Radio Show where Monki selects some of her favourite Daft Punk records or discover some Daft Punk gems in our Best House & Club playlist below: