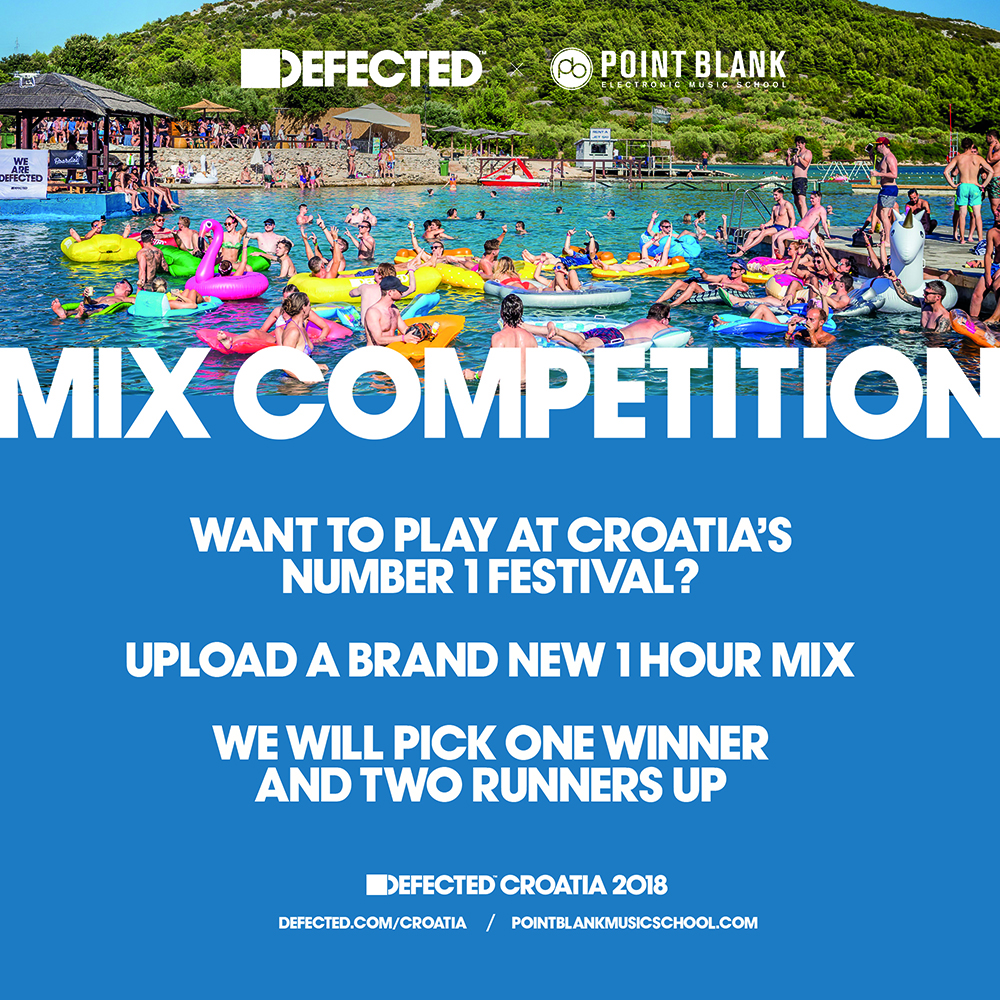 We are proud to have teamed up with Point Blank for the third year running, to give you the chance to land a dream DJ gig.
We're looking for the freshest DJ talent to submit their best mix efforts in the form of a one hour mix – the prize up for grabs? The lucky winner will play at Defected Croatia 2018 (9-14 August) on the Pontoon Stage.
Francesca Rose (2017 Winner): "Playing at Defected Croatia was a special moment that I will never forget. It was an honour to DJ alongside countless world-renowned artists. The festival in itself is truly unmatched. The beautiful atmosphere on the Adriatic Sea, chill vibes and amazing people make this festival one of a kind. And the view from the decks? Breathtaking! Defected's team made me feel so at home and I cannot thank them enough for the incredible opportunity."
Flights and accommodation for two nights will be supplied, so all you have to worry about is getting your set together and enjoying the sunshine. For two runners-up there are also two DJ slots up for grabs at a Defected event in London later this year.
Note that you must be 18 or over to enter – take a look at the full Terms and Conditions before entering.
The deadline for entries is 15th May 2018, and we will announce the winners by 28th May 2018. Happy mixing and good luck!
HOW TO ENTER
Step One: Record and upload your mix to Mixcloud
Prepare and record a 60 minute mix. Musically this should fit with Defected's ethos of high quality house music.
Upload your mix to Mixcloud, adding the full tracklist and using the cover art provided above.
Name the mix "Defected x Point Blank Mix Competition: Your DJ Name"
Tag your mix 'Defected x Point Blank Mix Competition'.


Step Two: Share your mix on Plugged In
Note that you will need to be registered in order to submit your mix. For those not already registered, you can do so below or via this page.
Once you've recorded your mix and are ready to share it from Mixcloud, head to the Tracks page of Plugged In, then select Add Track to get started.
On the Add Track page, simply paste the URL of your mix into the 'track URL' field, and name the mix accordingly. You must also select 'Competition' under the 'select category' field for your entry to be eligible (see below).
Once you submit your track, it will now be visible when you filter in our 'competition' category within the Tracks channel. You're all set!


Listen to last year's winning mix for some inspiration!
JUDGING
All entries will be listened to and judged by the Defected and Point Blank listening panel. Entrants are encouraged to promote through their social media channels to maximise the chances of them proceeding to the shortlist stage. Our panel will then judge the shortlisted mixes based on:
Votes and listens on Plugged In
Track selection and curation
Technical ability
Originality
Flair and creativity
Remember, the deadline for entries is 15th May 2018, and we will announce the winners by 28th May 2018.