Preparing to make our Malta debut in 2022, we are thrilled to unveil afull line up of all-star talent from across the electronic scene, set to head to the Mediterranean for a weekend-long festival for the very first time this October.
Kicking off on Friday 7th October, Defected Malta will join Defected's ever-expanding repertoire of events and festivals, bringing the likes of Kerri Chandler, David Morales, Todd Edwards, Norman Jay MBE, Natasha Diggs and Kitty Amor to the island, for an unforgettable event hosted against the backdrop of white sandy beaches and crystalline waters.
The latest line up reveal pulls together the scene's long-time pioneers of the scene, plus rising stars like NYC's Anna Collecta, Afro House act Kususa, Parisian selector Young Pulse and Maltese DJ Edd alongside Defected's returning favourites like Sam Divine, Melé, Simon Dunmore, Low Steppa and Melvo Baptiste. 
With an impressive blend of talent from all corners of the globe, the idyllic location of our latest festival offering is a tailor-made setting for the label's unique brand of house party.Venues across the weekend will include St. Paul's Bay's luxe beach club Café del Mar and the island's largest multi-room venue UNO, providing the ultimate club experience with its impressive sound system, indoor club and open-air rooms set to host party goers until the early hours.
"Malta has always been on our radar. It's a beautiful place, we went over for a site visit last year and were shown around all the unique locations and venues and it blew us away. We knew straight away we couldn't not do a festival there. I think it's a great offering as an extension to our Defected Croatia festival which sells out year on year, it gives other people a chance to come to an alike experience in a different territory. The line-up is different with exciting new talent like Kerri Chandler who we've not booked for years and we are excited to see what the Maltese energy brings us."
- GEORGE PRITCHARD, Director of Events at Defected
A host of exclusive pop-up parties at unique off-the-grid locations that offer unrivalled views of the island are also in the schedule for Defected Malta, alongside a number of intimate boat parties to complete the weekend's activity.
Continuing to make clubbing abroad accessible for all generations of dance fans, Defected Malta O will follow our much-loved Croatia festival, which made its triumphant return to Tisno's Garden resort in August 2021.
Taking Defected to new heights this year, we look forward to hosting our global Defected family of discerning house heads to bask in the island's beauty.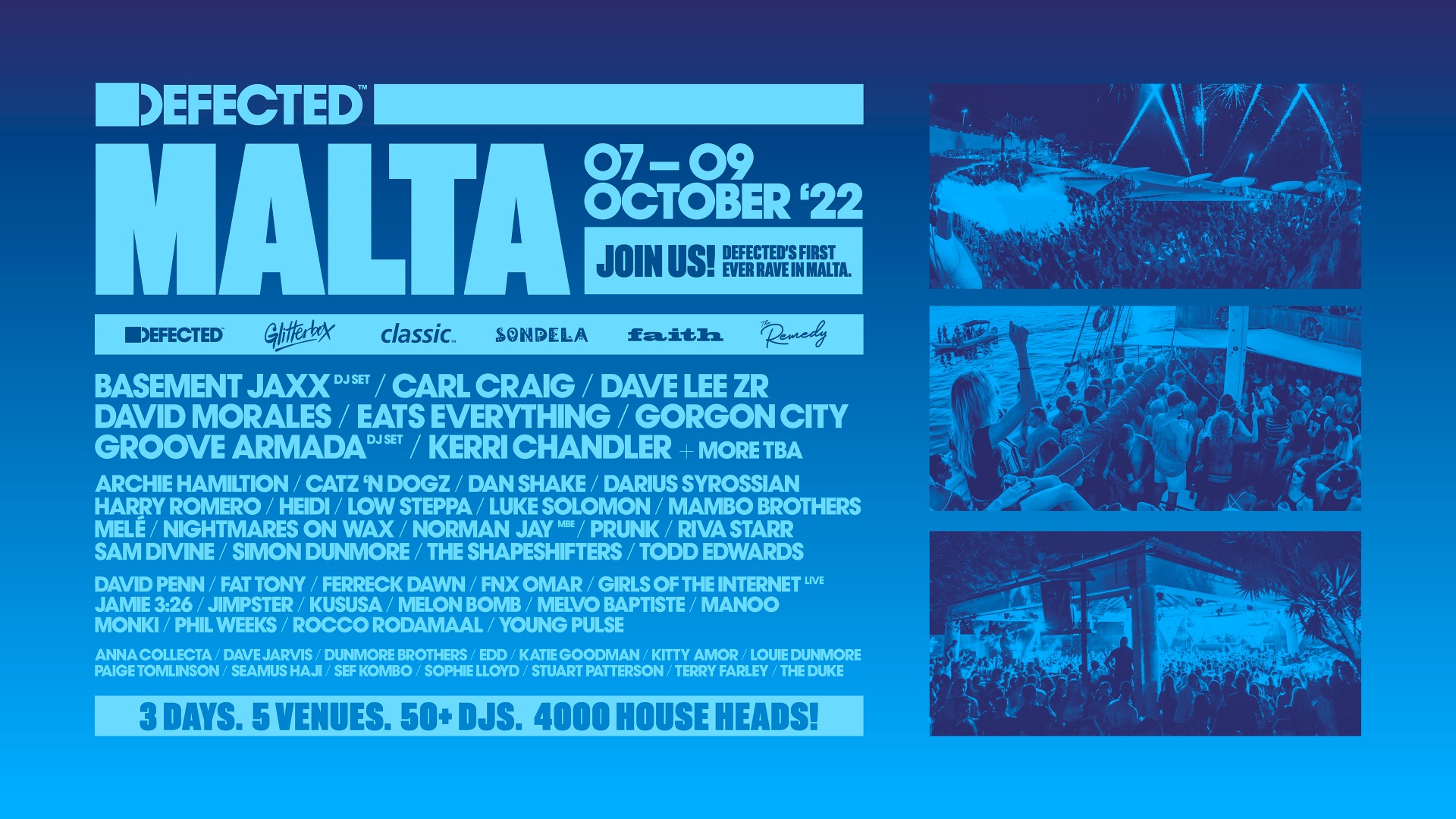 Defected Malta will run from 7th – 9th October 2022. Tickets are available here, with deposit tickets available to secure from just €19.