With a long hot summer of Defected just around the corner, we are thrilled to announce our triumphant return to Ibiza with a weekend of activity to kick off the summer in partnership with IMS from 29th April to 2nd May, as the Island prepares for the first full season of clubbing in three years.
Hosting parties at Eden, Dalt Vila, Octan and Amnesia during the three days, we'll be bringing house's hottest acts to those attending the anticipated reopening of the White Isle.
Being the first label to ever collaborate with IMS for the prestigious Dalt Vila event, which has been a staple in the calendar for the dance music industry since the summit was launched in 2007, this April's activity continues to cement Defected as an industry leader. With IMS annually bringing together artists, labels and key figures from the dance music world to help implement progressive change in the industry, this year's IMS marks the opening of the longest ever Ibiza season on record, with Defected set to host 23-weeks of parties at our San Antonio home of Eden.
"To host an event at the iconic Dalt Vila is an incredible way to return to Ibiza. The White Isle has been our summer sanctuary for two decades and we have missed our spiritual home. To plant our flag back on Balearic soil by curating parties as part of the IMS and hosting a whole weekend of events across the Island after the two-year hiatus is incredibly exciting." – Simon Dunmore
Kicking the weekend off, on Friday 29th, with the Defected Ibiza opening at Eden in San Antonio, launching a long hot summer of house music at the newly renovated venue will be Darius Syrossian, Simon Dunmore, Riva Starr, Low Steppa, Hannah Wants, plus more artists to be announced. Since launching our weekly residency at Eden in 2017, making clubbing accessible for all generations has been a core part our Ibiza offering, bringing clubbers from all walks of life together to enjoy our unique brand of house party and DJs of the highest calibre. As a new generation of house fans prepare to experience Ibiza to the fullest for the first time, under the slogan In Our House We Are All Equal, we invite them to celebrate everything there is to love about house music - inclusivity, togetherness and escapism on the dancefloor. 
The all-day affair at Dalt Vila follows on the Saturday, where Defected will deliver a star-studded line-up of A-List talent, as Honey Dijon, Bob Sinclar, Dennis Ferrer, Danny Tenaglia, Louie Vega and Simon Dunmore join forces for an epic afternoon of house. With the iconic Ibiza Town backdrop adding an extra dose of magic to the event, the Defected and IMS Dalt Vila takeover will be one of the very few parties to take place at the historic location, making it one of the season's most unmissable events. With Classic Music Company on after-party duties, Luke Solomon's imprint will take over Playa D'En Bossa's hottest underground venue Octan with Derrick Carter, Dan Shake, Natasha Diggs, Sophie Lloyd, Melvo Baptiste, Melon Bomb plus more TBA. 
To see out the weekend, Defected will then head to iconic Ibiza super club Amnesia for the final night of the takeover. With a line-up suitable for Amnesia's world-class, cavernous soundsystem featuring Melé, the Dunmore Brothers, Ferreck Dawn, the Mambo Brothers and more A-List names to be announced.
This weekend on the White Isle will set the tone for what will be Defected's biggest summer ever, with our most ambitious events schedule on record for 2022, the Defected Ibiza weekend follows North and South America tours for the label, ahead of a non-stop summer that includes the award-winning Defected Croatia festival and debut Defected Malta event, alongside a packed schedule of club and festival appearances.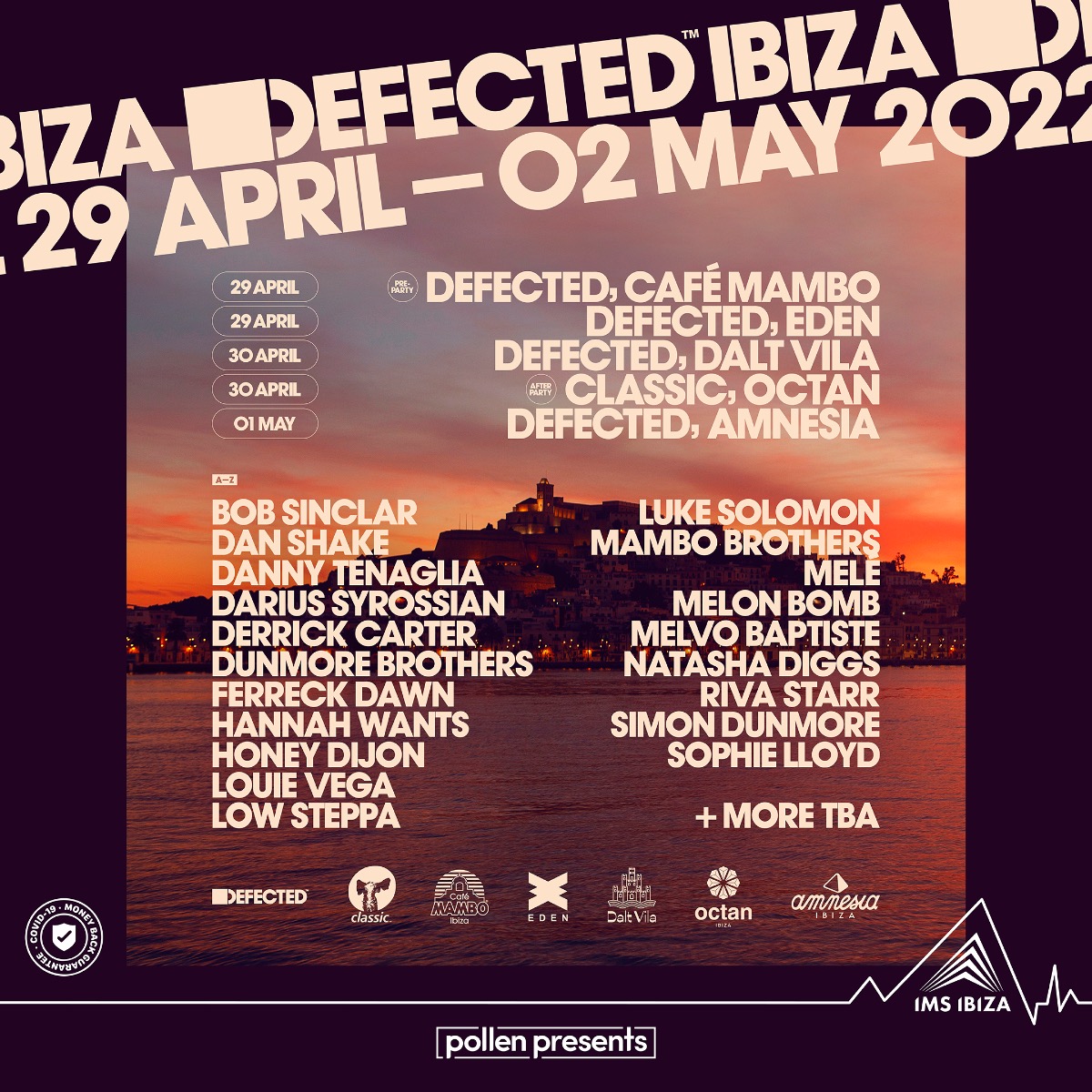 Tickets for
 Defected Ibiza
 and travel packages are now available 
via Pollen
.