After our 9-week Virtual Festival residency went down a storm, we levelled up our virtual offering in partnership with Twitch for our Defected WWWorldwide series, with three weekly events from Friday 19thJune- 3rdJuly reflecting our usual summer of club events. This Friday the series comes to a close, this time replicating a usual night in Ibiza with our partners Eden, Café Mambo and 4 to The Floor.
Partnering with Twitch to stream music events on the platform for the first time, our Defected WWWorldwide events feature three virtual rooms with DJs playing concurrently in each between 6-10pm BST, as they would in a nightclub. Meanwhile, select sets will be streamed to Defected's YouTube between 4:30-11pm BST.  
Taking our audience back to Ibiza this Friday, with Sam Divine, David Penn and Ferreck Dawn in Eden's Room 1, Mambo Brothers, Manu Gonzalez and Melon Bomb in Café Mambo's Room 2, and Mike Dunn, Terry Farley B2B Stuart Patterson and Seamus Haji in 4 To The Floor's Room 3. Adapting Twitch's gaming functionality for the purpose of bringing people together through music, Defected WWWorldwide will get even closer to a real clubbing experience, allowing viewers to dip in and out of different rooms at leisure, like choosing a stage at a festival. As with previous Defected Virtual Festivals all sets will be uploaded to watch back on YouTube in full HD directly after.  
During the stream, viewers will be prompted to donate to Ibiza Food Bank. Ibiza Food Bank's mission is to create a community of volunteers across the island. These volunteers will collect food, coordinate donations, volunteer on local farms, man collection points or work in the food bank itself. The food Ibiza Food Bank volunteers collect will be prepared and donated to their charity partners -  IbizaPreservation, Ibiza Produce, The Red Cross, Caritas and Doctors of the World.  By supporting the farmers, they can continue planting crops and donating a proportion to The Ibiza Food bank, which will ensure people in need receive fresh healthy balanced food. 
Follow these simple steps to join us on Twitch and not miss a minute...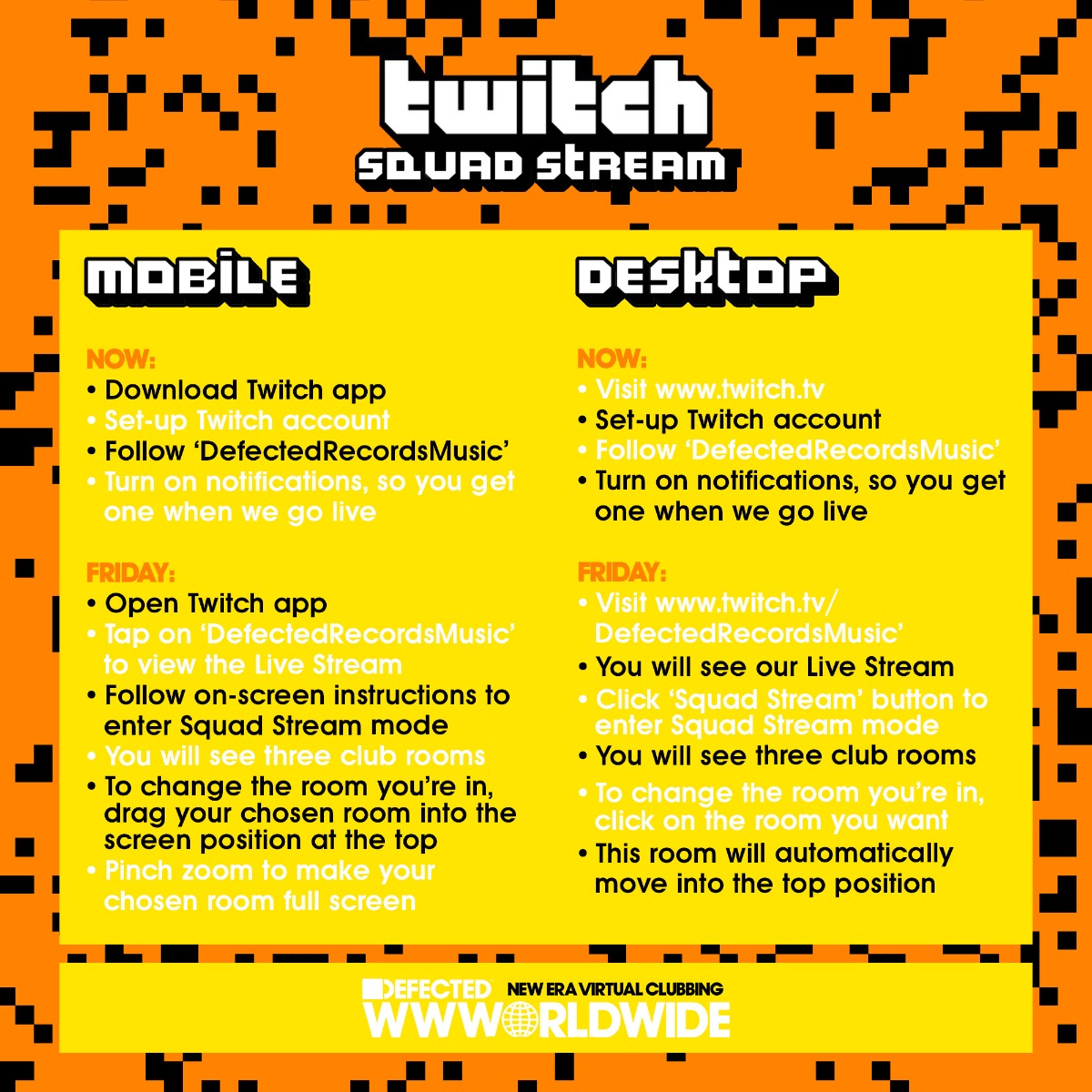 This is the new era of virtual clubbing, your house, your choice! Choose your room at twitch.tv/defectedrecordsmusic. Watch on demand at youtube.com/defectedmusic
Learn more about the Ibiza Food Bank at ibizafoodbank.com and donate via their GoFundMe