After an incredible week in Tisno the whole team are back at Defected HQ to get ready for our inaugural London FSTVL (tickets still available here), and of course plans are already setting in motion for Croatia 2020. This years' festival was full of unforgettable moments and incredible music, with each member of staff feeling truly privileged to have been part of the event and share it with the Defected community. 
Whether it was dancing under the trees in the Olive Grove, floating on a flamingo out at the Beach Stage or staying in Barbarella's till sunrise, the memories made at this year's Croatia are sure to last a lifetime. If the holiday blues are already getting to you too, check out our Croatia Moments playlist on Spotify here...
With the office still on a high from the last week, we have compiled all our favourite moments from the festival… 
Simon Dunmore
The closing is always emotional but this year was incredible. A torrential downpour only added to the occasion and we were left with the diehard fanatics.
Initially I played Sister Sledge 'Lost In Music'…then Melvo shouted play Lovebirds in my ear….a great choice. I thought that was a great way to end the 6 days but the crowd were insatiable and it was Melvo again that came up with the inspired Harold Melvin choice.
'Don't Leave Me This Way' could not have been more apt. The more I think about it the more I smile. Literally "My Heart Is Full Of Love" right now.
Wez Saunders (Managing Director)
"Defected Croatia 2019 was by far the most special festival we have ever hosted and possibly, the greatest festival that I've ever attended.
Simon Dunmore curated the music across the 6 days impeccably. The breadth of house music throughout every day was perfect. I discovered so much new music whilst getting the opportunity to hear my favourite records; I couldn't have asked for any more.
Stand out moments include Honey Dijon at Classic vs Edible, the annual Copyright reunion, 10 year old Little Filip going B2B with his Dad on the Terrace Stage (a stage populated solely by our Community), a free #TodayIWill boat party powered by Glo Worldwide with Roberto Surace, Dennis Ferrer & Peggy Gou, seeing The Vision live with Dames Brown and Andreya Triana, Lynch painting the Frankie Knuckles & Philippe Zdar memorials, David Penn playing live keys during his Main Stage set, Armand Van Helden doing what AVH does, Mr V compering, Dan Shake rocking the Beach Stage and of course some of my Garage heroes in Todd Edwards & Matt Jam Lamont alongside Sam Divine & Hatcha in the Olive Grove.
Honestly, can't wait for next year already...!"
Tom Coxhead (Head of Digital Marketing)
Dan Shake playing 'Catch Me' by Dirty Channels (coming on Classic)
Bwi-Bwi playing 'BODY' by Kettema
Black Loops playing 'Everything I Say' by Cinthie
Dan Shake, Bwi-Bwi and Black Loops were without doubt three of the standout sets of the week. Their vibe and style was exactly why The Beach Stage is my favourite on the site... it allows DJs to really dig deep, introduce new music and get into their groove. It also pushes the other DJs to get creative and pull for some underground records.
Adrienne Bookbinder (A&R and Publishing Manager)
Roberto Surace playing 'Love On The Line' on the final boat party without knowing Kormak was there at the back, was a really special moment as they're both new artists to the Defected fam. It sums up what's unique about our festival... DJ's sharing the music they love while also just hanging out and vibing in the crowd. The boat parties this year delivered great music from start to finish and offered something special away from the site. Oh, and when Todd Edwards played his mix of 'Jump Hi' by Lion Babe - just because that track is a banger - the dancefloor blew up!!
Joe Bennett (Head of Product & Curation):
There are just too many big moments to choose from, I think a lot of the big ones will already be covered so I'm going for two that may have gone under the radar;
There was a pivotal moment, just after the sun had set during Melvo Baptiste's set at The Beach Stage on Sunday night after he dropped Whitney Houston – 'I'm Your Baby Tonight (Yvonne Turner Remix/Danny Krivit ReEdit)' there wasn't a single person in the crowd who wasn't singing along.
The majority of people will mention Simon Dunmore playing Harold Melvin & The Blue Notes 'Don't Leave Me This Way' as THE moment of the festival but his penultimate record; Lovebirds – 'Want You In My Soul' also left me very emotional after one of the best weeks of my life.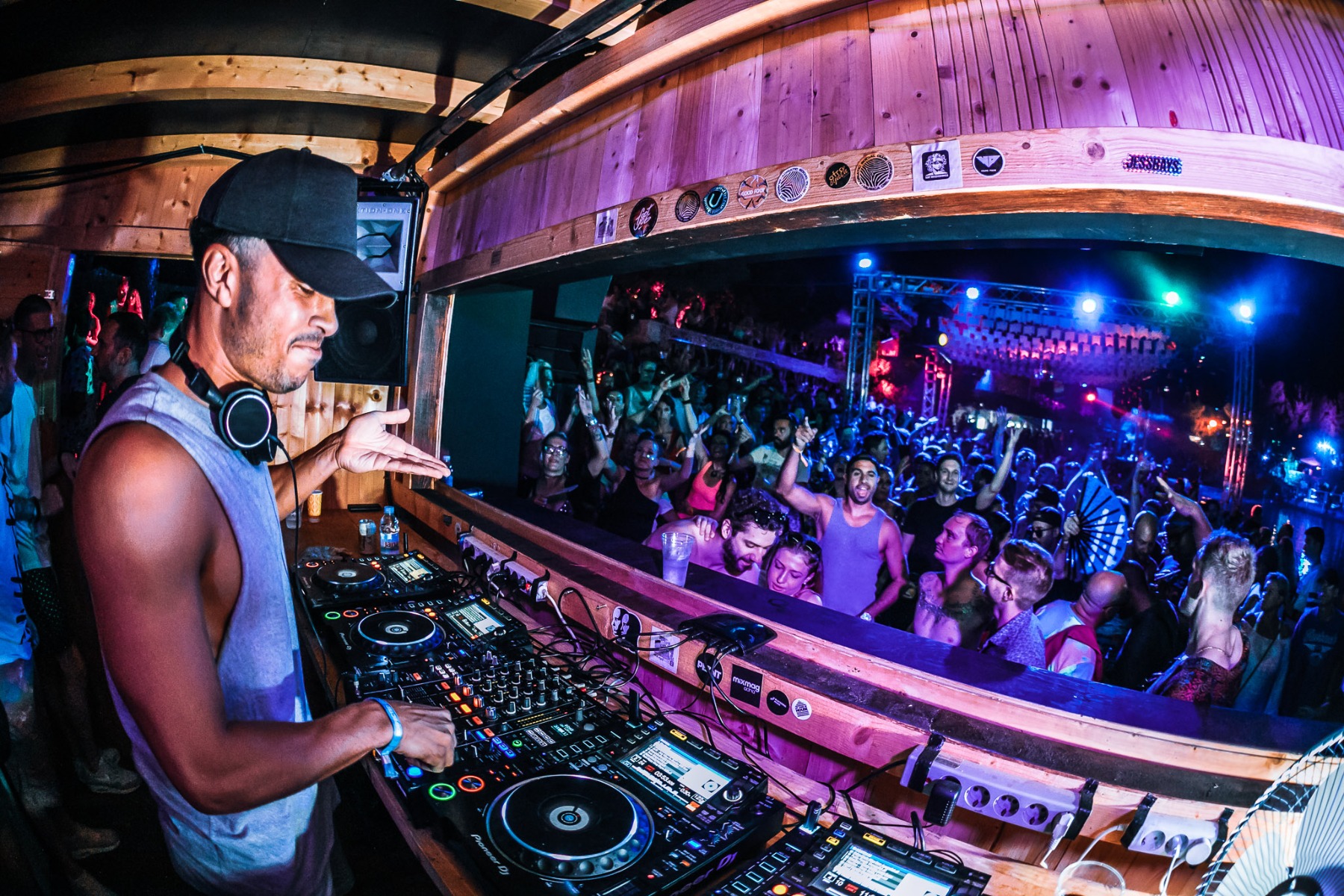 Anna Croitoru (A&R):
Folamour playing Hot Chocolate's 'I Just Love What You're Doing' on the Main Stage - one of my all-time favourite tracks. The moment was even more special seeing how much Folamour was vibing to it and singing the lyrics.  
Also Dan Shake playing 'You Make Me Feel (Mighty Real)' towards the end of his set on the Beach Stage - classic tune, packed stage, crowd was having an amazing time and it was definitely one of those sets I didn't want to ever end.
Gurbs Dosanjh (Videographer);
For me seeing the Vision making their live debut was a moment I will be forever grateful for. Even when the whole of Tisno lost power, they managed to spare no time in finishing the track acapella with the help of the audience. A real intimate experience that captured the essence of the festival."
Mark Long (Business Affairs) 
On the last night during the last hour, Simon played 'Strings Of Life' whilst everyone rushed onto the stage from the rain, and the crowd remained dancing completely soaked. 
Dave + Sam in the Olive Grove were also a real highlight for me, bringing such a different vibe to the show, especially when they performed their remix of 'You're My' by Sticks & Stonez.
Nadia Chopra (Radio Producer)
Sister Sledge – Thinking of You 
Joey Negro playing this song at the end of his set felt like a dream with the energy, love and vibe of everyone together. The moment on the Beach stage was so special, everyone was hugging, singing and smiling, it was such a euphoric moment that I will never forget! 
Lucy St John (PR & Promotions Assistant)
My first Defected Croatia did not disappoint! So many amazing moments to pick from, but a highlight definitely was seeing Austin Ato close out the Olive Grove, after playing a slamming set to a relatively quiet stage, by the end of his slot the stage was packed with the whole crowd going for it! Also seeing Mike Dunn perform Phreaky MF live on the mic at the Beach Stage was pretty unforgettable.
Mitch Nunn (Events Operations & Talent Booker)
So many to choose from but Folamour playing the Mighty Mouse Edit of Prince 'Controversy' into the Mighty Mouse edit of Abba 'Gimme Gimme' on the boat party was ridiculous energy. Also Eli Escobar closing out Barbarella's as the sun came up with Tears For Fears 'Everybody Wants To Rule The World'.
Angus Brash (Graphic Designer)
Eli Escobar closed the same sunrise slot at Barbarella's last year with Talk Talk 'It's My Life' so I was looking forward to seeing what he came up with this year, he didn't disappoint with Tears For Fears 'Everybody Wants To Rule The World', and I'm already looking forward to his closing record this time next year...
Also Bwi-Bwi playing his own track on Classic Music Company 'Insight' - after moving into a new genre with every other track he played, Bwi-Bwi doubled the size of the crowd at the Beach Stage when people nearby heard the first few bars of 'Insight' coming in.
Listen to all of the hottest tracks from Defected Croatia 2019 on our playlist HERE.
Get your tickets for Defected London FSTVL 2019 HERE.