Glitterbox is proud to present Purple Disco Machine's debut compilation Discotheque. Released on the 19th of April and available on 2CD and vinyl, this extra-special release features a collection of records from a decade-spanning repertoire of golden-era disco, newly released vocal house and guaranteed party-starters. A leading light of contemporary disco and a key resident for the nightlife phenomenon's internationally renowned parties, Tino Piontek aka Purple Disco Machine has distilled his acclaimed headline DJ sets into two mixes, 'Purple Disco Day' and 'Purple Disco Night'.  The 2CD features over 30 tracks of fine soulful, funk-laden beats.
PRE-ORDER 'DISCOTHEQUE' ON VINYL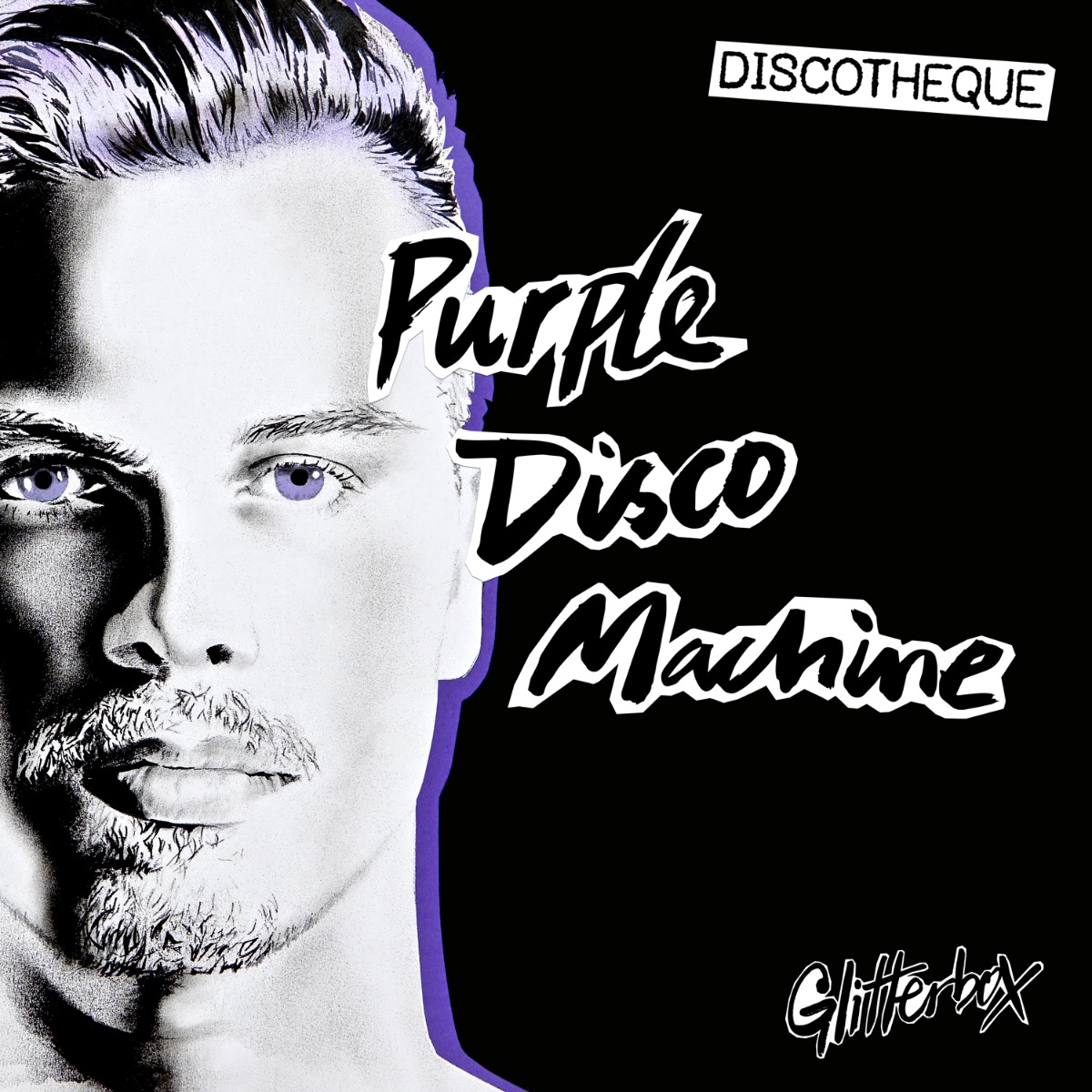 'Purple Disco Day' builds just as a Purple Disco Machine afternoon festival set would, the deep tones of Paul Alexander's voice and deconstructed funk of Forrrce 'Keep On Dubbin' (With No Commercial Interruptions)' making way for the sunshine sounds of Yuksek & Bertrand Burgalat's 'Icare'from 2018. A trio of classics brings up the tempo, followed by more newness from Horse Meat Disco direct from the Glitterbox stable, Dele Sosimi 'You No Fit Touch Am (Medlar Remix)' and the first brand new edit from the man himself, Ilija Rudman featuring Andre Espeut 'In Her Eyes (Purple Disco Machine Edit)'. The edit, which has taken pride of place in his sets for a while now, is Purple Disco Machine at his deepest, leading seamlessly into a covetable Kenny Dope mix of the Boris Dlugosch collaboration 'Love For Days' featuring Karen Harding. 'Purple Disco Day' demonstrates the sophisticated restraint of a DJ who truly knows how to apply pressure and when to hold it back, producing a mix that works on a home stereo as much as it does on the dancefloor.     
On the flip, 'Purple Disco Night' starts strong with two huge remixes from Purple Disco Machine himself, Shakedown's 'At Night' and Weiss 'Feel My Needs', undeniably two of the most-played reworks of the last six months. The heavy hitters keep coming, Mighty Mouse's 'The Spirit' providing the energy and Moloko's 'Sing It Back (Mousse T.'s Feel Love Mix)' providing a euphoric singalong moment. Purple Disco Machine's second exclusive edit is of Julien Jabre 'Swimming Places', a timeless Defected classic from 2005 with so much emotion, brought tactfully into 2019 with a fleshed-out bassline. Documenting the full might of Purple Disco Machine's production credibility, no mix would be complete without his irresistible remix of the seminal 'Praise You' by Fatboy Slim and of course the crossover hit 'Dished (Male Stripper)', once again proving he can't go wrong using his remarkably unique disco sound with a modern twist.
01. Jason Jinx featuring Paul Alexander 'Your First Time' (Accapella)
02. Forrrce 'Keep on Dubbin' (With No Commercial Interruptions)'
03. Catz 'N Dogz featuring Eglė Sirvydytė 'Good Touch' (Maurice Fulton Remix)
04. Yuksek & Bertrand Burgalat 'Icare'
05. Gladys Knight 'Taste Of Bitter Love'
06. Herbie Hancock 'Just Around the Corner'
07. ATFC featuring Lisa Millett 'Bad Habit' (Accapella)
08. Rockers Revenge featuring Donnie Calvin 'Dubbing In Sunshine'
09. Rene & Angela 'I Love You More'
10. Qwestlife featuring Jacqui George 'Give Me A Minute' (Extended Mix)
11. IPG v Hot Toddy 'Slow Motion Cowboy' (Hifi Sean Remix)
12. Horse Meat Disco featuring Amy Douglas 'Let's Go Dancing' (Dimitri From Paris Remix)
13. Dele Sosimi 'You No Fit Touch Am' (Medlar Remix)
14. The Revenge 'Times Get Tough'
15. Fallout 'The Morning After' (Purple Disco Machine Re-Work)
16. The Juan Maclean 'A Simple Design' (Accapella)
17. Ilija Rudman featuring Andre Espeut 'In Her Eyes' (Purple Disco Machine Edit)
18. Purple Disco Machine & Boris Dlugosch featuring Karen Harding 'Love For Days' (Kenny Dope Mix)
19. Aeroplane & Purple Disco Machine 'Sambal' (Extended Mix)
20. Sandy Rivera 'Changes' (Accapella)
CD2 - Purple Disco Night
01. Shakedown 'At Night' (Purple Disco Machine Extended Remix)
02. Weiss 'Feel My Needs' (Purple Disco Machine Extended Remix)
03. Hatiras 'Never Had This Feeling'
04. Mighty Mouse 'The Spirit' (Extended Mix)
05. Bawrut 'Pioneers'
06. Lee Curtiss featuring Desmond 'DSP' Powell 'Erotic Tendencies' (Honey Dijon & Luke Solomon's Feel Like Dancin' Remix)
07. Freeform Five 'Perspex Sex' (Ewan's Hi-NRG Remix)
08. Patrick Cowley 'If You Feel It'
09. Purple Disco Machine 'Body Funk'
10. Moloko 'Sing It Back' (Mousse T.'s Feel Love Mix)
11. Julien Jabre 'Swimming Places' (Purple Disco Machine Re-Work)
12. Bob Sinclar 'Vision of Paradise'
13. LEON & Dennis Cruz 'My Hood'
14. Fatboy Slim 'Praise You' (Purple Disco Machine Extended Remix)
15. Purple Disco Machine 'Dished (Male Stripper)' (Extended Mix)
16. Tiga 'Love Don't Dance Here Anymore'
Format: 2LP 
A1. Gladys Knight 'Taste Of Bitter Love'
A2. Herbie Hancock 'Just Around the Corner'
B1. Rene & Angela 'I Love You More'
B2. Horse Meat Disco feat. Amy Douglas 'Let's Go Dancing' (Dimitri From Paris Remix)
C1. Dele Sosimi 'You No Fit Touch Am' (Medlar Remix)
C2. Fallout 'The Morning After' (Purple Disco Machine Re-Work)
D1. Patrick Cowley 'If You Feel It'
D2. Julien Jabre 'Swimming Places' (Purple Disco Machine Re-Work)